NEXT STORY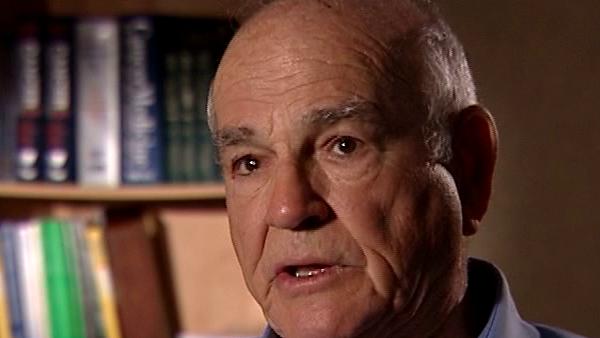 Hendrick Reijnders
Baruch Blumberg
Physician
1
2
3
4
5
...
8
So we were kind of, quotation marks 'shipwrecked' and we sailed into Lisbon and I had to return, and it was going to be months before they got back, and I'd miss the next year of medical school, so I… I went ashore. However, I didn't have a visa, now I had a passport, but I didn't have… I didn't have my seaman's papers, and Portugal was a closed place then. They had a very strict dictatorship, there was strict control on immigration, and very little movement and there was no tourism. So I get ashore and I stayed with a friend I'd made there for a while, I had enough money, I had about 30, 40 dollars left, so I got a room at a pensione for a dollar a day, that was… you had a room and three meals including wine and an evening snack as well, and so I… sort of figured out what to do next. So I went to the American consulate and I told them that I had landed, I had a passport, but I didn't have a visa. He said, 'You know, that's a problem, we've got a guy in jail now, who is there under the same circumstances, and I… we're trying to get him out of jail, and I go and bring him cigarettes every so often and see him'. I said, 'I don't smoke'. So, I went to a shipping agent and I said, 'Look, I'd like to ship out, you know, on an American ship'. And the ship… you know, it's amazing how people will sort of extend themselves for no, I mean, no possible gain to themselves, you know. The Portuguese were really, I mean, they were a delightful, nice bunch. And this fellow really put himself… he said, 'Okay, there's an… there's an American export line ship coming in… in about a month, about three weeks or a month, three weeks maybe, and they always… they always lose somebody, particularly in Seville, a lot of the guys just get off there. So why don't you kind of hang out, try not to get arrested, you know, by the police and we'll see if we can book you on that'. So I used to get up in the morning, you know, and try and get out of town or go somewhere place, you know, where I would be inconspicuous, so I would take a tram, I saw a lot of Lisbon, a lot of the environs because you can take the public transport to most places. But I did get into trouble. I was on a… on a tram and suddenly a whole bunch of people started screaming and grabbed hold of me and pulled me off the tram and… and take me to the police. Well, apparently one of the riders had his wallet stolen and I was… I was kind of disreputable looking, I sort of, you know you don't wear shorts in port... I still had shorts on, I had a beard and had hair that was sort of uncombed, I really didn't look all that savory. So I get hauled into the police station, roughly, and I didn't speak Portuguese but I spoke, my French was better in those days. So I said, 'I insist on seeing the Chief of Police', so they brought me in to see him. He was a… I mean, pleasant, literate, spoke French very well, and I said, you know, 'I'm very disturbed that I've been brought in this way and I would like to be released, and if you wouldn't mind, an apology'. In any case, so he was very good about it, I didn't have the wallet. I explained to him who I was and so I, but that… fortunately I did not have my passport with me, because if he had seen that, he would have seen that I didn't have a visa. Well, finally the ship came in, and the captain was a really difficult, nasty sort of fellow and he wouldn't really be very helpful, but this shipping agent… you have to sign on in front of an American consul when you sign on an American ship in a foreign port, well, the consul wouldn't go to the ship, you know, he wouldn't do that. So the shipping agent got the… got the ship's documents, which he shouldn't have done, and we took it to the consul and, you know, I got signed on. And I said, 'Well, how come I was able to…' sort of, I spoke to the consul, to our consul later, he said you know, 'I was having a lot of trouble getting your presence here kind of validated, but people couldn't quite understand your name', you know, but the American ambassador in Lisbon at that time was a man named Herman Baruch, B-A-R-U-C-H. Now he was the older brother of Bernard Baruch. Bernard Baruch was a very famous… he was in finance, they founded Baruch Brothers, which doesn't exist any more, and he was a kind of an advisor of presidents. So… so the international police, you know, there was an enquiry about my status, and he said, 'Well how do you spell this guy's name?' And he says, 'Well it's spelled B-A-R-U-C-H, the same as the ambassador's', who was a kind of well known figure, so he said, 'Ah, the son of the ambassador. We'll take care of this immediately'. So after I got back home, you know, I wrote to Bernard Baruch and told him about it and he wrote back and he introduced me to his brother, Herman. And I went… I went to see him. He lived in this enormous estate out in the island, it's one of these things where you drive a quarter of a mile before you get to the eight-car garage. And he tried to interest me in going down to Brazil to work on electric eels, because he had the feeling that electricity would rejuvenate, he was in his 70s and had a very young wife, and he was looking for some sort of elixir! I decided not to do that.
American research physician Baruch Blumberg (1925-2011) was co-recipient of the Nobel Prize in Physiology or Medicine in 1976 along with D Carleton Gajdusek for their work on the origins and spread of infectious viral diseases that led to the discovery of the hepatitis B virus. Blumberg's work covered many areas including clinical research, epidemiology, virology, genetics and anthropology.
Title: Leaving Lisbon
Listeners: Rebecca Blanchard
Dr Rebecca Blanchard is Director of Clinical Pharmacology at Merck & Co., Inc. in Upper Gwynedd, Pennsylvania. Her education includes a BSc in Pharmacy from Albany College of Pharmacy and a PhD in Pharmaceutical Chemistry from the University of Utah in Salt Lake City. While at Utah, she studied in the laboratories of Dr Raymond Galinsky and Dr Michael Franklin with an emphasis on drug metabolism pathways. After receiving her PhD, Dr Blanchard completed postdoctoral studies with Dr Richard Weinshilboum at the Mayo Clinic with a focus on human pharmacogenetics. While at Mayo, she cloned the human sulfotransferase gene SULT1A1 and identified and functionally characterized common genetic polymorphisms in the SULT1A1 gene. From 1998 to 2004 Dr Blanchard was an Assistant Professor at Fox Chase Cancer Center in Philadelphia. In 2005 she joined the Clinical Pharmacology Department at Merck & Co., Inc. where her work today continues in the early and late development of several novel drugs. At Merck, she has contributed as Clinical Pharmacology Representative on CGRP, Renin, Losartan, Lurasidone and TRPV1 programs and serves as chair of the TRPV1 development team. Dr Blanchard is also Co-chair of the Neurology Pharmacogenomics Working Group at Merck. Nationally, she has served the American Society of Clinical Pharmacology and Therapeutics on the Strategic Task Force and the Board of Directors. Dr Blanchard has also served on NIH study sections, and several Foundation Scientific Advisory Boards.
Tags: Lisbon, Portugal
Duration: 6 minutes, 44 seconds
Date story recorded: September 2007
Date story went live: 28 September 2009