NEXT STORY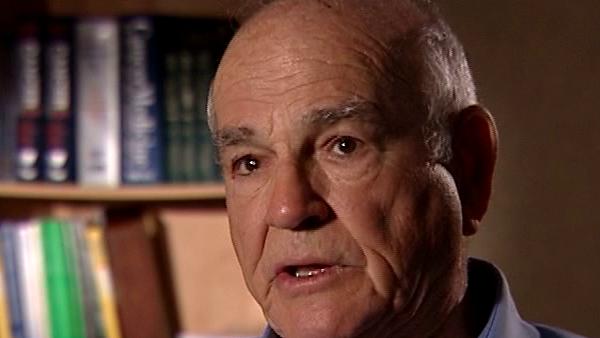 My first visit to Suriname
Baruch Blumberg
Physician
1
2
3
4
5
...
8
His name was Reijnders, Hendrick Reijnders. He did, he influenced me a lot. I'm glad you asked that question. I remember once we... we pulled into... to Vigo and... and there had been a fairly big storm but not as much as when we... Vigo is... is a town in Galicia, city actually, Galicia is just north of Portugal, in... in Spain, in Galicia in Spain, and there was another British ship there on some kind of mysterious sailing trip, and they'd lost the mast in the same storm. And one of the crew, the wife of the owner of the ship, came over to talk to Henry and she said, 'Should I go on, should we continue on?' They were going... on their way to Mombasa, East Africa. So Henry says, 'Press on, always press on'. So he had this thing, if you have a goal, you don't stop. You just... you just keep going. He was an indomitable fellow and I think that saw him through all the adventures he'd had in early life and he was... he was a very good leader. I mean, he was, he led by screaming and yelling and cursing. I was the only non-Dutch speaking guy on board and the only American, so that I... it... was a target of a certain amount of insults, based on that. It was a funny crew, there was a guy, Henry was in the underground and one of the other crew had been a policeman who had, you know, was jobless, and he had a kind of... his wife was on board as well, and there was a lot of friction but nothing serious happened until there was a knifing later on. Nobody got seriously hurt. In any case, so that, yes, I did... I did learn a lot about... and the... and the idea of, you know, if you've got a goal, you stick with it. There are going to be lots of hazards but of course it's important if you have a worthwhile goal. But when you are on a ship, the goal's to get, you know, to land some place, to get some... some place. Yeah he did. I saw him... I saw him and, you know, we kept in touch for years afterwards too.
American research physician Baruch Blumberg (1925-2011) was co-recipient of the Nobel Prize in Physiology or Medicine in 1976 along with D Carleton Gajdusek for their work on the origins and spread of infectious viral diseases that led to the discovery of the hepatitis B virus. Blumberg's work covered many areas including clinical research, epidemiology, virology, genetics and anthropology.
Title: Hendrick Reijnders
Listeners: Rebecca Blanchard
Dr Rebecca Blanchard is Director of Clinical Pharmacology at Merck & Co., Inc. in Upper Gwynedd, Pennsylvania. Her education includes a BSc in Pharmacy from Albany College of Pharmacy and a PhD in Pharmaceutical Chemistry from the University of Utah in Salt Lake City. While at Utah, she studied in the laboratories of Dr Raymond Galinsky and Dr Michael Franklin with an emphasis on drug metabolism pathways. After receiving her PhD, Dr Blanchard completed postdoctoral studies with Dr Richard Weinshilboum at the Mayo Clinic with a focus on human pharmacogenetics. While at Mayo, she cloned the human sulfotransferase gene SULT1A1 and identified and functionally characterized common genetic polymorphisms in the SULT1A1 gene. From 1998 to 2004 Dr Blanchard was an Assistant Professor at Fox Chase Cancer Center in Philadelphia. In 2005 she joined the Clinical Pharmacology Department at Merck & Co., Inc. where her work today continues in the early and late development of several novel drugs. At Merck, she has contributed as Clinical Pharmacology Representative on CGRP, Renin, Losartan, Lurasidone and TRPV1 programs and serves as chair of the TRPV1 development team. Dr Blanchard is also Co-chair of the Neurology Pharmacogenomics Working Group at Merck. Nationally, she has served the American Society of Clinical Pharmacology and Therapeutics on the Strategic Task Force and the Board of Directors. Dr Blanchard has also served on NIH study sections, and several Foundation Scientific Advisory Boards.
Tags: Hendrick Reijnders
Duration: 2 minutes, 38 seconds
Date story recorded: September 2007
Date story went live: 28 September 2009