NEXT STORY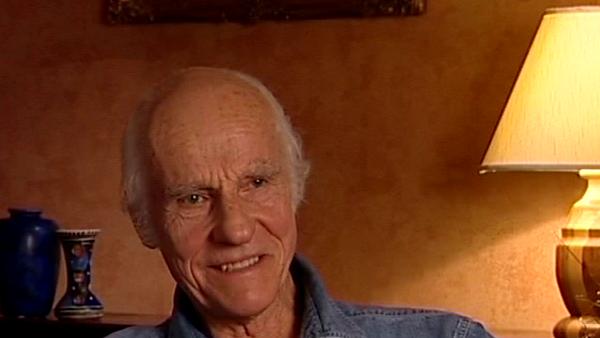 Offers to work on On Golden Pond and Gandhi
The way I became more involved in the set-up
Billy Williams
Film-maker
1
...
8
9
10
11
12
...
18
It seemed important for me to be able to put the camera, knowing how I was going to light it, the placement of the camera, and the direction and the type of light I was going to use, where I was going to put the lamps were a part of the whole thing and one couldn't separate the set-up from the lighting. They were part of the whole package or the whole look of one was trying to achieve. And so as I became more experienced, I became more involved with getting the set-up, but I always wanted the operator to be a part of it and to be listening and to... contributing. Because at a certain point once the things have been agreed, I always like the operator to... to see it through and to make it all happen with the grips and so on and laying the tracks and getting everything worked out so that it happens smoothly. And for the operator to have plenty of time to rehearse the timing and collaborating with the grip. I... I never wanted to light and operate, although I would sometimes operate a second camera on occasion if it was felt that by putting in a second camera we could get that little bit extra, perhaps the sort of the thing you might not get a second go at, so you put another camera in with a tighter lens. But I've always been happy to work with an operator. And it's important of course that that relationship should be... should have a good understanding and a... and a good appreciation and... with both of you working for the good of the... of the picture, for the good of the set up, not, kind of... with having any kind of conflicting egos.
So that... that, you know, has worked out very well and I've been very lucky that I've had so many good operators to work with who've... who have been willing to... to work using that system. Of course, at the... what... what is inclined to be happening now is that at the film school the cinematography students are encouraged to operate, and so that when they go out to work initially perhaps on lower budget work, they're operating and lighting. And the advantage of that of course is that it makes for a smaller crew. Some directors prefer to only have to speak to one person, but there are other directors that would still prefer to work through an operator, to have the operator kind of working very closely with him. So a lot depends on the way the director likes to work, but I think once you get into the bigger productions where you... you've got big sets to light and a lot of area to cover and a big crew, then to light and operate on... on pictures like that is... is really tough. Because you can't be with the camera... lining up the camera, and at the same time with your gaffer working out the lighting pattern. So that... you know, I... I'm always glad of the fact that I've had an understanding operator, but there are one or two... well, there are more than a few people out there, like Roger Deakins for instance who's... was a film school graduate, he... he left just before I started going to film school. And Roger Deakins lights and operates and his work is absolutely outstanding, but I... it's a heavier workload for anybody doing both jobs. Because, as you know, operating's a very... can be very physically demanding when you're having to climb around the dolly and hold a difficult position for a long time, it... it can be physically draining. And to have to also be watching the lighting as well is... is, I think, requires an... immense concentration. But... but there are people that do both very well, so I think it's... it's a question of what you're most comfortable with.
Billy Williams, London-born cinematographer Billy Williams gained his first two Oscar nominations for the acclaimed "Women in Love" and "On Golden Pond". His third nomination, which was successful, was for the epic "Gandhi". He was President of the British Society of Cinematographers, and was awarded the Camera Image Festival's Lifetime Achievement Award in 2000.
Title: The way I became more involved in the set-up
Listeners: Neil Binney
Neil Binney began working as a 'clapper boy' in 1946 on spin-off films from steam radio such as "Dick Barton". Between 1948-1950 he served as a Royal Air Force photographer. From 1950 he was a Technicolor assistant technician working on films such as John Ford's "Mogambo" (photographed by Freddie Young), Hitchcock's "The Man Who Knew Too Much" (Bob Burke), and Visconti's "Senso" (G.R. Aldo/B. Cracker). As a camera assistant he worked on "Mind Benders", "Billy Liar" and "This Sporting Life". Niel Binney became a camera operator in 1963 and worked with, among others, Jack Cardiff, Fred Tammes and Billy Williams. He was elected associate member of the British Society of Cinematographers in 1981 and his most recent credits include "A Fish Called Wanda" and "Fierce Creatures".
Duration: 4 minutes, 23 seconds
Date story recorded: September 2003
Date story went live: 24 January 2008