NEXT STORY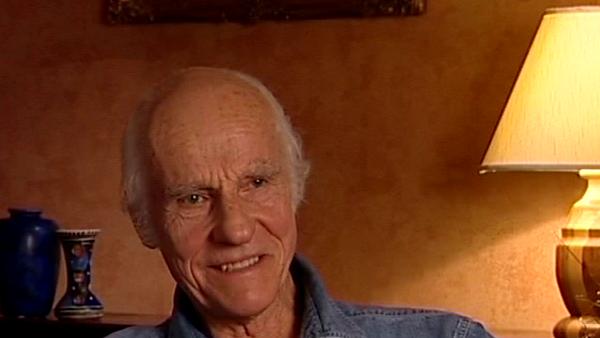 On Golden Pond: Working around the New Hampshire weather
Lighting issues when shooting On Golden Pond
Billy Williams
Film-maker
1
...
9
10
11
12
13
...
18
I went off to shoot On Golden Pond. Now we had a, you know, a few weeks of preparation and during this time we talked about how we were... you know, the look of the picture, so to speak. And Mark said, 'Well I'd really like you to soften it a bit and diffuse it because, you know, I don't want things to look too... too sharp, too hard edged'. And I think it was partly because of the films that he'd done with Vilmos in that Vilmos was... was always experimenting with things like flashing the film and, you know, using various filters to kind of soften the image a little bit. Now, I wasn't too sure about this, because the story is of this couple, Henry Fonda who, celebrates his 80th birthday during the course of the film, and his wife Kate who is supposed to be in her mid 70s. And so it was a story of an old couple coming on holiday — vacation as the Americans say — to this... this idyllic spot on the lake, which they'd been doing for years and years. And their daughter, played by Jane Fonda, who has been estranged from her father for many years because she always felt her father wanted a son, comes to the house with her new boyfriend who's a divorcee and who has a son of about 14. And this young boy becomes the... the son that Henry Fonda never had and they become great buddies in the course of the film.
Well I felt that we shouldn't do anything on camera to make our actors look younger. I felt that, you know, they should be photographed, you know, in an attractive way but not to be diffused at all by anything that we put on the lens or anything that we did in the processing of the neg. So I was a bit reluctant to go with this idea and... and also didn't want the... this beautiful lake to look too pretty, I didn't want to have a kind of chocolate box look to the picture, because there are certain scenes in the film where, you know, it becomes very dramatic. And it becomes a... a less attractive place, and a threatening place during a storm. So I reluctantly went along with the minimum kind of diffusion that was available at the time, which was a low contrast filter made by Tiffin. So we started shooting, and we were shooting on the lake and one used to get tremendous reflection off the water, especially if it were sunny. And, to counteract this I always use a pola screen, which you can adjust to varying degrees of how much you want to hold back of the reflected light. And of course it also enhances the sky if you... if you want to bring out the clouds more and it cuts through the mist, so it's always an invaluable filter to use. So I was using the pola screen and also using this low contrast filter. We shot for a couple of days and when the rushes came back, I could see that we had a problem. Because when we shot towards the bright water, it created a... a flare which infringed onto the darker areas, whereas when you looked away from the water towards the forest, you didn't get that effect, so that I could see problems of cutting... inter-cutting scenes that had bright water in them and scenes that didn't. So I discussed this with Mark and he agreed that the filter wasn't a very good idea, we took it off. So the only... fortunately the only shots left in the picture using this filter are... are the first two or three shots when... when Kate and Hank arrive in the car to begin their holiday, so, you know, I was happily able to get back to not using anything on the lens. And the only diffusion I used at all was when we got into close-ups this... this big on... on Kate or Jane, when I used a very fine black net just to kind of smooth things out a little bit.
Billy Williams, London-born cinematographer Billy Williams gained his first two Oscar nominations for the acclaimed "Women in Love" and "On Golden Pond". His third nomination, which was successful, was for the epic "Gandhi". He was President of the British Society of Cinematographers, and was awarded the Camera Image Festival's Lifetime Achievement Award in 2000.
Title: Lighting issues when shooting "On Golden Pond"
Listeners: Neil Binney
Neil Binney began working as a 'clapper boy' in 1946 on spin-off films from steam radio such as "Dick Barton". Between 1948-1950 he served as a Royal Air Force photographer. From 1950 he was a Technicolor assistant technician working on films such as John Ford's "Mogambo" (photographed by Freddie Young), Hitchcock's "The Man Who Knew Too Much" (Bob Burke), and Visconti's "Senso" (G.R. Aldo/B. Cracker). As a camera assistant he worked on "Mind Benders", "Billy Liar" and "This Sporting Life". Niel Binney became a camera operator in 1963 and worked with, among others, Jack Cardiff, Fred Tammes and Billy Williams. He was elected associate member of the British Society of Cinematographers in 1981 and his most recent credits include "A Fish Called Wanda" and "Fierce Creatures".
Duration: 4 minutes, 39 seconds
Date story recorded: September 2003
Date story went live: 24 January 2008