NEXT STORY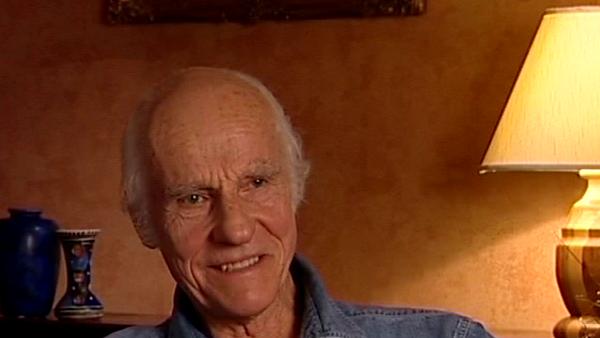 Spencer Tracy's hat
How we shot the climactic scene in On Golden Pond
Billy Williams
Film-maker
1
...
9
10
11
12
13
...
18
Now the climax to the picture is when Henry Fonda and the boy, Billy, go out fishing intent on catching a huge fish that they've nicknamed Walter that's been eluding Henry Fonda for years and he's determined to catch this great fish. And they go fishing in to an area known as Purgatory Cove which is dangerous and full of rocks, but Hank has this idea that this fish might be there. And so off they go. Well the weather changes and it becomes stormy. And Kate gets very worried about their safety and so she drives to the... the local boatman who delivers the nail... the mail and they go searching for the missing couple who have been fishing and have... haven't caught Walter of course. But they decide that because it's getting so dark that they ought to be going home. And they have this difficult problem of getting out of Purgatory Cove because it was getting dark and because of all the rocks. And so Henry Fonda goes up the bow of the boat to navigate and point out where the rocks are and give instructions to young Billy who's... who's driving. And... and Hank sees a rock coming and he says: 'Reverse, reverse! and by mistake the boy goes into forward gear and the boat hurtles forward straight into this massive rock. And Hank is catapulted off the front of the boat into the water and comes up with great gash on his head. Young Billy jumps in to help rescue him and they manage to get to a... another rock which was already there in the lake. It was in the right position as far as the action was concerned, and they hang on to the rock there. And of course during the whole of this process it's gradually getting darker and darker. So, some of it I had to do at the magic hour and some of it I had to do earlier in the day but filtering it down. I used the 81EF instead of the 85 to give it a little bit more blue and I underexposed a bit. The stunt of course, was performed by a stuntman, but we had to put Henry Fonda into the water on two occasions.
Now, he was a sick man, he'd got a pacemaker and only one lung and he was 76 years old and quite frail, but very game. And for weeks we'd been considering how we were going to do this sequence. And at one... one time there was even talk of shooting it in a tank in Hollywood, which filled me with dismay because I thought, oh this is never going to look right. But finally we agreed to go for it. Well the climax of the... of the scene is when Katharine Hepburn and the boatman discover them. And it's... it's by then getting very dark and they're using a flashlight — a torch — to look for them and they spot them clinging to this rock. Well in the script, the boat draws alongside the rock and there's a conversation between Kate and Hank about... you know, what's he doing out... she says... he says to her: 'What are you doing here... out here at this time of night?' And it's a... it's played for laughs, the scene. So in the script the boat was to draw alongside. Well prior to shooting the scene, we have a... a discussion — a... a unit meeting — about how it's going to be done you see. And Kate said, 'Well', she said, 'Why don't I see them from a distance with the flashlight and take off my coat and dive into the water and swim towards them?' And... and I thought well what a marvellous idea. Everybody agreed it was a great idea, but I realised I would only ever get one take, this could ever only happen once. And so, when it came to the... to the day we prepared everything, we got our raft in position by the rock, we lined up with the stand in, we got the rescue boat with Kate and the boatman about 50 or 60 yards away in position with two frogmen in the water behind it holding it in position and pushing it forward. And I had to shoot it at the mag... magic hour because I wanted the flashlight to show up with a good strength of beam and I wanted the running lights on the rescue boat also to show up, but at the same time I wanted the reflection on the water and the distant mountains.
And it was a re... it was a re-enactment really of... of the time of day when I shot the... the scene in... on the lake in Woman in Love, but I would only get one go at this, I wouldn't have more than one attempt because it was... it was the sort of thing that, you know, it couldn't be... there wouldn't be a chance with the health of Henry Fonda and all the drama that was involved. So we set up two cameras and I had a bit of fill light coming from the raft with tungsten lights with blue on to match the daylight, so I had a bit of filler so I could see some detail in the faces. We got everything ready; we got the stuntman... the stuntman out of the water and put Henry Fonda in. They're hanging on there, he's got a bruise on his head, and they're both kind of exhausted and we go for it, and Kate did her stuff to perfection, stripped off, dived into the water. And when they showed that scene in America the whole audience cheered and clapped like... you get this participation from American audiences, it was wonderful. She swims towards him, they're reunited, they speak the lines and it... it was great. The only trouble was, they put a dissolve in at the end and we had a bit of loss of quality on the image. But it was a terrific scene and of course I was... I was greatly relieved when I saw the rushes because it was one of those shots where one was, you know, right on the edge with exposure and, you know.
Billy Williams, London-born cinematographer Billy Williams gained his first two Oscar nominations for the acclaimed "Women in Love" and "On Golden Pond". His third nomination, which was successful, was for the epic "Gandhi". He was President of the British Society of Cinematographers, and was awarded the Camera Image Festival's Lifetime Achievement Award in 2000.
Title: How we shot the climactic scene in "On Golden Pond"
Listeners: Neil Binney
Neil Binney began working as a 'clapper boy' in 1946 on spin-off films from steam radio such as "Dick Barton". Between 1948-1950 he served as a Royal Air Force photographer. From 1950 he was a Technicolor assistant technician working on films such as John Ford's "Mogambo" (photographed by Freddie Young), Hitchcock's "The Man Who Knew Too Much" (Bob Burke), and Visconti's "Senso" (G.R. Aldo/B. Cracker). As a camera assistant he worked on "Mind Benders", "Billy Liar" and "This Sporting Life". Niel Binney became a camera operator in 1963 and worked with, among others, Jack Cardiff, Fred Tammes and Billy Williams. He was elected associate member of the British Society of Cinematographers in 1981 and his most recent credits include "A Fish Called Wanda" and "Fierce Creatures".
Duration: 7 minutes, 10 seconds
Date story recorded: September 2003
Date story went live: 24 January 2008