NEXT STORY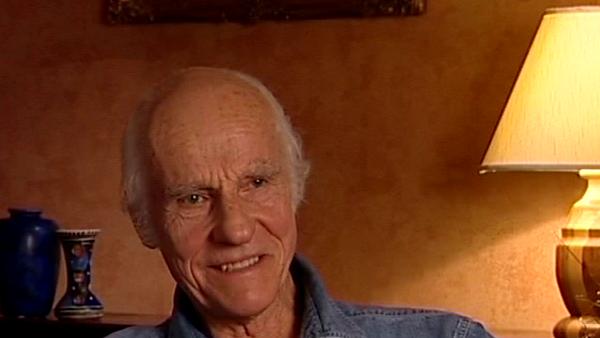 Creating an Ingmar Bergman atmosphere in On Golden Pond
Katharine Hepburn tested the director of On Golden Pond
Billy Williams
Film-maker
1
...
9
10
11
12
13
...
18
Well of course the next day was the first day of shooting and we're all set as we'd rehearsed it the day before, everything's in position, the light's good. And we're waiting for Kate, which was... which was unusual because I had worked with her before on The Glass Menagerie and she was never late. She was always there first thing, absolute dynamo, full of ideas, full of energy, a real driving force. And she was... she was a bit late, and when she came on set she was dressed in the most extraordinary costume. She looked absolutely fantastic, she had on a black silk polo neck and black silk matching trousers and a beautifully brown suede tailored jacket and a matching sort of Robin Hood style hat. And she looked like Coco Chanel and... it was extraordinary. She came on and she said: 'Right, I'm ready', she said, 'Let's shoot'. And Mark Rydell said, 'Well Kate, this isn't... this isn't your costume'. And she said, 'Yes', she said, 'I love it, I think it's perfect, I really... this is what I want to wear, you know, let's go'. Well there then developed the most incredible argument and the language from Miss Hepburn was unbelievable and it was directed straight at the director, not at the... not at the costume designer not... or anyone else, straight at the director. And this went on for quite a while and it was hugely embarrassing because everybody was there. 'All right', she said at the end. It went on for a while. And then she says, 'All right' she said 'Come and... tell me what you want me to wear' and she gave in. And we went to her dressing room which was a cabin on the lake where there were all these clothes that had been prepared and broken down, all old clothes, sort of things which you'd wear on holiday. And something was chosen and she dressed, she came back on set. We did the day's work without another hitch. At the end of the... this first day Mark Rydell came to me and he said, 'You know, George Cukor' — with whom Kate and Spencer Tracy did several pictures — he said, Kate... 'George Cukor warned me; she'll test you on the first day', and that was the test. Because I think if Mark Rydell had yielded to her he would have been off the picture, because she wanted to be sure that this director knew what he was about and that he was going to stand up to her. I think she needed someone that would stand up to her to an extent. She needed someone that she could respect. She had never worked with him before and so that was the test. And it was amazing.
Well after that, things were pretty much plain sailing but there were al... there was always the odd moment when you really felt that she was trying to steal the scene. And, there was a scene where Hank has lit a fire and rather carelessly he's left a lot of newspapers around and he's gone outside onto the porch and, you know, he's talking to... to the boy and Kate comes into the room and all these newspapers are alight and it looks like the house could catch fire. And so she shouts, you know, 'The house... fire!', and the two of... the boy and Hank rush in to... to the fire. Now in the script it's essential that the boy puts out the fire because that upsets the old man who really feels he's getting past it, so this was a key point in the script that the boy should put out the fire. And Kate wanted to put out the fire, so there was a bit of a ding dong about that and in the end the boy picks up a bucket which is full of... of fish that they've caught and water and throws the whole lot on the fire including the fish and then of course the fire is put out. Well after that she would always come to me to talk about what she was going to wear. And there was a scarlet cardigan and she was obviously very keen to wear it. She kept bringing it to me and saying, 'Billy, Billy, I'd like... well what about this lovely red cardigan?' And I was a bit reluctant because it was such an eye catcher, this colour and it... the... the whole of the interior of the house was kind of muted and in the end she said... she said, 'Well why don't you like this colour?' And I said, 'Well it, you know it's... it's so... it's really very bright'. And she said, 'Well, haven't you ever seen any of the French impressionist paintings?' And I said, 'Yes', and she said, 'They've always got a little bit of red in them'. And I said, 'Yes, and your eye goes straight to it'. And she said, 'That's exactly what I want'. She knew that if she was wearing red, whether she was in the house or out on the lake, your eye goes straight to it. So we this little struggle for a while and in fact she... she did eventually finish up wearing it in one scene but I managed to kind of tone it down a bit and it didn't look at all bad. But she'd play these games and... and would always come to me about what she was going to wear.
But... she was a... a delight to work with, so stimulating. And... and she was, you know, she was 76 I think, no, 73 when we shot the picture and about six weeks before we were due to start she was playing tennis and she separated her shoulder and the doctor said to her, 'Well you... you can't possibly do this film now, you... you've got to rest, you know, and give it a chance to heal. She insisted on doing the picture, so in spite of the fact that she'd got a lot of physical things to do like rowing a canoe, carrying huge loads of logs in for the fire and... and things like that, and she was just game for anything. Absolutely a marvellous personality, I shall never forget her. And on the other hand, in contrast, Hank was terribly easy going and whatever you asked him to do he... he would do it.
Billy Williams, London-born cinematographer Billy Williams gained his first two Oscar nominations for the acclaimed "Women in Love" and "On Golden Pond". His third nomination, which was successful, was for the epic "Gandhi". He was President of the British Society of Cinematographers, and was awarded the Camera Image Festival's Lifetime Achievement Award in 2000.
Title: Katharine Hepburn tested the director of "On Golden Pond"
Listeners: Neil Binney
Neil Binney began working as a 'clapper boy' in 1946 on spin-off films from steam radio such as "Dick Barton". Between 1948-1950 he served as a Royal Air Force photographer. From 1950 he was a Technicolor assistant technician working on films such as John Ford's "Mogambo" (photographed by Freddie Young), Hitchcock's "The Man Who Knew Too Much" (Bob Burke), and Visconti's "Senso" (G.R. Aldo/B. Cracker). As a camera assistant he worked on "Mind Benders", "Billy Liar" and "This Sporting Life". Niel Binney became a camera operator in 1963 and worked with, among others, Jack Cardiff, Fred Tammes and Billy Williams. He was elected associate member of the British Society of Cinematographers in 1981 and his most recent credits include "A Fish Called Wanda" and "Fierce Creatures".
Duration: 6 minutes, 59 seconds
Date story recorded: September 2003
Date story went live: 24 January 2008