NEXT STORY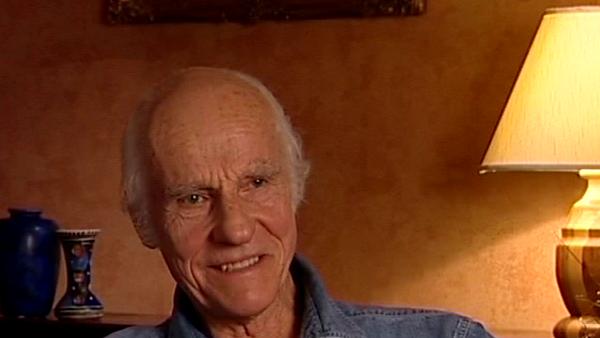 National Service as a photographer in the RAF
We owned the first Arriflex in England
Billy Williams
Film-maker
1
2
3
4
5
...
18
Now just before the end of the war my father bought a camera from an American serviceman who must have brought it back as loot from Germany and it was an Arriflex. Now the Arriflex camera had never been seen in England and I think my father was the first one to own one, and it was the model 2A and it had a three lens turret and a shutter that I think was about 130°, and of course, this... this mirror shutter device, which was revolutionary, no other camera had this principle, and it had the motor in the handle and it was a beautiful camera to hand-hold; it was.. it was so well-balanced and initially it had 200... just 200ft magazines and, of course, you had to have batteries and you could either have a belt battery or, if you wanted a more solid battery, then you'd have to carry it with a shoulder strap. And so he bought this beautiful camera with a set... he had, I think, a 28mm Schneider, a 35 Zeiss, 50 and 85mm Zeiss and 125 Astro. Well in addition to this he had a clockwork camera called a DeVry, which used to take 100ft spools and you... you could load them in daylight, you... I mean you wouldn't do it in sunlight but you... you had 100ft on a black spool, which you would load into the camera, it would feed onto another spool the other side, and then you could unload it and... and somebody, but you could only run a 100ft on that. And another camera that he had at various times was an Eyemo, which was... which was the combat camera that the Americans and the British troops used. So they were using this clockwork Eyemo and the German cameramen were using this Arriflex, which, of course, needed batteries but it was a much better camera altogether. So this was a great asset, this Arriflex, and we took it to Kenya and it behaved perfectly. We were there for eight months and then when we came back, we flew back and we did... we leap-frogged all the way from Nairobi at various stopping points up the Nile, like Khartoum and oh... and then we got to Cairo and we stayed overnight in Cairo, and it was all arranged for us to... to fly back from Cairo in a Sunderland flying boat, which was a beautiful plane with... with four propeller driven engines and I remember we... we checked in at Cairo with... with all our luggage and all this camera equipment, you see, and when we got there the... the pilot said: 'Oh we can't take all this camera equipment; we... we've got a full payload with the passengers and luggage we can't take the camera equipment', and my father said, 'Well' he said, 'If we don't take the camera equipment', he said, 'I don't go, because that camera doesn't go anywhere without me', and he insisted that the cameras went with us and so they were loaded. We got into the plane and we took off on the Nile; a wonderful, wide river, and I thought we would never take off because the plane just seemed to go on and on and on, and we weren't getting off the water, and I thought: we're overloaded; it's all this camera equipment, we're never going to take off. Of course eventually we did, but in those days planes took off very, very, very slowly and only gradually left the water or the ground. Anyway, it was a marvellous flight and we stopped off in Malta to refuel and then we landed in Poole Harbour.
Billy Williams, London-born cinematographer Billy Williams gained his first two Oscar nominations for the acclaimed "Women in Love" and "On Golden Pond". His third nomination, which was successful, was for the epic "Gandhi". He was President of the British Society of Cinematographers, and was awarded the Camera Image Festival's Lifetime Achievement Award in 2000.
Title: We owned the first Arriflex in England
Listeners: Neil Binney
Neil Binney began working as a 'clapper boy' in 1946 on spin-off films from steam radio such as "Dick Barton". Between 1948-1950 he served as a Royal Air Force photographer. From 1950 he was a Technicolor assistant technician working on films such as John Ford's "Mogambo" (photographed by Freddie Young), Hitchcock's "The Man Who Knew Too Much" (Bob Burke), and Visconti's "Senso" (G.R. Aldo/B. Cracker). As a camera assistant he worked on "Mind Benders", "Billy Liar" and "This Sporting Life". Niel Binney became a camera operator in 1963 and worked with, among others, Jack Cardiff, Fred Tammes and Billy Williams. He was elected associate member of the British Society of Cinematographers in 1981 and his most recent credits include "A Fish Called Wanda" and "Fierce Creatures".
Duration: 4 minutes, 11 seconds
Date story recorded: September 2003
Date story went live: 24 January 2008