NEXT STORY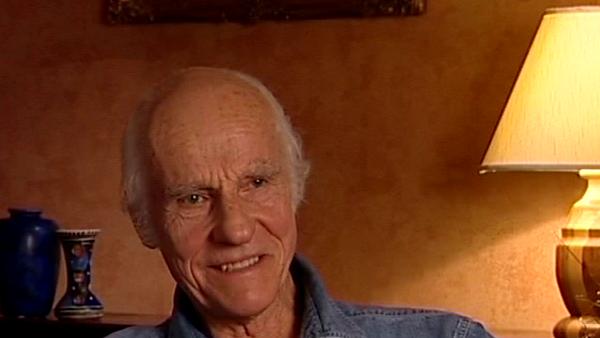 Ben Kingsley's performance in Gandhi
Having to shoot the interiors of Gandhi in London
Billy Williams
Film-maker
1
...
10
11
12
13
14
...
18
There was one particular scene where Gandhi goes to meet the Viceroy in the Presidential Palace in India, in Delhi. And the President of the country wasn't very favourably disposed towards the making of this movie and the... the setting up of the movie had been largely due to Mrs Indira Gandhi who was the daughter of Pandit Nehru, the first Prime Minister of India. And she very much believed in the film and in fact set up a fund through the National Indian Development Corporation which provided about a third of the budget in soft currency, in rupees. So that paid for, you know, the Indian... the crew and the Indian location and the airfares and you know. Without that, I don't think the film would have been made. So Mrs... Mrs Gandhi had a very big hand in bringing the film to life at all. Well, she was in favour of the film, the president wasn't. So although we were allowed to shoot in various government buildings from the outside, he wouldn't allow us to go inside. And so we had this scene of... of Gandhi arriving at the Presidential Palace and we had the Louma crane and I said to Dickie, 'Why don't we start... on the foot of Gandhi as he takes the first step', and it's a foot just with the... he just wore sandals and a loin cloth, and we start with these steps and a foot comes in and we pull back and pull back and go up on the crane and we see this little man going all the way up this long flight of steps to the Presidential Palace and going into the palace. We couldn't shoot the interior there of course but we got this marvellous shot of him arriving. We shot the interior at the Institute of Directors in... Pall Mall and John Gielgud played the Viceroy and so that was all done in London.
Something else happened which meant us shooting in London, was that Gandhi is tried... sent for trial for sedition. And the trial judge was going to be played by Trevor Howard and we wanted to shoot it in the actual courtroom where he was sentenced to seven years imprisonment. And we went to look at this courtroom and it was still in its original condition and still in use. And we were trying to get use of it for a few days to shoot this sequence, you see. And there was a lot of humming and hawing and... it's very difficult to get permission with government bodies. India, you know, it's got very much a civil service based on our own and people were scared of giving permission in case something went wrong and they might lose their job. And so they kept us waiting for a long time and in the end Richard Attenborough said, 'Well, we've got to give up the idea... of shooting in India, we'll... we'll do it in England. And so it was left to Stuart Craig, a wonderful production designer, to find somewhere to do it and he found Staines Town Hall. And the interior of Staines Town Hall was the right size for a complete reproduction of this courtroom, with matching furniture, matching gallery, everything was reproduced in great detail and built inside Staines Town Hall. And we had windows and we put palm trees outside the windows. We bought in an Indian crowd — extras from London — and we had Ben Kingsley and John Clements and various other character actors and we shot the scene in Staines Town Hall and it worked, you never thought for a moment you weren't in India.
Billy Williams, London-born cinematographer Billy Williams gained his first two Oscar nominations for the acclaimed "Women in Love" and "On Golden Pond". His third nomination, which was successful, was for the epic "Gandhi". He was President of the British Society of Cinematographers, and was awarded the Camera Image Festival's Lifetime Achievement Award in 2000.
Title: Having to shoot the interiors of "Gandhi" in London
Listeners: Neil Binney
Neil Binney began working as a 'clapper boy' in 1946 on spin-off films from steam radio such as "Dick Barton". Between 1948-1950 he served as a Royal Air Force photographer. From 1950 he was a Technicolor assistant technician working on films such as John Ford's "Mogambo" (photographed by Freddie Young), Hitchcock's "The Man Who Knew Too Much" (Bob Burke), and Visconti's "Senso" (G.R. Aldo/B. Cracker). As a camera assistant he worked on "Mind Benders", "Billy Liar" and "This Sporting Life". Niel Binney became a camera operator in 1963 and worked with, among others, Jack Cardiff, Fred Tammes and Billy Williams. He was elected associate member of the British Society of Cinematographers in 1981 and his most recent credits include "A Fish Called Wanda" and "Fierce Creatures".
Duration: 4 minutes, 27 seconds
Date story recorded: September 2003
Date story went live: 24 January 2008