NEXT STORY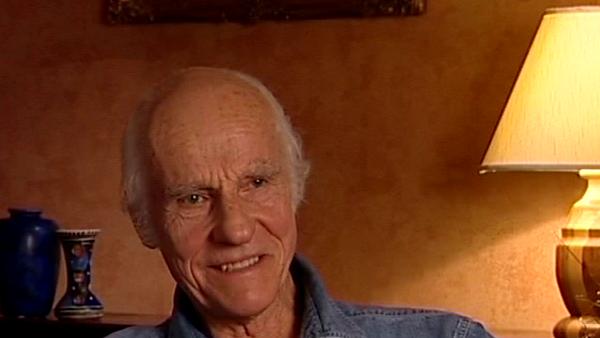 Donald Sutherland's and Faye Dunaway's demands on Ordeal by Innocence
The Survivors
Billy Williams
Film-maker
1
...
11
12
13
14
15
...
18
I went on to a film in... back in, back in America called The Survivors with Robin Williams and Walter Matthau directed by Michael Ritchie. It was the story of two characters who both get fired. And the Robin Williams character becomes very insecure as a result of this and decides that in order to survive he must go on a survival course. And so he leaves New York and goes to Vermont on a survival course which is run by a crazy guy who thinks that society is going to collapse and the... the only way that the individual can survive is to learn to live in the rough and use weapons, learn to handle guns, because the whole of society is falling apart. It's... in fact, an anti... anti-gun movie which I think was one of the reasons why it didn't have as much success as it might have done 'cause it was a very... it was a very good movie, it was very funny; Robin Williams is quite the most hilarious actor I've ever worked with. And he's spontaneously funny. When we have these moments when you're waiting between takes, he would just entertain us. And it wasn't just, you know, stock jokes that he had, it was grabbing everything out of what... whatever was going on, he'd make it funny. And he was a just wonderful guy, a very generous man to work with and very committed to what we were doing.
Well, as I say, we shot in New York and then we had to go to Vermont to shoot all these scenes in the snow. And it was January and it's a winter sports resort and there was no snow. And so we shot a few interiors and at the same time we brought in a snow-making machine. It was bitterly cold and at night it would be minus 15 or 20. And with this machine which shot water up in the air under great pressure and it came down as snow. And they covered an area about the size of a football pitch with snow, which allowed us to do a certain amount of filming, but we still had no real snow. And everybody was – particularly the studio – was starting to get worried about what we were going to do, so they sent off... started doing researches as to whether we could shoot in Michigan which was even colder, but we couldn't go there because Walter Matthau had a heart condition. And in the end they found there was a lot of snow in Lake Tahoe in Northern California and that maybe we should think about moving. And so after we'd been in Vermont three or four weeks and done as much as we could, it was decided to move. And so the whole circus, all the trucks with the grips and electrical and props, started driving, I think it's 3000 miles across from New England to California. And of course we didn't have mobile phones in those days. So once the trucks got rolling it was very difficult to... maintain contact. So the trucks left and we stayed behind with a small amount of equipment to shoot some inserts and so on. The day after the trucks left it snowed, and it snowed for two or three days. And we went to the local airport and flew to the West Coast, leaving behind this idyllic landscape that we wanted, and of course by that time the equipment was almost in California. So we got to California where fortunately it continued to snow and it snowed nearly every day, it was a freak weather condition. And so we had this snow, which wasn't... it wasn't particularly cold but it kept snowing, whereas in... in New... in Vermont it thawed and they didn't get any more snow for the rest of the season, so we made the right decision.
Billy Williams, London-born cinematographer Billy Williams gained his first two Oscar nominations for the acclaimed "Women in Love" and "On Golden Pond". His third nomination, which was successful, was for the epic "Gandhi". He was President of the British Society of Cinematographers, and was awarded the Camera Image Festival's Lifetime Achievement Award in 2000.
Title: "The Survivors"
Listeners: Neil Binney
Neil Binney began working as a 'clapper boy' in 1946 on spin-off films from steam radio such as "Dick Barton". Between 1948-1950 he served as a Royal Air Force photographer. From 1950 he was a Technicolor assistant technician working on films such as John Ford's "Mogambo" (photographed by Freddie Young), Hitchcock's "The Man Who Knew Too Much" (Bob Burke), and Visconti's "Senso" (G.R. Aldo/B. Cracker). As a camera assistant he worked on "Mind Benders", "Billy Liar" and "This Sporting Life". Niel Binney became a camera operator in 1963 and worked with, among others, Jack Cardiff, Fred Tammes and Billy Williams. He was elected associate member of the British Society of Cinematographers in 1981 and his most recent credits include "A Fish Called Wanda" and "Fierce Creatures".
Duration: 4 minutes, 24 seconds
Date story recorded: September 2003
Date story went live: 24 January 2008