NEXT STORY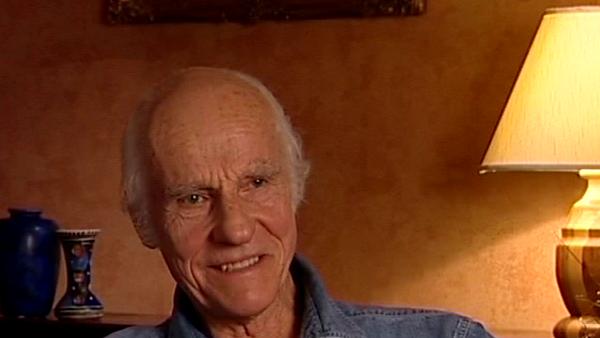 My vision for Dreamchild
Donald Sutherland's and Faye Dunaway's demands on Ordeal by Innocence
Billy Williams
Film-maker
1
...
11
12
13
14
15
...
18
My next film was Ordeal by Innocence, Agatha Christie — a whodunit — which we shot in and around Dartmouth. Desmond Davis was the director, who was a camera operator, lovely man, and the lead actor, who was in nearly every scene, was Donald Sutherland, whom I'd previously worked with, he'd a small part in Billion Dollar Brain. And prior to shooting the film we had a meeting with Donald and he said... he said, 'I don't want to be shot with any wide-angle lenses'. And I said, 'Well, what do you call a wide en... angle? And he said, 'Anything wider than a 40'. And I said, 'But, you know, we're shooting a... a mystery thriller and we're on location in small rooms', I said, 'You know, that's... that's going to be difficult not to shoot wider than a 40'. And he said, 'Well you know, as long as when you come closer, when you do the closer shots you don't use wide angles that'll... that'll be alright'. And he said, 'The other thing...' he said, 'I don't want any shots of me... of looking up at me; I don't want any low angles'. Well Donald is about 6'5"; he's one of the tallest actors I've worked with. And so that... I felt, well that... that's going to be tricky. But anyway.
The first day... the first shot of the first day is of Donald entering this house in Dartmouth with a package which contains an important prop. And he goes into the hallway, it's quite a large hallway with a circular table, and he places this package on the table and he starts to unwrap it. And he's with Annette Crosby who's very short. Now because he was looking down, I set the camera looking up at no more than that angle on a 40. So we're inside this hallway, we bring him in the door and he puts the package down and he's looking down at the package and he starts to unwrap it. And this is the first setup and we rehearse it and straight away he said: Why have you got the camera looking up at me like this?' And he went straight for the director. He said, 'I thought we understood there were going to be no low angles', and he really tore into poor Desmond Davis in a similar way that Katherine Hepburn had three or four years before. He didn't address me at all, he just went for Des... Desmond and he really upset him. And... and you know, it affected the rest of the movie because Des was really quite kind of unhappy and unsettled and... and it was a great shame. And the result was that... that quite frequently, Donald would come into the room on a shot and sit down so that the camera wasn't looking up at him. And I... I thought, I can't understand this but I had to live with it.
Well we had an extraordinary cast, Christopher Plummer, Ian McShane, Faye Dunaway, Sarah Miles. Now Faye Dunaway whom I'd worked with a few years previously on Voyage of the Damned was playing Sarah Miles' mother-in-law, but they're about the same age, so... no sorry her stepmother not her mother-in-law, she was playing her stepmother, but they were about the same age. And Faye wanted to look as young as possible, she'd got the same make up man that she'd had for several years. And she was made up to look as young as possible. And it was just out of character. And she did something that had never happened to me before on a set or since; she had to move around the room in various positions and I received instructions via the makeup man that wherever she was, she was only to be lit with front light so that she was facing the light which is the most flattering light. And that there was to be no cross light and no three quarter backlight hitting her face, so everything that might cause that, had to be flagged. Which of course made it much more complicated. So I lit the set and she came on to do the final rehearsal and she walked round the set with a mirror and checked her position to see that every lamp was, you know, where it should be. And I thought: oh this is ridiculous, but had to go along with it. It was made by some producers called Golan and Globus and they'd spent a fortune on the cast, not very much money on the script or the props, and after we'd finished the film they found it was too short. See, it had to be 90 minutes or something to qualify for certain feature status and it was a few minutes short. And so they had to go back later with another unit which I couldn't be part of because I was somewhere else to shoot some extra scenes. It was quite a good story and... you know, it was a very good cast, it was some good stuff in it and Dartmouth was a wonderful location.
Billy Williams, London-born cinematographer Billy Williams gained his first two Oscar nominations for the acclaimed "Women in Love" and "On Golden Pond". His third nomination, which was successful, was for the epic "Gandhi". He was President of the British Society of Cinematographers, and was awarded the Camera Image Festival's Lifetime Achievement Award in 2000.
Title: Donald Sutherland's and Faye Dunaway's demands on "Ordeal by Innocence"
Listeners: Neil Binney
Neil Binney began working as a 'clapper boy' in 1946 on spin-off films from steam radio such as "Dick Barton". Between 1948-1950 he served as a Royal Air Force photographer. From 1950 he was a Technicolor assistant technician working on films such as John Ford's "Mogambo" (photographed by Freddie Young), Hitchcock's "The Man Who Knew Too Much" (Bob Burke), and Visconti's "Senso" (G.R. Aldo/B. Cracker). As a camera assistant he worked on "Mind Benders", "Billy Liar" and "This Sporting Life". Niel Binney became a camera operator in 1963 and worked with, among others, Jack Cardiff, Fred Tammes and Billy Williams. He was elected associate member of the British Society of Cinematographers in 1981 and his most recent credits include "A Fish Called Wanda" and "Fierce Creatures".
Duration: 5 minutes, 40 seconds
Date story recorded: September 2003
Date story went live: 24 January 2008