NEXT STORY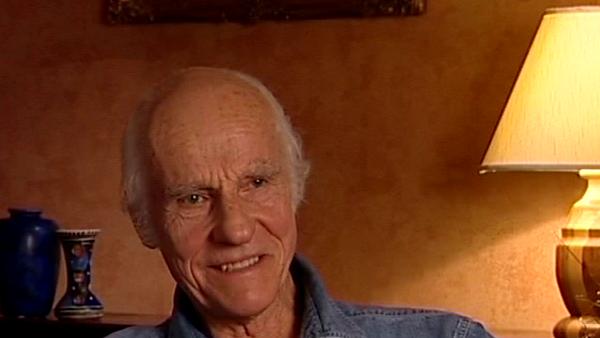 The cold destroys equipment on Agaguk set
Faking the whale hunt in Agaguk
Billy Williams
Film-maker
1
...
14
15
16
17
18
We had this bear fight, a polar bear fight, which had not been resolved you see. Nobody figured out how it could be done and it was left right to the end of the picture, when we finished all of our shooting in Montreal; it had to be worked out when we got to the Arctic, but before that we had another dramatic scene to do, which was a whale hunt. Now, the other half of the quarry that we in... we were in... one half had the village in; the other half had a huge tank. I think the tank was about 3 or 400ft long and about 30ft wide and about 6 or 7ft deep, and the... effect... Effects Associates at Pinewood had created a mechanised whale in two pieces. They created like the front half of the whale and then the tail fin, and it was all articulated and placed into this tank on rollers so that the... the whale could go through the water and come out and blow and then the tail section would come up afterwards. Because this whale hunt was absolutely essential to the picture and we couldn't do it, obviously, with a real whale, so it all had to be faked and this... this whale made at Effects Associates was very convincing, it got lots of speckled quality and it'd been very well made, but it was only made of plastic. Now, when we came to shoot the whale hunt, we didn't want ice on the water because the ice would damage the whale and as luck would have it, the weather was very cold and the ice kept forming on the water, so they had to bring in generators which would agitate the water to keep it moving, because if you keep the... the water moving, the ice won't form. So we had these generators activating the water to stop the ice forming. We also had giant icebergs which were up to 40' high, which this production designer had made, which were scattered all round this tank, so it looked as if we were really in the... in the Arctic with these ice floes painted and then covered with snow and then we... when we threw in some mist to try and hide some of the cracks; but it was a... it was a mammoth operation and eventually we got a sequence shot. Because Agaguk has to jump onto the whale and kill it... kill the whale with a... with a spear as they did in those days, so all that had to be faked and it worked out quite well.
Billy Williams, London-born cinematographer Billy Williams gained his first two Oscar nominations for the acclaimed "Women in Love" and "On Golden Pond". His third nomination, which was successful, was for the epic "Gandhi". He was President of the British Society of Cinematographers, and was awarded the Camera Image Festival's Lifetime Achievement Award in 2000.
Title: Faking the whale hunt in "Agaguk"
Listeners: Neil Binney
Neil Binney began working as a 'clapper boy' in 1946 on spin-off films from steam radio such as "Dick Barton". Between 1948-1950 he served as a Royal Air Force photographer. From 1950 he was a Technicolor assistant technician working on films such as John Ford's "Mogambo" (photographed by Freddie Young), Hitchcock's "The Man Who Knew Too Much" (Bob Burke), and Visconti's "Senso" (G.R. Aldo/B. Cracker). As a camera assistant he worked on "Mind Benders", "Billy Liar" and "This Sporting Life". Niel Binney became a camera operator in 1963 and worked with, among others, Jack Cardiff, Fred Tammes and Billy Williams. He was elected associate member of the British Society of Cinematographers in 1981 and his most recent credits include "A Fish Called Wanda" and "Fierce Creatures".
Duration: 3 minutes, 4 seconds
Date story recorded: September 2003
Date story went live: 24 January 2008