NEXT STORY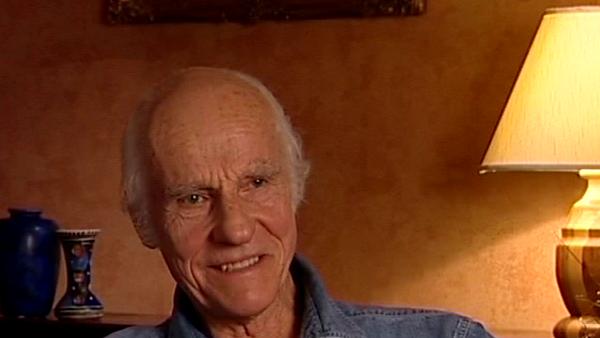 A recce in the Arctic
The cold destroys equipment on Agaguk set
Billy Williams
Film-maker
1
...
14
15
16
17
18
I had a big night exterior to do and I wanted to light this... this vast area with a single source of light like it was moonlight, and I asked for a lamp known as a Moscow light, which comes with its own generator and it's articulated and you can take this lamp up to about 100' and it's made up of 15 6K, HMI power lamps and each of these 15 lamps is articulated and can be directed to wherever you want it. And so, by putting this thing up 100' in the air, you could get, you know, a marvellous single source of light which you could direct to wherever you wanted it, and it was virtually one shadow although it did fringe a little bit. Well, the night that we first wanted to use this was very cold and we get to the location for this night shoot and the operator of the Moscow light can't get into the cab because it's frozen, everything is frozen, so we then have to start thinking of what we can do as an alternative and we started rigging brutes, not brutes, 12K HMIs — I beg your pardon — on towers so that we can at least do something and eventually, he gets into the cabin of his Moscow light and we start work you see.
Well, it was about -20 I suppose, and after we'd been working for a little while, one of the lamps went out and then another one went out and in the end, I'd only got about three or four lamps that were working, the rest had just cut out for no reason except the cold. So that, the idea of using the Moscow light in these conditions just... just didn't work and of course, I was left trying to salvage the operation. At other times it was so cold that the 12K HMIs just exploded, they just blew. They'd been burning for a while and they just went bang, like a bomb. It happened two or three times, it was so cold. We were using an Arri BL and when it got below about 15... -15, it was picking a little bit, when the... when the assistant checked the gate, there was a little bit of dust, emulsion dust in... in the bottom of the camera which nobody could quite explain. It wasn't until the next day that we saw the rushes that the film had got a... a sort of judder on it and, you know, we... we got in touch with the rental company and we got another camera and they sent somebody out and we did everything we could to keep the camera warm and we found that it was fine until about -15, but when it got to -20 we got this trouble again and so we had that problem. So when we came to go the Arctic, we decided that... that we couldn't take the risk of going with the Arriflex because of this problem with the cold, we switched to a Panaflex which got more heaters.
Billy Williams, London-born cinematographer Billy Williams gained his first two Oscar nominations for the acclaimed "Women in Love" and "On Golden Pond". His third nomination, which was successful, was for the epic "Gandhi". He was President of the British Society of Cinematographers, and was awarded the Camera Image Festival's Lifetime Achievement Award in 2000.
Title: The cold destroys equipment on "Agaguk" set
Listeners: Neil Binney
Neil Binney began working as a 'clapper boy' in 1946 on spin-off films from steam radio such as "Dick Barton". Between 1948-1950 he served as a Royal Air Force photographer. From 1950 he was a Technicolor assistant technician working on films such as John Ford's "Mogambo" (photographed by Freddie Young), Hitchcock's "The Man Who Knew Too Much" (Bob Burke), and Visconti's "Senso" (G.R. Aldo/B. Cracker). As a camera assistant he worked on "Mind Benders", "Billy Liar" and "This Sporting Life". Niel Binney became a camera operator in 1963 and worked with, among others, Jack Cardiff, Fred Tammes and Billy Williams. He was elected associate member of the British Society of Cinematographers in 1981 and his most recent credits include "A Fish Called Wanda" and "Fierce Creatures".
Duration: 3 minutes, 34 seconds
Date story recorded: September 2003
Date story went live: 24 January 2008