NEXT STORY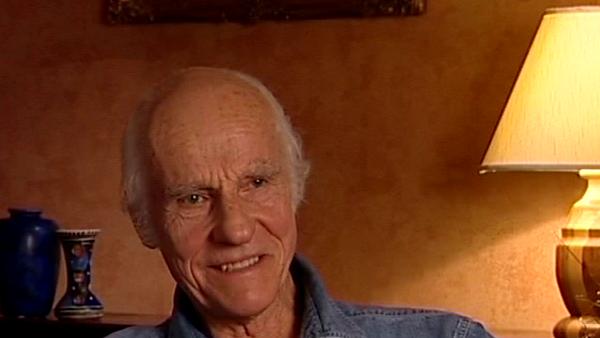 Filming the polar bear fight
Figuring out how to stage the polar bear fight
Billy Williams
Film-maker
1
...
14
15
16
17
18
Now we came to the question of shooting the bear fight. We built a real igloo — it's fascinating to watch the way an igloo is built — it can be built in an hour or two and you just cut... you... you need the right kind of snow and you need a knife, like a long knife about that long, and it's usually done by a man and a woman. The man cuts the ice blocks and they're a bit like oversized breeze blocks, and he cuts them and with his wife, builds the igloo. And she fills in the cracks with snow and they build it in a perfect sphere and then they leave a space at the top for light to come in. And we watched the film, Nanook of the North, the 1920's film, we looked at that for reference and we saw that Nan... in Nanook of the North that they took a piece of ice and used that as a window, so that you got light in during daylight hours so, you know, we faked that. But once we're inside this igloo, it was altogether different from the igloos that we'd used in the studio because the light was different; it had a sort of bluey-green quality and it... it had a very different atmosphere of... of stillness, you couldn't hear anything, and it was a really extraordinary sensation. And so we built this igloo to shoot in and... and then the... the local people, the local Inuit, also built a big Inuit [sic] which was like the Unit Restroom, where you could go in and have a cup of tea. Which was about 12' diameter, I suppose, and sitting in this... it is an uncanny feeling, sitting in this all having cups of tea with this freezing weather outside and of course, still freezing cold inside. So we built our igloo and the scene is of our hero, Agaguk, asleep during daylight and the polar bear appears and has to smash through the igloo, treads on Agaguk's rifle, so he can't use his gun. It... our hero escapes out of the igloo and attacks the polar bear with a knife and kills the polar bear. It needed a lot of cuts and we hadn't... it hadn't been worked out how we were going to do this. We arrive in... in the Arctic and the producer introduced us to a new member of the cast. He'd hired a giant, a giant wrestler, who was 7' 10" tall and weighed about 28 stone, I think. It was the biggest man I've ever seen and he was beautifully proportioned and immensely strong and everything about him was big, except his feet. He didn't have big feet.
Billy Williams, London-born cinematographer Billy Williams gained his first two Oscar nominations for the acclaimed "Women in Love" and "On Golden Pond". His third nomination, which was successful, was for the epic "Gandhi". He was President of the British Society of Cinematographers, and was awarded the Camera Image Festival's Lifetime Achievement Award in 2000.
Title: Figuring out how to stage the polar bear fight
Listeners: Neil Binney
Neil Binney began working as a 'clapper boy' in 1946 on spin-off films from steam radio such as "Dick Barton". Between 1948-1950 he served as a Royal Air Force photographer. From 1950 he was a Technicolor assistant technician working on films such as John Ford's "Mogambo" (photographed by Freddie Young), Hitchcock's "The Man Who Knew Too Much" (Bob Burke), and Visconti's "Senso" (G.R. Aldo/B. Cracker). As a camera assistant he worked on "Mind Benders", "Billy Liar" and "This Sporting Life". Niel Binney became a camera operator in 1963 and worked with, among others, Jack Cardiff, Fred Tammes and Billy Williams. He was elected associate member of the British Society of Cinematographers in 1981 and his most recent credits include "A Fish Called Wanda" and "Fierce Creatures".
Duration: 3 minutes, 18 seconds
Date story recorded: September 2003
Date story went live: 24 January 2008