NEXT STORY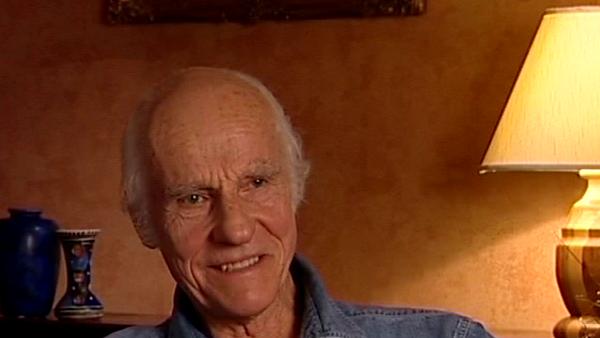 Filming documentaries for the Iraq Petroleum Company
Differences between documentary and feature filmmaking
Billy Williams
Film-maker
1
2
3
4
5
...
18
I really wanted to get into feature films; I was beginning to appreciate cinema much more and there was a lovely cinema I used to go to in Oxford Street called the Academy Cinema, which... which always had foreign films on and sort of more art films, and I was beginning to appreciate the aesthetics side of cinema much more because I think, as an assistant with my father and with British Transport Films, it was very much a technical job, you know, know... knowing the camera, being able to take the camera apart and put it together again, knowing the lenses, handling the film stock, loading the film stock, knowing the filters and generally it was a very technical job, and it was when I was in my early 20s I think that I really began to get a more appreciation for the aesthetics of cinema, particularly European cinema, and I wanted to move into features but there was no way of doing it because, if you... if you'd grown up and were trained in documentaries, it was a very different field from feature films.
Feature films were like the Premier League is now and... and if you wanted to work in features you had to start in the camera room and the camera department of a major studio as a... a tea boy, if you like, and then eventually you'd get onto doing the clapper and loading and work up to focus and operating, and eventually you might become what was called in the British system, a lighting cameraman, but very often people remained as operators or as focus pullers and made a... a whole career of... of being in that one particular grade. So there were very definite divisions in the feature film world, whereas in documentary you were either an assistant who did everything that needed to be done with the camera or you were the cameraman who operated and lit and set up, and so on. So... you're working with a very much smaller group and that's the way that I'd grown up, and it was obviously a very far cry from working in a major studio. So I... I had no experience of working in a major studio; I'd worked in some smaller studios with my father on... on sort of minor projects; he did a number of small feature films and... but always working with very limited equipment, and so, you know, I didn't have this experience of having worked with a very well known cinematographer. But things changed when commercials arrived. Commercial television started, I think, in about 1955 or '56.
Billy Williams, London-born cinematographer Billy Williams gained his first two Oscar nominations for the acclaimed "Women in Love" and "On Golden Pond". His third nomination, which was successful, was for the epic "Gandhi". He was President of the British Society of Cinematographers, and was awarded the Camera Image Festival's Lifetime Achievement Award in 2000.
Title: Differences between documentary and feature filmmaking
Listeners: Neil Binney
Neil Binney began working as a 'clapper boy' in 1946 on spin-off films from steam radio such as "Dick Barton". Between 1948-1950 he served as a Royal Air Force photographer. From 1950 he was a Technicolor assistant technician working on films such as John Ford's "Mogambo" (photographed by Freddie Young), Hitchcock's "The Man Who Knew Too Much" (Bob Burke), and Visconti's "Senso" (G.R. Aldo/B. Cracker). As a camera assistant he worked on "Mind Benders", "Billy Liar" and "This Sporting Life". Niel Binney became a camera operator in 1963 and worked with, among others, Jack Cardiff, Fred Tammes and Billy Williams. He was elected associate member of the British Society of Cinematographers in 1981 and his most recent credits include "A Fish Called Wanda" and "Fierce Creatures".
Duration: 3 minutes, 8 seconds
Date story recorded: September 2003
Date story went live: 24 January 2008