NEXT STORY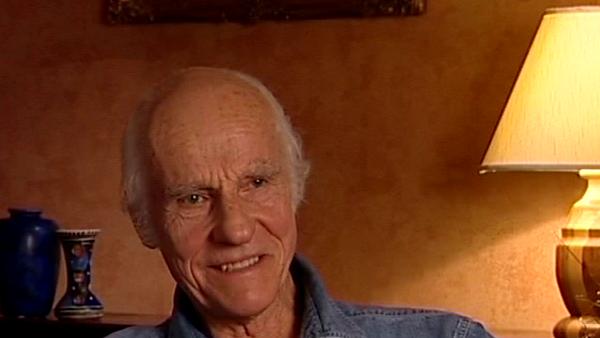 Baghdad in the mid '50s
Filming documentaries for the Iraq Petroleum Company
Billy Williams
Film-maker
1
2
3
4
5
...
18
One of the directors I'd worked with at British Transport, Michael Clarke, had been given a job to direct a film for a company called Film Centre and the film was going to be sponsored by the Iraq Petroleum Company and it was going to be shot around Europe. Now it occurred to me that it might be a good idea to have my own camera because I'd... I'd grown up with my father having his own equipment and I found that I'd got enough money saved up, particularly from my spell in Africa, and I spent my entire savings on buying an Arriflex camera with a set of Cooke lenses specifically to do this job in Europe for the Iraq Petroleum Company.
So I invested everything in... in this camera equipment; it was a huge... huge risk, and went off to Europe with an assistant cameraman, Alan Hewison, and Michael Clarke and his assistant Ralph Sheldon, and we travelled around Europe and it... it was really a very enjoyable experience. It was... it was all exteriors and so it wasn't too demanding in terms of lighting, but I was very keen on hand-held work and, of course the Arriflex was... was ideal for that and one of the cameramen that I'd worked with when I was at British Transport was Reg Hughes, who was a kind of specialist with hand-held work and I remember him saying, 'Now, when you're hand-holding', he said, 'the important thing is, if you can, to hold your breath and also, if you're doing a walking shot, is to bend your knees'. So you walk along like Groucho Marx and that cushions the movement and makes it altogether more steady you see. So I'd become quite... quite good at this hand-held work and, of course, with the hand-held camera you can... you can be so much more responsive to things that are happening; it's... it's immediate, isn't it, and you can quickly change the height as if you were on a dolly; you can raise and lower, and so there's an awful lot of things you can do hand-held, you know, once you've got the hang of it.
So that was my beginnings as a cameraman and then the same company... were given a job to go to Iraq, which was where the Iraq Petroleum Company was based, to make a film about the cultural history of Mesopotamia and so, having completed this film in... in Europe, I then, almost immediately, went off to Iraq, to Baghdad, and... to do this film about the cultural history of the Middle East. The film was called Rivers Of Time and the rivers being the Tigris and the Euphrates — the two great rivers — and we travelled around all over the country to famous historical sites, biblical sites such as Babylon and Yrr and Nineveh; places that we'd read about in the Old Testament, and it was quite extraordinary, so we're going to Babylon, and seeing all these excavations which went down, you know, perhaps 50' into the ground where they'd excavated and... and there were all these different layers of civilisation. And in many... many of these places they had these wonderful frieze with... with the earliest form of writing, because the... I think it was the Sumerians, were the people that first write... first created an alphabet and this writing was in... Cuneiform. Cuneiform yes, and there were these huge tablets with all this writing on in marvellous condition and... and these were all over the country at... at various sites, and wonderful carvings of... of the kind of... the leaders and of animals.
And, we also went to the Baghdad Museum and the Mosel Museum where they've got all these wonderful treasures, and when this... this dreadful war broke out and, you know, the... the museums were... were sacked and... The recent one? So many of these priceless things were destroyed. I was so really dismayed at what was happening because that was the beginning of our civilisation; these were the first townships, it was the earliest... it was the beginning of writing, the invention of the wheel and this is where civilisation as we know it started, in Mesopotamia. So we travelled all over Iraq and then into Syria where we filmed some more well known excavations and so on and... I was there for about four months and it... it was unbelievably hot, because we were there in the summer and people in those days didn't... didn't work outside in the middle of the day unless you were crazy because it was so hot. They had air-conditioning and the only people that were on the streets were... in the heat of the day were the sort of poorer people who had to go about their business but, I remember going to Basra, which was the hottest place I'd ever been in at that point; it was about 115 in the shade with, you know, tremendous humidity.
Billy Williams, London-born cinematographer Billy Williams gained his first two Oscar nominations for the acclaimed "Women in Love" and "On Golden Pond". His third nomination, which was successful, was for the epic "Gandhi". He was President of the British Society of Cinematographers, and was awarded the Camera Image Festival's Lifetime Achievement Award in 2000.
Title: Filming documentaries for the Iraq Petroleum Company
Listeners: Neil Binney
Neil Binney began working as a 'clapper boy' in 1946 on spin-off films from steam radio such as "Dick Barton". Between 1948-1950 he served as a Royal Air Force photographer. From 1950 he was a Technicolor assistant technician working on films such as John Ford's "Mogambo" (photographed by Freddie Young), Hitchcock's "The Man Who Knew Too Much" (Bob Burke), and Visconti's "Senso" (G.R. Aldo/B. Cracker). As a camera assistant he worked on "Mind Benders", "Billy Liar" and "This Sporting Life". Niel Binney became a camera operator in 1963 and worked with, among others, Jack Cardiff, Fred Tammes and Billy Williams. He was elected associate member of the British Society of Cinematographers in 1981 and his most recent credits include "A Fish Called Wanda" and "Fierce Creatures".
Duration: 6 minutes, 7 seconds
Date story recorded: September 2003
Date story went live: 24 January 2008