NEXT STORY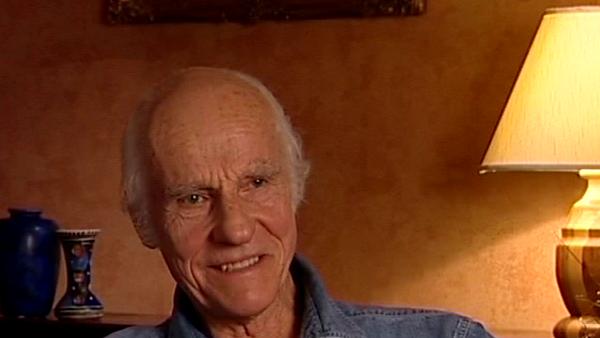 30 Is a Dangerous Age, Cynthia
San Ferry Ann and Just Like a Woman
Billy Williams
Film-maker
1
2
3
4
5
...
18
1965 I shot my first feature film. It was called 'San Ferry Ann' and it was in black and white, directed by Jeremy Summers, and it was the story of a group of British holidaymakers, catching the ferryboat at Dover, crossing the channel and arriving in Calais, and it was a comedy with all the obvious things that the English used to encounter when they went to a foreign country in those days, and we had a marvellous cast of many of the people that have been in Carry On films, like Barbara Windsor and Joan Sims, Wilfred Bramble, Ron Moody, Graham Stark and-so we travelled from Dover to Calais and what was unusual about it, is that it was a silent film; there was no dialogue. It had a music score, a very amusing track by Ron Goodwin, but no- just effects, but no dialogue. So it was quite a challenge; you had to tell the story as if it were a silent film, and the company that made it was called Dormar. Now the year before they'd made a similar film, which was called 'A Home Of Your Own', which was shot on the same principle of no sound and had been the most successful short film ever made; it had been on the film circuit several times it was so good. And so this was trying to repeat that success and it turned out well and it got a cinema release as one of the Bolting Brothers' pictures, and so I'd got a film out there on the circuit and, you know, it was great fun to do it. I had- I used my own camera but I had a very small lighting package because there weren't many interiors and there wasn't much money on the film. But I got the job through David Anderson, who was the production manager, and David Anderson I had worked with on commercials and so there I was, I got my first feature picture and I was absolutely thrilled. Well the same company then went on to make another film, but this time in colour, just a few months afterwards called 'Just Like A Woman', and we shot in a studio in Isleworth- well I say it was a studio, it had just been converted from being a cinema. So it was new studio and it was quite long, quite high but rather narrow, and the story was of a matrimonial relationship which had broken down- it was Wendy Craig and Francis Matthews, and- so they were separating and the thing that the woman most wanted was to have the most wonderful bathroom. And so she had- they separated and she had a bathroom built in the middle of a field, and we had a lovely supporting cast of comedy actors and it's the only time in my life where I've had an influence over who directed the picture, because the producer was Bob Kellett, and Bob Kellett had produced this little black and white film, 'San Ferry Ann', and he hadn't- he'd got a director in mind though he couldn't make up his mind who was going to direct his next film, and he said to me- well who do you suggest? And I suggested a chap called Bob Fuest, whom I'd also worked with on commercials, who'd been a designer and become a director, but he also did a bit of writing. And so Bob Fuest directed 'Just Like A Woman' and it was a nice little film, and it went to the Edinburgh Film Festival, which was, you know, a great thrill. So that was my second feature film and I remember we had a lovely continuity lady called Lily Poiser and I said to Lily one day, I said, how do you- how do I get on to the big pictures, because I'm just really anxious to get, you know, into the big time. And she said- little by little. So I said, all right; well I've got to wait for a bit.
Billy Williams, London-born cinematographer Billy Williams gained his first two Oscar nominations for the acclaimed "Women in Love" and "On Golden Pond". His third nomination, which was successful, was for the epic "Gandhi". He was President of the British Society of Cinematographers, and was awarded the Camera Image Festival's Lifetime Achievement Award in 2000.
Title: "San Ferry Ann" and "Just Like a Woman"
Listeners: Neil Binney
Neil Binney began working as a 'clapper boy' in 1946 on spin-off films from steam radio such as "Dick Barton". Between 1948-1950 he served as a Royal Air Force photographer. From 1950 he was a Technicolor assistant technician working on films such as John Ford's "Mogambo" (photographed by Freddie Young), Hitchcock's "The Man Who Knew Too Much" (Bob Burke), and Visconti's "Senso" (G.R. Aldo/B. Cracker). As a camera assistant he worked on "Mind Benders", "Billy Liar" and "This Sporting Life". Niel Binney became a camera operator in 1963 and worked with, among others, Jack Cardiff, Fred Tammes and Billy Williams. He was elected associate member of the British Society of Cinematographers in 1981 and his most recent credits include "A Fish Called Wanda" and "Fierce Creatures".
Duration: 4 minutes, 47 seconds
Date story recorded: September 2003
Date story went live: 24 January 2008