NEXT STORY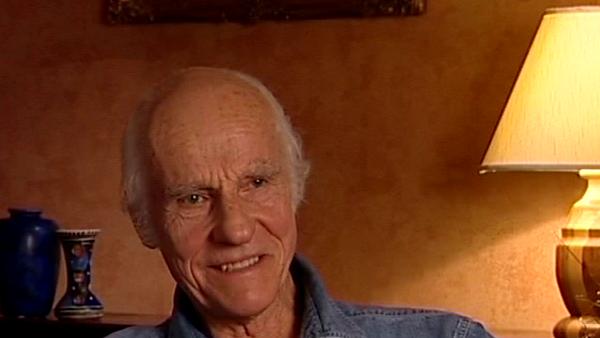 A letter to Billy Williams from Walter Forde
My father's mistake as a freelance cameraman
Billy Williams
Film-maker
1
2
3
4
5
...
18
After he left the navy he became an independent freelance cameraman and in those days if you were freelance you... you always had your own equipment, your own cameras, and cameras were his life blood really; the camera was looked after like a baby and everything was kept in immaculate condition. And ...at that time he had an office in Gerrard Street, which is now Chinatown and, of course, the heart of the film is... film world — as it still is —is... was Wardour Street and Soho Square, and that area, and... you know, he was always looking for work, as were his colleagues and, if he wasn't working, he would sometimes just get his camera out and put it in the box and put a shoulder, pick up his tripod and just walk up Wardour Street as if he was going on a job, and his pals would say, 'Oh Billy's working again' and, of course, if you were working you had a better chance of getting a job. So he was always very optimistic about life and always hopeful, you know, that something good was going to turn up and, of course, it very often did but there were also long periods of unemployment and he did every kind of film-making from newsreels, I mean he'd do the Cup Final, the Grand National, boxing events. I remember him telling me about one championship fight that he was engaged to film and it involved a fighter called Kid Lewis, whose son later became a cinematographer and a film producer, and Kid Lewis had got this title fight in London. Now the man that was producing the film, was known... his name was Jones and he was known as Knocker Jones because he very often failed to pay up, so he got this reputation of... of being called Knocker Jones. Well several cameramen, I think about eight cameramen with their equipment, were supposed to turn up for this championship fight and on the night my father was the only one that showed up because all the others decided it wasn't worth doing because you wouldn't get paid anyway. So my father turned up, the only camera on the fight. So the fight starts and my father starts shooting and he's got several magazines and he reloads between rounds, and then eventually he runs out of film and the fight is still... still going on, so he has to go into the changing bag to reload. But whilst he's reloading Kid Lewis wins by a knockout and so my father hasn't got the... you know, the climax to the fight, which was a disaster you see, and so they staged a knockout; they faked it all and then it came out in the cinemas and this... this mock-up was so apparent that the audience all complained that it was a fake and wanted their money back.
Billy Williams, London-born cinematographer Billy Williams gained his first two Oscar nominations for the acclaimed "Women in Love" and "On Golden Pond". His third nomination, which was successful, was for the epic "Gandhi". He was President of the British Society of Cinematographers, and was awarded the Camera Image Festival's Lifetime Achievement Award in 2000.
Title: My father's mistake as a freelance cameraman
Listeners: Neil Binney
Neil Binney began working as a 'clapper boy' in 1946 on spin-off films from steam radio such as "Dick Barton". Between 1948-1950 he served as a Royal Air Force photographer. From 1950 he was a Technicolor assistant technician working on films such as John Ford's "Mogambo" (photographed by Freddie Young), Hitchcock's "The Man Who Knew Too Much" (Bob Burke), and Visconti's "Senso" (G.R. Aldo/B. Cracker). As a camera assistant he worked on "Mind Benders", "Billy Liar" and "This Sporting Life". Niel Binney became a camera operator in 1963 and worked with, among others, Jack Cardiff, Fred Tammes and Billy Williams. He was elected associate member of the British Society of Cinematographers in 1981 and his most recent credits include "A Fish Called Wanda" and "Fierce Creatures".
Duration: 3 minutes, 35 seconds
Date story recorded: September 2003
Date story went live: 24 January 2008