NEXT STORY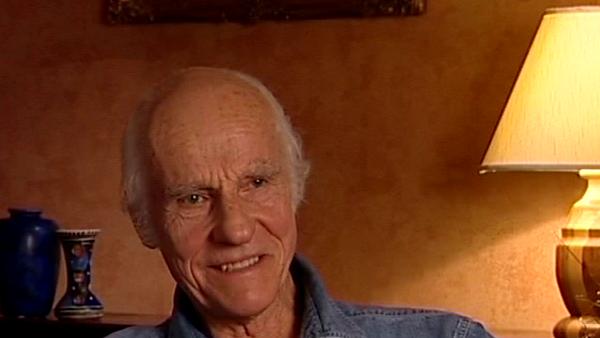 Story boards versus rehearsals
The camera and equipment on Billion Dollar Brain
Billy Williams
Film-maker
1
2
3
4
5
6
...
18
Well the main camera on the shoot was a… a BNC Mitchell in which you… you racked over, the camera moved across on a sliding plate, you moved it across to look through the lens and line up the shot, and then when it came to roll the camera you had to remember to rack it back otherwise you wouldn't expose anything. So the… the camera would move… move across sideways so that the gate was lined up with the lens and in perfect registration with everything you'd seen before. So this camera was new to me and it was quite difficult for the operator because, as opposed to working with an Arriflex where you're actually looking through the lens, you're looking through a view finder, which is a few inches to the side of the lens, and so you have what's called a parallax error to correct, and when the camera moved in to a close-up, the view finder had to move its position… the lens would be going straight in and the… the view finder would have to track inwards so that it had got more or less the same frame as the lens, but not exactly the same frame, because on the view finder you might be off the set, whereas on the lens you… you were on set, so that whoever was operating had to check the back position to see what his limits were, both in the view finder compared to the lens and then if you tracked into a close-up, he had to check that he wasn't off set on the view finder although the camera was okay. You could be… you could be off set on the viewfinder but you couldn't be off set on the camera. So there was this parallax disparity, which took a lot of experience to get to… to understand, and, of course, it was controlled by the focus puller. This parallax moved in conjunction with the focus changing on the lens; the focus puller had a knob, a large knob which… with marks around a piece of white disc… he marked up all his distances and as… as the camera moved in, of course he would change focus and the parallax would change.
Well this is something that… that I had no experience of working with, whereas David had — David Harcourt — had been working with that system for years and years, so I had no worries in that area, I could let David take care of it. But, of course, it was a much bigger camera than I was used to working with and of course, it created its own shadow in certain situations, so you sometimes had to flag off the camera so it didn't make a shadow, or put some softer light in, which was shadow-less. The other thing I was always anxious to do was to get… get some light close to the lens, so you could get a little bit of light into the eyes, and so very often I would… would have a travelling light affixed to the camera — we used to call them Obie lights — and over the years they were… they were improved. Panavision eventually brought… brought one out, which you could control on a… on a kind of dimmer, which didn't affect the colour temperature. It had like a revolving drum so that if you started wide you could have maximum brightness and then as you tracked in, you could wind a cable and it would close down the brightness, so that when you got in close there wasn't too much fill light. So this was... this was a very useful device and it used to fix just above the lens on the BNC. But it was big and it was rather... rather cumbersome. And the... and of course David always worked with a geared head — a Moy head — and we had what was known as a Moviola dolly, which had only recently arrived in this country, I think they were made in America, and that allowed you not only to... to track in but to change direction, so you could track in and then by turning the wheels, go sideways a little bit and, you know, the dolly grip had to make this adjustment; you could have two wheel drive or four wheel drive, and this... this was a great improvement on the tracking methods of a few years before when we had a massive piece of equipment called a velocilator, which used to go on rails, so you could only go in and out on a velocilator attached to... rolling on these rails like a rather... steam engine, and it was extremely heavy and... and took time to move from one position to another, whereas with a Moviola, as long as you had a flat floor, and they used to just put plywood down on the floor to iron out any bumps on the stage, and then make your marks with bits of camera tape, that's where the camera had to go.
Billy Williams, London-born cinematographer Billy Williams gained his first two Oscar nominations for the acclaimed "Women in Love" and "On Golden Pond". His third nomination, which was successful, was for the epic "Gandhi". He was President of the British Society of Cinematographers, and was awarded the Camera Image Festival's Lifetime Achievement Award in 2000.
Title: The camera and equipment on "Billion Dollar Brain"
Listeners: Neil Binney
Neil Binney began working as a 'clapper boy' in 1946 on spin-off films from steam radio such as "Dick Barton". Between 1948-1950 he served as a Royal Air Force photographer. From 1950 he was a Technicolor assistant technician working on films such as John Ford's "Mogambo" (photographed by Freddie Young), Hitchcock's "The Man Who Knew Too Much" (Bob Burke), and Visconti's "Senso" (G.R. Aldo/B. Cracker). As a camera assistant he worked on "Mind Benders", "Billy Liar" and "This Sporting Life". Niel Binney became a camera operator in 1963 and worked with, among others, Jack Cardiff, Fred Tammes and Billy Williams. He was elected associate member of the British Society of Cinematographers in 1981 and his most recent credits include "A Fish Called Wanda" and "Fierce Creatures".
Duration: 5 minutes, 14 seconds
Date story recorded: September 2003
Date story went live: 24 January 2008