NEXT STORY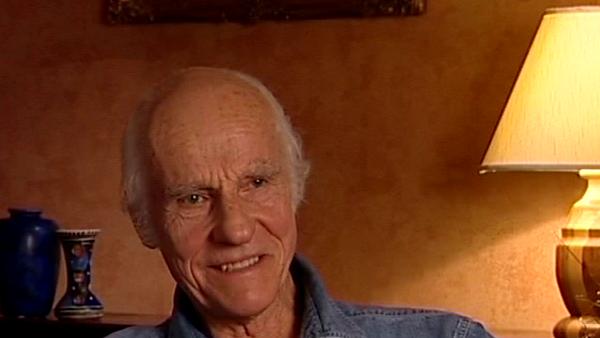 My father's cameras
A letter to Billy Williams from Walter Forde
Billy Williams
Film-maker
1
2
3
4
5
...
18
So this is a letter that Walter Forde wrote to my father, 18th February 1921:
Dear Billy, this is just a business letter, which I want you to read entirely as a business letter. On thinking over the proposition as it stands I've come to the conclusion that from my point of view it is rather altered by your suggestion to charge me for the negative. I must confess that when I first discussed the matter with you, I understand... understood you were putting in the neg together with your services as your part of the assets and that I was putting in the script and my services as my part of the assets, and all actual expenses to be shared. If, as you suggest, you charge for the negative that means you're only putting in your services as cameraman, whilst I'm putting in my services, which from the point of view of selling the picture, are far more valuable than your services as a cameraman and also providing the script, which, as you know, is no easy matter. This you will see is neither equal or fair. Even as I understood the proposition to stand in the first place, it was a trifle in your favour as I am providing the two most difficult things and the two most important from the point of view of selling the picture. No Billy, I certainly cannot agree to your charging for the neg whilst you are on a 50% basis. I might just as well charge for my script, which is just as more, or even more important, and believe me my gags are just as valuable to me as your neg... as your neg is to you. No, we must have an alteration in the percentage, whichever you prefer. Don't you think that I want... I don't think that I want to do you, or I want to get the best of the bargain. I just want you to reconsider it from my point of view as well as your own, rather as I understood it to be; that is to say, you to provide your services and the negative and me to provide my services and the script. It is, of course, being agreed that we both do whatever we can in outside matters to further and help the production. Let me have your opinion on the matter by return of post or, if not, I will be over on Sunday and we can have a good chow over it. As I said to start with, this is entirely a business letter and I hope it makes no business whatever to our private friendship.
It's quite interesting how some films were set up in those days with... with just two people getting together and... and pooling their resources, and... and getting the... getting the show off the ground.
Billy Williams, London-born cinematographer Billy Williams gained his first two Oscar nominations for the acclaimed "Women in Love" and "On Golden Pond". His third nomination, which was successful, was for the epic "Gandhi". He was President of the British Society of Cinematographers, and was awarded the Camera Image Festival's Lifetime Achievement Award in 2000.
Title: A letter to Billy Williams from Walter Forde
Listeners: Neil Binney
Neil Binney began working as a 'clapper boy' in 1946 on spin-off films from steam radio such as "Dick Barton". Between 1948-1950 he served as a Royal Air Force photographer. From 1950 he was a Technicolor assistant technician working on films such as John Ford's "Mogambo" (photographed by Freddie Young), Hitchcock's "The Man Who Knew Too Much" (Bob Burke), and Visconti's "Senso" (G.R. Aldo/B. Cracker). As a camera assistant he worked on "Mind Benders", "Billy Liar" and "This Sporting Life". Niel Binney became a camera operator in 1963 and worked with, among others, Jack Cardiff, Fred Tammes and Billy Williams. He was elected associate member of the British Society of Cinematographers in 1981 and his most recent credits include "A Fish Called Wanda" and "Fierce Creatures".
Duration: 2 minutes, 50 seconds
Date story recorded: September 2003
Date story went live: 24 January 2008