NEXT STORY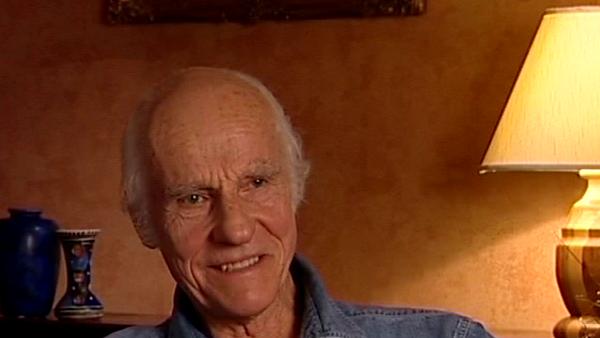 Did anyone understand the plot of The Magus?
Giving actors the freedom to work confidently
Billy Williams
Film-maker
1
...
3
4
5
6
7
...
18
I learnt a lot from David Harcourt about working with actors, because his father was an actor. When you think about it, it's what the actors are doing that… that really matters and if we, as… as filmmakers can make them secure and confident and give them the right amount of freedom to do what they want, then they're going to do a better job. If… I think this… this relationship with actors, although we may not speak to them anything like as much as… as the director does, to have this kind of understanding that… that they can do what they want to do and the camera will follow them, rather than the other way around, rather than the camera dictating what they're going to do, I've always believed in… in the actors doing anything that they want to do and… and the camera will find a way of doing it. So that they're expressing the way something should be done; that's where it should start from I think, what they… what they want to do with a particular scene, because they… they're very often insecure.
There was this case with Anthony Quinn where he was so nervous on the first day and I think a lot of actors are nerve… are nervous, particularly when they're starting out and they come onto a set where everything's well established, everybody knows everybody else and they come in for a day's work… perhaps they don't even know a soul, and it's… it's very important to reassure them and give them confidence, you know, that… that we're there to look after them and make them feel comfortable and secure, and… and so on. So when it comes to marks, you know, when one rehearses a scene with a stand… you rehearse with the actors and then the common practice is to mark where the actors have been and to mark where you'd like the camera to go, and then to bring in stand-ins to do the lining up and the laying of tracks and the lighting, and so on, and… and to do the donkey work with… with the stand-ins. But I never liked to tie actors down too closely because, you know, they might want to do something a little bit different and if you've… if you've created a lighting pattern, which is so precise that they've got no flexibility, then I think they're going to be a bit confined. I mean there are certain occasions where you… you might need a streak of light across an eye, but actors are very good at finding that. If you just tell them what you want, if it's important for that moment.
I… I remember working… when we worked with Quinn and David said: 'Ooh he's a mover'. He said, 'I have to give him a bit more freedom, because he was always moving about', you know. You… you never quite knew where he was going to go, and it was in complete contrast with Michael Caine, who's got a very set… once he… he's got a very set position when he acts. He doesn't move around very much. You… you know with Michael where he's going to be and, of course, we all vary and… and actors vary as much as any of us in the way we behave and so, I think, particularly the camera operator has got to be kind of sympathetic to the way an actor is going to behave and… and not to kind of cut the camera because somebody's head's got cut off for a moment. David would never do that and I don't think an operator should. You can… you can talk about it after the take and say, well it just hit the side of frame; or he popped out of frame a moment there but the rest of it was okay. Of course I'm talking about the time… before we had video assist, when the only person that really saw the shot was the operator. So he was the only one that knew whether… whether it had all worked out properly from a framing point of view and had to report to the director of how it was. Now, of course, with video assist, any number of people, in fact, sometimes too many people can watch the monitor.
Billy Williams, London-born cinematographer Billy Williams gained his first two Oscar nominations for the acclaimed "Women in Love" and "On Golden Pond". His third nomination, which was successful, was for the epic "Gandhi". He was President of the British Society of Cinematographers, and was awarded the Camera Image Festival's Lifetime Achievement Award in 2000.
Title: Giving actors the freedom to work confidently
Listeners: Neil Binney
Neil Binney began working as a 'clapper boy' in 1946 on spin-off films from steam radio such as "Dick Barton". Between 1948-1950 he served as a Royal Air Force photographer. From 1950 he was a Technicolor assistant technician working on films such as John Ford's "Mogambo" (photographed by Freddie Young), Hitchcock's "The Man Who Knew Too Much" (Bob Burke), and Visconti's "Senso" (G.R. Aldo/B. Cracker). As a camera assistant he worked on "Mind Benders", "Billy Liar" and "This Sporting Life". Niel Binney became a camera operator in 1963 and worked with, among others, Jack Cardiff, Fred Tammes and Billy Williams. He was elected associate member of the British Society of Cinematographers in 1981 and his most recent credits include "A Fish Called Wanda" and "Fierce Creatures".
Duration: 4 minutes, 27 seconds
Date story recorded: September 2003
Date story went live: 24 January 2008