NEXT STORY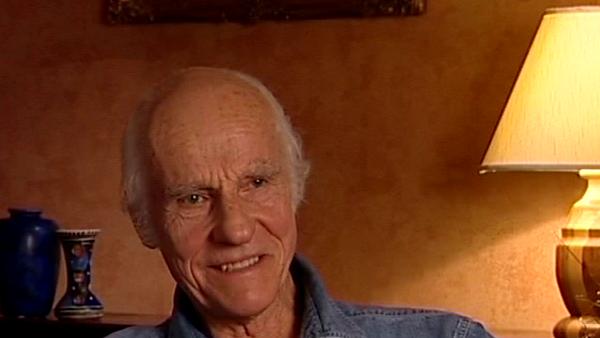 The dangerous cattle scene in Women in Love
Working with Ted Kotcheff on Two Gentlemen Sharing
Billy Williams
Film-maker
1
...
3
4
5
6
7
...
18
After The Magus I did Two Gentlemen Sharing, directed by Ted Kotcheff, and I'd worked with Ted on commercials but nothing else, just a few commercials and he'd come from television, directed a lot of television drama and he was a very explosive character, not unlike Ken Russell... perhaps even more so, and it was a story of... of a black man and a white man sharing an... an apartment in London, and it was really about racial issues but it was a comedy and we shot it mostly in London and... with Robin Phillips and somebody called Fredericks [sic] was the black actor. But Ted had a great sense of humour and he chose to wear a bowler hat whilst we were shooting this film, and whenever he got exasperated he would take off the bowler hat and throw it on the ground to get it out of his system was to take off his bowler hat, throw it down and sometimes he'd... he'd jump on it, and as the picture progressed this bowler hat got more and more battered, and the culmination of all this... his most explosive moment was when we were given permission to put a camera on the mansion house... there's like a walkway, an iron... a cast iron walkway around... around the mansion house, and we had the camera right up high there, looking down on the square in the city, and this... the actor had to come along and disappear down into the Underground, and we all set up for this... there's lots of activity going on and we roll the camera, and the actor comes across the square, goes down into the Underground and before you could even get a cut in, he came back out again, and Ted went absolutely berserk and the four-letter words were screamed out across the city and people stopped work and looked out of their windows to see what was going on. And there was Ted Kotcheff absolutely going bananas and screaming out these expletives and taking off his bowler hat and throwing it down. Oh dear, it was so funny but in his calmer moments he was a good director and... and certainly a good... good chap to work with but unfortunately it's one of those films that... I haven't seen it since we finished shooting it and... and I'd love to see it because it's a social comment on Britain in the late '60s as... as black people are starting to be integrated and... and getting jobs and that's what the script was about. It was written by a black writer called Evan Jones and it would be really nice to see it today but it seems to have disappeared, so I have to hope one day it comes out on DVD.
Billy Williams, London-born cinematographer Billy Williams gained his first two Oscar nominations for the acclaimed "Women in Love" and "On Golden Pond". His third nomination, which was successful, was for the epic "Gandhi". He was President of the British Society of Cinematographers, and was awarded the Camera Image Festival's Lifetime Achievement Award in 2000.
Title: Working with Ted Kotcheff on "Two Gentlemen Sharing"
Listeners: Neil Binney
Neil Binney began working as a 'clapper boy' in 1946 on spin-off films from steam radio such as "Dick Barton". Between 1948-1950 he served as a Royal Air Force photographer. From 1950 he was a Technicolor assistant technician working on films such as John Ford's "Mogambo" (photographed by Freddie Young), Hitchcock's "The Man Who Knew Too Much" (Bob Burke), and Visconti's "Senso" (G.R. Aldo/B. Cracker). As a camera assistant he worked on "Mind Benders", "Billy Liar" and "This Sporting Life". Niel Binney became a camera operator in 1963 and worked with, among others, Jack Cardiff, Fred Tammes and Billy Williams. He was elected associate member of the British Society of Cinematographers in 1981 and his most recent credits include "A Fish Called Wanda" and "Fierce Creatures".
Duration: 3 minutes, 29 seconds
Date story recorded: September 2003
Date story went live: 24 January 2008