NEXT STORY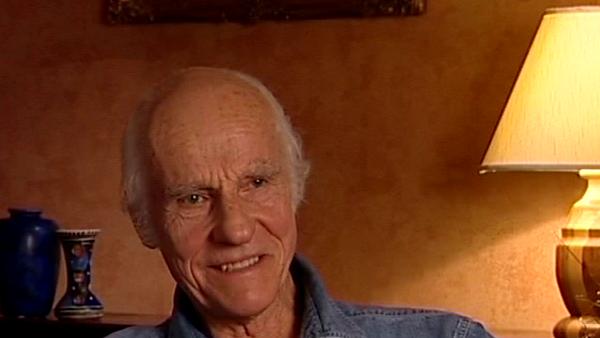 The logistics of the wrestling scene in Women in Love
Intercutting the love scene with the dawn scene in Women in Love
Billy Williams
Film-maker
1
...
3
4
5
6
7
...
18
Then we had dawn sequence and at dawn Oliver Reed comes down to the lake, which has been drained, and lying on the bed of the lake in the mud are this... is this young couple, the bride and groom, and they're sort of entwined together. Well, intercut with this is a scene with Alan Bates and Jennie Linden making love for the first time and it was a very frantic affair with them desperately trying to get their clothes off, and it was shot handheld to give it that kind of frenzy and passion, and David Harcourt did — again — did the most marvellous job handheld, moving around to various parts as clothes were torn off. And the couple make love... well, they then... you then go to the... the still shot of the drowned couple and there's a...a very brief dissolve to the couple who have just made love in exactly the same position, and the couple who have just made love entwine and it... it's a most marvellous transition. The only way we could do it in those days was by shooting the... the scene where the couple had drowned first and getting the shot of them static, entwined together. Shooting that scene, having it processed, taking the print and making a punch frame. You could punch out a frame and put it in the gate of the Mitchell camera, and then by looking through that frame you could line up the couple who had just finished making love, who were also in the same position and the way that their arms were entwined and the angle of their heads, and we got a pretty close match just by using this very... well, at the time it was the only way you could do a match frame, and it worked pretty well, but of course, nowadays with a monitor you could shoot the scene in advance and then line up the shot you wanted to match to it by adjusting it to the monitor. But at the time it took us... it took us a little while to do this, but it was worth it and it was a lovely... lovely transition.
Billy Williams, London-born cinematographer Billy Williams gained his first two Oscar nominations for the acclaimed "Women in Love" and "On Golden Pond". His third nomination, which was successful, was for the epic "Gandhi". He was President of the British Society of Cinematographers, and was awarded the Camera Image Festival's Lifetime Achievement Award in 2000.
Title: Intercutting the love scene with the dawn scene in "Women in Love"
Listeners: Neil Binney
Neil Binney began working as a 'clapper boy' in 1946 on spin-off films from steam radio such as "Dick Barton". Between 1948-1950 he served as a Royal Air Force photographer. From 1950 he was a Technicolor assistant technician working on films such as John Ford's "Mogambo" (photographed by Freddie Young), Hitchcock's "The Man Who Knew Too Much" (Bob Burke), and Visconti's "Senso" (G.R. Aldo/B. Cracker). As a camera assistant he worked on "Mind Benders", "Billy Liar" and "This Sporting Life". Niel Binney became a camera operator in 1963 and worked with, among others, Jack Cardiff, Fred Tammes and Billy Williams. He was elected associate member of the British Society of Cinematographers in 1981 and his most recent credits include "A Fish Called Wanda" and "Fierce Creatures".
Duration: 2 minutes, 36 seconds
Date story recorded: September 2003
Date story went live: 24 January 2008