NEXT STORY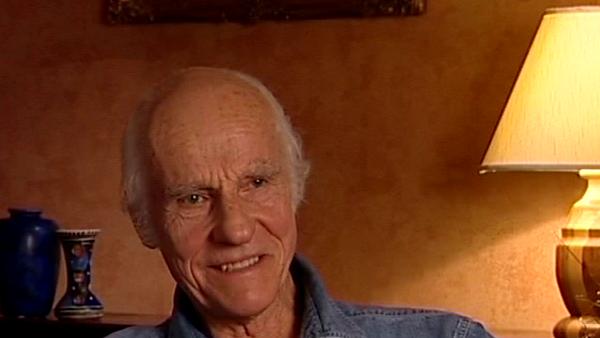 Filming the naked wrestling scene in Women in Love
The logistics of the wrestling scene in Women in Love
Billy Williams
Film-maker
1
...
3
4
5
6
7
...
18
The wrestling scene, which as written in the book, takes place by the flickering light of a fire. Well our main location for this shooting of the scenes on the lake and the... the wrestling scene was a big house in Derbyshire called Elvaston Castle and it had a magnificent room with a huge fireplace and a vaulted ceiling with like gothic arches, and it was painted gold with gold fleurs-de-lis on a dark blue background, so it was a very dramatic room, and we were able to build a huge fire to do this wrestling scene. Now usually when you do a fire in... in a film it's done in the studio with... with gas flames and it never looks the real thing, and we could have done it with the real fireplace with gas flames but again, it wouldn't have been believable as... as a roaring fire, and so we used logs and really got this thing going and it was a tremendous heat coming out. But of course it does prevent... present rather... a problem for the sound mixer, because they always say: 'Oh I can hear the fire crackling'. But Ken Russell, being a very visual director, wanted to get the picture right and, you know, I had no trouble in persuading him that we should go with the real fire and, you know, if there was any problem with the sound, any crackles, you can always do a bit of post-sync, or you can do another take on site without the offending noise, and very often one does that, you know, if you've got some interference with the sound, or an aeroplane goes over. If you immediately shoot an... another take mute without the camera, the actors very often match the sound.
So I've always believed — well especially being a cinematographer — that if you can get the visuals right you can always play with the sound afterwards. So we had this wonderful fire. Now I wanted to give the feeling that the scene was lit by the light from this fire, although there were a few candles burning in the room as well. And so I got lamps mainly... it was mainly a 5K, very close to the angle of the... of the flames on... on a very low stand, I put a heavy orange filter on, which brought the colour temperature down to about 2000K — which is the colour of firelight — and then to get the flickering effect I cut some branches with leaves. Now, the usual technique in the studio in those days is if you want a flickering effect you've got a... you got a piece of wood and tied on some strips of rag and waved it around in front of the lamp. Well, I'd tried this in the past and I thought this... this looks phoney because it hadn't got enough variation in the pattern of light, because when you... when you look at a big fire there's a... there's a lot of movement of light as the flames go up and down, and I found that by taking a branch with the leaves of various sizes and holding it in... in front of the lamp and moving it about, and shaking your hand and flickering it, you get this very believable effect of firelight and... because what you needed was someone with an unsteady hand and in those days, if you remember, the Mole-Richardson electricians used to drink a prodigious amount of Guinness every night, and so in the morning you... there was no trouble finding somebody that was looking a little bit shaky.
So the electricians, you know, they got quite a kick out of this, of actually having to stand there with a... with a shaky hand and move this branch around, and for the whole length of the take, and every... every light that I had burning, had this effect on it. So when you see the scene, which is shot handheld, it's got all this movement going and the actors are... by then, stripped off, naked — fully naked — as it was in the book... of course, this had never been done in cinema before and so they're stripped off naked, they're covered in sweat and the... the handheld camera, of course, is very fluid and is able to... to go with whatever movement, whatever happens. And we had two cameras; one on something like a 25 or a 28 and the other on a 50 I think. So we were able to get a matching action with these two cameras quite close together.
Billy Williams, London-born cinematographer Billy Williams gained his first two Oscar nominations for the acclaimed "Women in Love" and "On Golden Pond". His third nomination, which was successful, was for the epic "Gandhi". He was President of the British Society of Cinematographers, and was awarded the Camera Image Festival's Lifetime Achievement Award in 2000.
Title: The logistics of the wrestling scene in "Women in Love"
Listeners: Neil Binney
Neil Binney began working as a 'clapper boy' in 1946 on spin-off films from steam radio such as "Dick Barton". Between 1948-1950 he served as a Royal Air Force photographer. From 1950 he was a Technicolor assistant technician working on films such as John Ford's "Mogambo" (photographed by Freddie Young), Hitchcock's "The Man Who Knew Too Much" (Bob Burke), and Visconti's "Senso" (G.R. Aldo/B. Cracker). As a camera assistant he worked on "Mind Benders", "Billy Liar" and "This Sporting Life". Niel Binney became a camera operator in 1963 and worked with, among others, Jack Cardiff, Fred Tammes and Billy Williams. He was elected associate member of the British Society of Cinematographers in 1981 and his most recent credits include "A Fish Called Wanda" and "Fierce Creatures".
Duration: 5 minutes, 12 seconds
Date story recorded: September 2003
Date story went live: 24 January 2008