NEXT STORY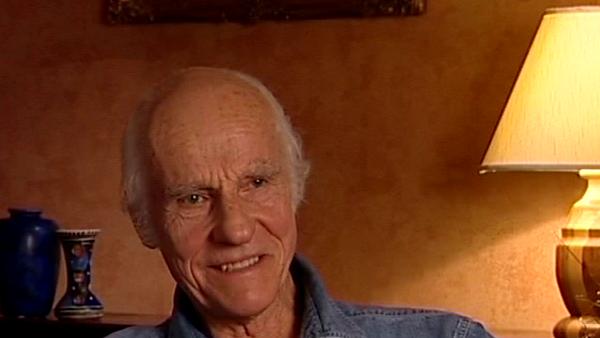 Shooting The Wind and the Lion in Madrid
Background to The Wind and the Lion
Billy Williams
Film-maker
1
...
7
8
9
10
11
...
18
Now this film, The Wind and the Lion, is set in 1904 and is based on a true story. At that time there was a Berber, brigand, a bandit, called Raisuli, who kind of ruled the area of... of Morocco, the mountainous area, and in 1904 he kidnapped an American citizen called Perdicaris and he held Mr Perdicaris to ransom and demanded money from the American authorities. And at the same time President Theodore Roosevelt was campaigning for a second term of office and he used this incident to enhance his political campaign in that, you know, he said: 'America will protect its citizens all over the world and that this person will be brought back, we will rescue him', and he... they despatched the fleet... a fleet of destroyers and so on, to Tangier where they stood off in the harbour and... and achieved the release of Mr Perdicaris.
But that's the true story. In the film, which was written and directed by John Milius, Mr Perdicaris becomes Mrs Perdicaris, played by Candice Bergen, with two children; a boy of about 12 and a girl of about nine or 10. So they're kidnapped by Raisuli, who was the real life character, but Raisuli is played by Sean Connery, with his full Scottish accent, no attempt to turn him into a Berber, and it's an action picture but it's also a culture clash between East and Western values in that, you know, these... this Westerner is... is kidnapped by a Muslim and... and held to ransom, who observes prayers and at the same time cuts off people's heads with a sword and... there were wonderful action sequences, horse... horse stunts with marvellous Spanish riders and battle scenes, and... I don't know if you know anything about John Milius but his films are always very macho and they always involve a lot of gunfights and sword fights and a lot of bloodshed, and... but with this film it... although it was an action film, there wasn't... there wasn't any blood really and the whole thing is seen through the eyes of the 12 year old boy who's kidnapped and he looks up to this Raisuli figure as a kind of hero, although he's kidnapped... he's been kidnapped by him with his mother and sister and held to ransom. He's kind of... ooh, really enjoying all the colourful lifestyle of these Berber people who take them off into the desert and hold them to ransom.
And... the climax of the picture is... is a huge battle scene, of course, shot with great style and I remember we wanted to do... we had lot of travelling shots to do and the... the best vehicle, especially if it was rough ground, was the Citroen Deux Chevaux and you... you could get a vehicle in Spain at that time called a Mahari, which didn't have a... any seats it was just like a little pick-up truck, but it had got this marvellous Citroen suspension, which ironed out all the bumps. And I had Ginger Gem... Gemmel as my second unit cameraman and we lashed the tripod down and... and set off, and go across really rough ground, following horsemen at full tilt and the results are marvellous, absolutely great stuff, and it was a wonderful little vehicle for that sort of thing.
Billy Williams, London-born cinematographer Billy Williams gained his first two Oscar nominations for the acclaimed "Women in Love" and "On Golden Pond". His third nomination, which was successful, was for the epic "Gandhi". He was President of the British Society of Cinematographers, and was awarded the Camera Image Festival's Lifetime Achievement Award in 2000.
Title: Background to "The Wind and the Lion"
Listeners: Neil Binney
Neil Binney began working as a 'clapper boy' in 1946 on spin-off films from steam radio such as "Dick Barton". Between 1948-1950 he served as a Royal Air Force photographer. From 1950 he was a Technicolor assistant technician working on films such as John Ford's "Mogambo" (photographed by Freddie Young), Hitchcock's "The Man Who Knew Too Much" (Bob Burke), and Visconti's "Senso" (G.R. Aldo/B. Cracker). As a camera assistant he worked on "Mind Benders", "Billy Liar" and "This Sporting Life". Niel Binney became a camera operator in 1963 and worked with, among others, Jack Cardiff, Fred Tammes and Billy Williams. He was elected associate member of the British Society of Cinematographers in 1981 and his most recent credits include "A Fish Called Wanda" and "Fierce Creatures".
Duration: 4 minutes, 20 seconds
Date story recorded: September 2003
Date story went live: 24 January 2008