NEXT STORY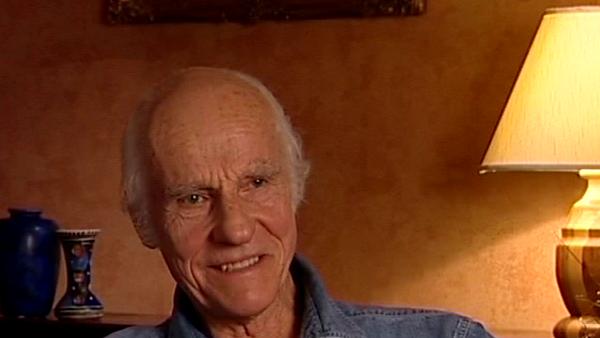 My only science fiction film: Saturn 3
The multiplex idea on the set of The Silent Partner
Billy Williams
Film-maker
1
...
8
9
10
11
12
...
18
First picture I shot in Canada was called The Silent Partner with a screenplay by Curtis Hanson, who went on to direct LA Confidential. Lovely script, and it's about a bank teller played by Elliott... Elliott Gould and a tough character, a bank robber, played by Christopher Plummer, who disguises himself as Santa Claus in order to rob a bank. And he makes an initial attempt to rob the bank and it... it goes wrong and the bank teller played by Elliott Gould, cottons on to what's happening and gambles on the fact that this Santa Claus will make a second attempt to rob the bank. And so the bank... teller deliberately takes out money from the vault and conceals it. Right? Then when Santa Claus comes back and robs the bank, he doesn't give him all the money that he's taken out of the vault. He keeps it for himself, so in fact the bank teller has robbed the bank, the thief has got away with a certain... so many thousand dollars, and yet when the robbery is announced, it's said that he's got away with a great deal more money than he's already got. So the Chris Plummer character — Santa Claus — realised that he's... he's been... been fooled by the teller, so then he then pursues him to get the rest of his money. And it's a really exciting thriller.
Susannah York is also in the picture. And we shot it partly in the studio in Canada and partly in a... a shopping mall known as the Eaton Centre which at that time was the biggest shopping mall in the world, and... full of, you know, shops and escalators and all that sort of thing. And we... we set up a bank within the Eaton Centre and called it the something or other bank of Toronto, put a sign up, and it was our set. And we had people coming into this bank wanting to open accounts! And so... they build this artificial bank, you know, in... in this very busy location, which seemed a very strange thing to do. And I remember at that... that time I had really gotten into bounce lighting. This polystyrene had arrived, white boards, and I was lighting with a lot more soft light. But the problem I found with... with soft light is if you've got a lot of glass, and in a bank you do have a lot of glass partitions, that you've got the problem of hiding the reflections, because the bigger the... the source of light, the bigger the reflections, so I had to find other ways of... of, you know, overcoming that. It was very enjoyable picture and what's quite interesting is that... the executive producer of The Silent Partner was a man called Garth Drabinsky... Garth Drabinsky, and he came to me one day and he said, 'You know, I've got a new idea for cinemas'. He said, 'I'm going to build cinemas with more than one screen'. He said, 'We're going to have several screens all in the same building so that we can cut down on all the... all the number of staff and projectionists and we can stagger the starting times so that we only need to have one or two projectionists and we can, you know, run all... have all these films running at once'.
And that was the beginning of the multiplex, it was his idea, and Cineple... he called in it Cineplex, that was the name. And shortly after we finished this picture he started with this idea and of course it grew to what it is today. And Cineplex was taken over by Odeon, who became Cineplex Odeon, and then of course it mushroomed and you've got what we have today with the multiplex being the commonplace thing. But it was the idea of... of this... he was a lawyer — tax lawyer — and he put the money into The Silent Partner. What a great idea. It's funny how things progress isn't it? I remember the original... some of the original multiplexes were conversions of old cinemas, and what they had to do to get the image into various parts of the building was to go through mirrors. They had to bounce through two mirrors to project into a... a room which had not been intended as... as a viewing room so that you... you got a lot of soft focus and loss of definition. But now, of course, with... with purpose built multiplexes, you... you know, if it's well designed you get direct projection on them all and a good picture and the sound system has improved enormously too.
Billy Williams, London-born cinematographer Billy Williams gained his first two Oscar nominations for the acclaimed "Women in Love" and "On Golden Pond". His third nomination, which was successful, was for the epic "Gandhi". He was President of the British Society of Cinematographers, and was awarded the Camera Image Festival's Lifetime Achievement Award in 2000.
Title: The multiplex idea on the set of "The Silent Partner"
Listeners: Neil Binney
Neil Binney began working as a 'clapper boy' in 1946 on spin-off films from steam radio such as "Dick Barton". Between 1948-1950 he served as a Royal Air Force photographer. From 1950 he was a Technicolor assistant technician working on films such as John Ford's "Mogambo" (photographed by Freddie Young), Hitchcock's "The Man Who Knew Too Much" (Bob Burke), and Visconti's "Senso" (G.R. Aldo/B. Cracker). As a camera assistant he worked on "Mind Benders", "Billy Liar" and "This Sporting Life". Niel Binney became a camera operator in 1963 and worked with, among others, Jack Cardiff, Fred Tammes and Billy Williams. He was elected associate member of the British Society of Cinematographers in 1981 and his most recent credits include "A Fish Called Wanda" and "Fierce Creatures".
Duration: 5 minutes, 41 seconds
Date story recorded: September 2003
Date story went live: 24 January 2008