NEXT STORY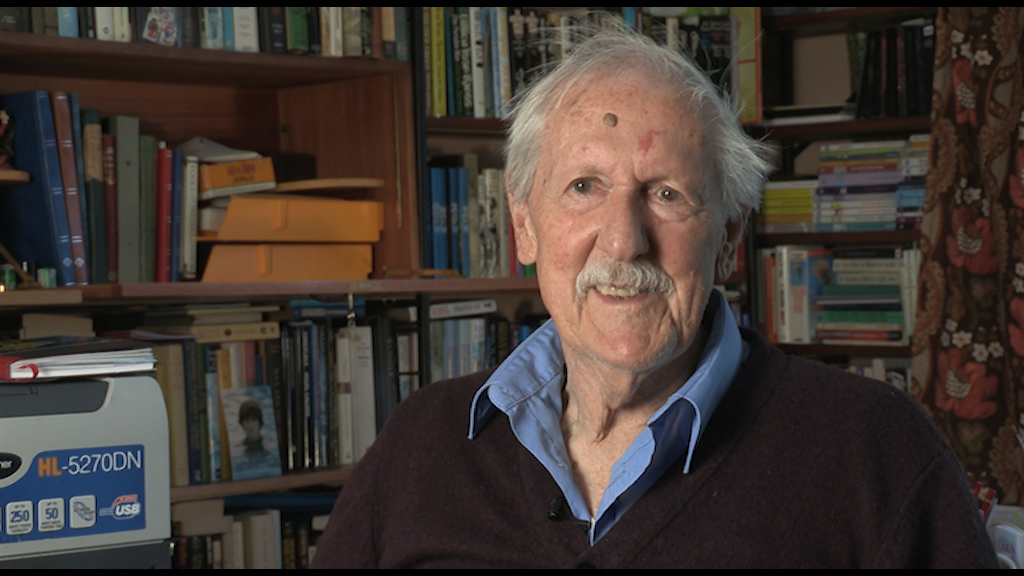 How I came to possess 'mysterious powers' at school
Discovering some of the world's wonders
1
2
3
4
5
...
8
After another five years, my mother again conceived. We lived in an extensive flat over the gent's department of the shop of HH Aldiss, and there she gave birth, this time, this time, to a daughter! But I had, very foolishly, contracted whooping cough, so there was the possibility I might give it to the baby. So, within an hour of the child's birth, I was packed into a car and driven away from East Dereham to go and stay in Peterborough with my grandmother, whose name was May Wilson. Was she May? I think she was May. Anyhow, she was an old lady then, and not particularly glad to have me.
But, living in that house, in Park Road, Peterborough, number 99 Park Road, Peterborough, was my Uncle Bert, and really, I couldn't explain how much I owed to Uncle Bert. Uncle Bert was wonderful! Wonderful with small boys with whooping cough, and small boys who felt they'd been kicked out of home, and wonderful with all kinds of things.
He was an architect and, for instance, he would take me with him when he visited the local museum to talk to the officials there; there was some scheme going. And so I could wander around that museum, and was encouraged to do so. And in one of the rooms there was a vast glass case, narrow, but very long, and it contained the entire skeleton of a plesiosaurus [sic] and a little bone notice said that this creature had been found in the muds of the River Nene.
Now, if you stood there, and looked out the window, you could see the River Nene, and this creature had come out of it. I thought that was wonderful, and indeed, I still do. See how wonderful I felt it was that this creature had been preserved intact. And were there any more like it? Well no, of course there wasn't. Anyhow, that was one of the things to which my Uncle Bert introduced me.
And then... you could probably date this... there was going to be an eclipse of the sun.
So instead of making nothing of it, or of hiding me away, Uncle Bert took his mother, my grandmother, and me to Milton Park, just outside Peterborough. And there we stood to await the eclipse, which Uncle had dated – he knew exactly when it was coming – there we stood, with this vast green hillside in front of us, and suddenly there was a great shadow on it, rushing towards us and then sweeping over us. Oh, fantastic! You might have thought, that as a small boy I would have been scared, but such was the tutoring of my uncle, that we all enjoyed it. We thought it was brilliant! And the sun had gone, and the birds stopped chirruping and the whole world was revealed as miraculous.
So those were some of the joys that I was introduced to when I was in Peterborough. I thought Peterborough was a very grand place. I was taken to the swimming pool, and there we would swim with my cousins. And I could see that here was a functioning city, quite different from East Dereham which really… it had nothing, nothing of that spirit. It had cows.
Brian Aldiss (1925-2017) was an English writer and anthologies editor, best known for his science fiction novels and short stories. He was educated at Framlingham College, Suffolk, and West Buckland School, Devon, and served in the Royal Signals between 1943-1947. After leaving the army, Aldiss worked as a bookseller in Oxford, an experience which provided the setting for his first book, 'The Brightfount Diaries' (1955). His first science fiction novel, 'Non-Stop', was published in 1958 while he was working as literary editor of the 'Oxford Mail'. His many prize-winning science fiction titles include 'Hothouse' (1962), which won the Hugo Award, 'The Saliva Tree' (1966), which was awarded the Nebula, and 'Helliconia Spring' (1982), which won both the British Science Fiction Association Award and the John W Campbell Memorial Award. Several of his books have been adapted for the cinema. His story, 'Supertoys Last All Summer Long', was adapted and released as the film 'AI' in 2001. His book 'Jocasta' (2005), is a reworking of Sophocles' classic Theban plays, 'Oedipus Rex' and 'Antigone'.
Title: Discovering some of the world's wonders
Listeners: Christopher Sykes
Christopher Sykes is an independent documentary producer who has made a number of films about science and scientists for BBC TV, Channel Four, and PBS.
Tags: baby, whooping cough, grandmother, uncle, museum, solar eclipse
Duration: 5 minutes, 34 seconds
Date story recorded: September 2014
Date story went live: 17 August 2015