NEXT STORY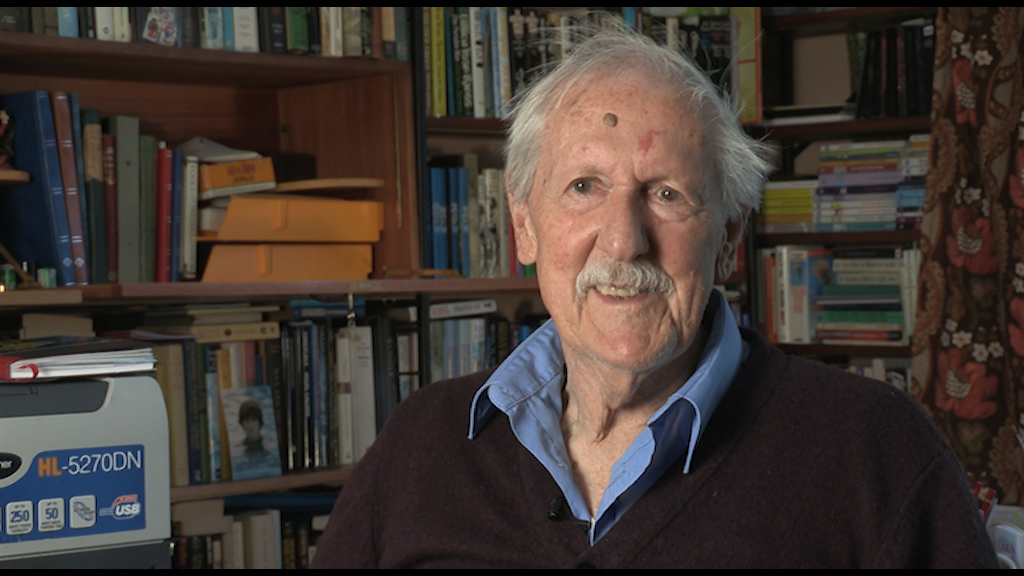 The black olives of Yugoslavia
I fall in love with Yugoslavia
1
...
4
5
6
7
8
The difficulty was that… I found... I couldn't settle in England after the time in the Far East. And so Harry and I used to go and be the English version – although Harry was an American – the English version of people who supported the Trieste Film Festival. And the film festival often included science fiction movies not necessarily from America, but sometimes from the Soviet Union, and so you saw films there that you would never have seen elsewhere. And we went every year to Trieste, and we made friends with many people that we wouldn't otherwise have met.
For instance, with a Hungarian couple – unfortunately I don't remember his name, but then I don't remember anyone's name from that period. But, they were charming, they were marvellous, and they took us into the hills beyond Trieste to a grand house where a number of aging women lived in grand costumes. And it turned out that these ladies were all that remained of the dual monarchy of the Austro-Hungary monarchy. And what had they been? Well, it had turned out, or so I was told, that they had always had that house, because in the summer they went down to an island in the Adriatic, which the Yugoslavs then owned and called Mali Losinj, i.e. the small lozenge, and there the women served as mistresses for the grand dukes of Austria-Hungary. That was a romantic story, and one really loves it and adheres to it, whether or not it's true.
So, that was another side of life. And on one occasion... I mean, in World War II, Trieste was a subject of debate. If you remember, Winston Churchill talked about an Iron Curtain that is descending from somewhere in the north to Trieste in the south. And Trieste had been saved from communist rule, but, if you walked down the main street, there was the dividing line and on the other side it was Tito's Yugoslavia. And on both sides there were piles of melons for sale, and on this side the melons were five bucks, on the other side they were only four kropotniks. The difference in the two regimes.
And so Harry and Joan Harrison took me up into the mountains of Yugoslavia, and it was dusty and deserted and overgrown, and we stopped at a place that offered lunches. And there we sat. It was a house run by an old woman, the old woman came out smiling and, 'Oh yes, yes, yes. What can I get you?' 'Well, we'll have some wine'. 'There's chicken for lunch. Would you like some chicken?' 'Well, why not, yes, come on. Yes, thank you, we would like some chicken'.
So, she brought us the wine and we sat there chatting, and I just felt I belonged there, somehow. And then, there were terrible cries from the back of the house. The cries, no less, of a chicken being strangled! So, she'd obviously strangled her one and only chicken and plucked it and then had to go through the whole business of cooking. So we were there for a couple of hours, I suppose, until finally, she served up a cooked chicken. By then, of course, we were well-oiled with the wine, and I was resolved, I was resolved that I would go to Yugoslavia.
And for one thing, Harry produced, or perhaps Joan produced it, a dish full of wonderful black olives. And I thought any country that can produce olives like this can't be all bad.
Brian Aldiss (1925-2017) was an English writer and anthologies editor, best known for his science fiction novels and short stories. He was educated at Framlingham College, Suffolk, and West Buckland School, Devon, and served in the Royal Signals between 1943-1947. After leaving the army, Aldiss worked as a bookseller in Oxford, an experience which provided the setting for his first book, 'The Brightfount Diaries' (1955). His first science fiction novel, 'Non-Stop', was published in 1958 while he was working as literary editor of the 'Oxford Mail'. His many prize-winning science fiction titles include 'Hothouse' (1962), which won the Hugo Award, 'The Saliva Tree' (1966), which was awarded the Nebula, and 'Helliconia Spring' (1982), which won both the British Science Fiction Association Award and the John W Campbell Memorial Award. Several of his books have been adapted for the cinema. His story, 'Supertoys Last All Summer Long', was adapted and released as the film 'AI' in 2001. His book 'Jocasta' (2005), is a reworking of Sophocles' classic Theban plays, 'Oedipus Rex' and 'Antigone'.
Title: I fall in love with Yugoslavia
Listeners: Christopher Sykes
Christopher Sykes is an independent documentary producer who has made a number of films about science and scientists for BBC TV, Channel Four, and PBS.
Tags: Trieste
Duration: 5 minutes, 43 seconds
Date story recorded: September 2014
Date story went live: 17 August 2015