NEXT STORY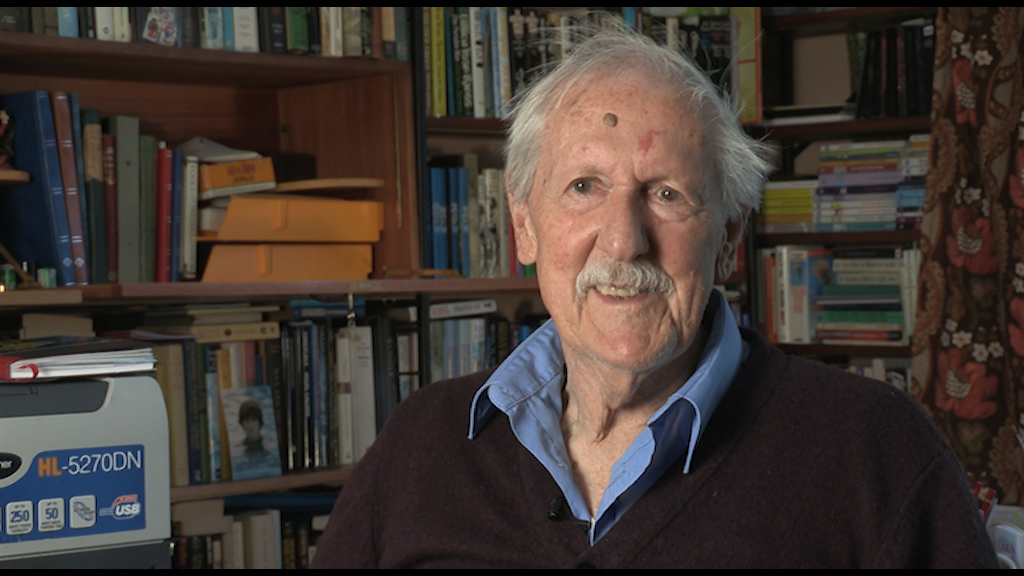 The end of childhood
Barnstable – our haven from Hitler
1
2
3
4
5
...
8
And then my father, as I say, decided that when war broke out, if Hitler came, he would naturally land his invading army in Gorleston-on-Sea. So, he said to us, devious man that he was, 'We're going to have a holiday down in Devon. You'll love that'. So, we drove down to Devon. And in fact, his plan was that we should stay in Devon, that wherever Hitler landed, he'd never make it to Barnstaple!
So there we were. We lived outside Barnstaple in Devon. And there were attractions about that. For instance, I found that there was a man who had written a book called The Journal of a Disappointed Man. Now, I could look it up, but the mere title was an attraction to me, and actually that is a very funny book with its grumpy side, and I love that book.
I also came across, I can't think how, the journals of a young Russian woman, called Marie Bashkirtseff, and I read that and read that. And I suppose the attraction was that the Bashkirtseff's wedding... marriage in Moscow, had collapsed, and so the wife had gone into exile – goodness knows what her connections had been – she went into exile with her daughter Marie to... what's that town in the south of France? Come on, everyone knows it, but me.
[Q] Nice?
Nice, yes, that's right. They went to live in Nice, and there was no doubt from these journals, that Nice was a lot more attractive than Barnstaple, Devon. So I read that over and over.
And one day I said to my father, time sort of marching on, 'Dad, have I got to go back to Framlingham?' And I knew that if I went back, I was now old enough to have to go into that horrible brothel of the Senior School. There's been a row recently about homosexuality in schools. I've never seen this particular school mentioned. But that's what I said to my father, rather timidly, 'Have I got to go back to Framlingham?' And he said, very casually, 'Oh no, we'll find you a local place'.
A local place! God, I was saved. And he sent me to West Buckland School, which was 10 miles or so from Barnstaple... a wonderful school... I'm now vice-president of it. And funnily enough, from Framlingham that was a hotbed of horror, bullying and everything, West Buckland wasn't like that at all. It's true that it had a lot of chaps who had been sent by their parents from London because London was getting bombed, but it was a very nice school. It was true that one was hungry most of the time, but then that was… perhaps wartime life like that.
And so, when I was there, I more or less continued as I had done in Humphrey Fenn's emporium, which is to say that I told stories. And what I did was, I would write them out, longhand of course, and circulate them, and it was a penny a read. But so eager was I to be read, that I would foreswear the penny in many cases. And these stories became very popular, and the way it ran was you would have the title – I got this from American magazines which I was then reading – you'd have the title and underneath it would be a sort of line of description. And because it was quoted back to me, I remember one of those lines which was, 'He went to New York for a change of obscenery'. It still strikes me as funny. That was the kind of way it went, so that I became really quite popular... always in fear that the headmaster would find me out and I would get sacked.
Brian Aldiss (1925-2017) was an English writer and anthologies editor, best known for his science fiction novels and short stories. He was educated at Framlingham College, Suffolk, and West Buckland School, Devon, and served in the Royal Signals between 1943-1947. After leaving the army, Aldiss worked as a bookseller in Oxford, an experience which provided the setting for his first book, 'The Brightfount Diaries' (1955). His first science fiction novel, 'Non-Stop', was published in 1958 while he was working as literary editor of the 'Oxford Mail'. His many prize-winning science fiction titles include 'Hothouse' (1962), which won the Hugo Award, 'The Saliva Tree' (1966), which was awarded the Nebula, and 'Helliconia Spring' (1982), which won both the British Science Fiction Association Award and the John W Campbell Memorial Award. Several of his books have been adapted for the cinema. His story, 'Supertoys Last All Summer Long', was adapted and released as the film 'AI' in 2001. His book 'Jocasta' (2005), is a reworking of Sophocles' classic Theban plays, 'Oedipus Rex' and 'Antigone'.
Title: Barnstable – our haven from Hitler
Listeners: Christopher Sykes
Christopher Sykes is an independent documentary producer who has made a number of films about science and scientists for BBC TV, Channel Four, and PBS.
Tags: Barnstable, The Journal of a Disappointed Man, Marie Bashkirtseff
Duration: 6 minutes, 2 seconds
Date story recorded: September 2014
Date story went live: 17 August 2015