NEXT STORY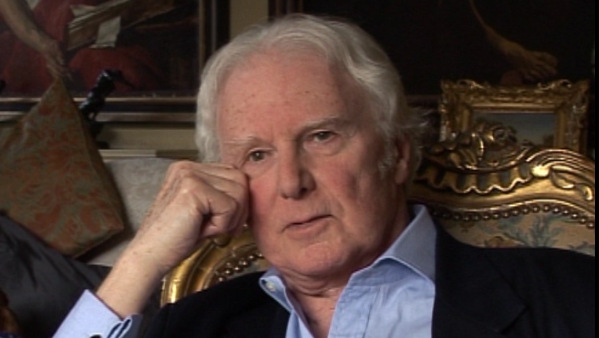 Struggling to fit in at school
1
2
3
4
5
...
9
I think it was a very rich upbringing, culturally, intellectually. It was a very deprived upbringing in terms of creature comforts and the conventional things. And when… when my stepfather, as it were, took control: 'The boy's got to be educated, got to go to school'. I remember the arguments. And he wanted to send me to a boarding school, get me out of London. Always the argument: 'Well, he'll be safe'. And my mother saying, 'No, absolutely not. Never. We've never been parted. I'm not going to be parted now'.
And I've forgotten which school my stepfather went to, but it was somewhere up in the North. And he could, I think, have got me in without difficulty, whereas in London, he had to start from scratch. So it had to be a day school. And so I remember a kind of dreary trailing around from City of London to University College school, St Paul's and I can't remember the others. And eventually to Haberdashers', which the mere name of it prejudiced me against it from the beginning, because haberdashers was a department in Pontings, which was a shop in Kensington High Street, where one went to buy needles and thread and stuff to mend clothes.
I didn't want to go to anything called Haberdashers'. But that's where we went. I was interviewed, and it became apparent that I knew nothing of arithmetic or algebra or geometry. And whoever it was who was interviewing us, said, 'Well, the entrance examination to the school is on the 13th of July, which is about two and a bit months away, and if you send him to a crammer just to get some arithmetic in and so that he can pass, he might get in. But without arithmetic, he won't'. And so I was sent to a crammer, and that was my first experience of school. And of course, I didn't know how to behave. Not at all.
And I passed the exam, and I'm convinced that it was much less a question of passing the exam than of a school absolutely at the tag end of its reputation, desperate for fee-paying parents to… I think it would have taken a dog if there were somebody prepared to pay the fees. So… it was a lousy school.
[Q] Was it a good idea, to send you to school, really?
I don't know that idea came into it. There was no alternative. It was illegal not to send me to school. My mother had been breaking the law for a decade. No, not quite, but, you know… I should have been going to school. At 11, I should have been going to school for six years, shouldn't I? Yes. I can do arithmetic now, you see.
Born in England, Brian Sewell (1931-2015) was considered to be one of Britain's most prominent and outspoken art critics. He was educated at the Courtauld Institute of Art and subsequently became an art critic for the London Evening Standard; he received numerous awards for his work in journalism. Sewell also presented several television documentaries, including an arts travelogue called The Naked Pilgrim in 2003. He talked candidly about the prejudice he endured because of his sexuality.
Title: A deprived upbringing
Listeners: Christopher Sykes
Christopher Sykes is an independent documentary producer who has made a number of films about science and scientists for BBC TV, Channel Four, and PBS.
Tags: City of London, University College London, St Paul's School, Haberdashers' Aske's Boys' School, Pontings, Mary Jessica Perkins, Robert Sewell
Duration: 4 minutes, 14 seconds
Date story recorded: 2008
Date story went live: 28 June 2012