NEXT STORY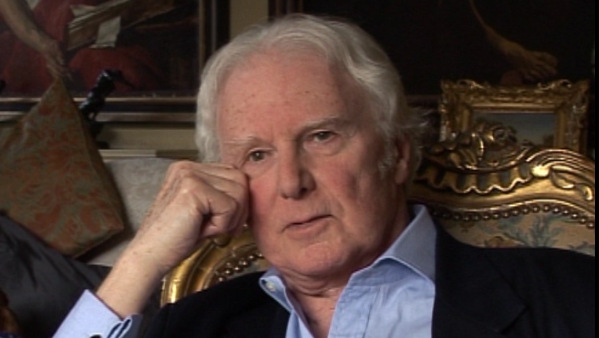 Passionate affection and wild hatred
'Most of my school friendships were based on sex'
1
2
3
4
5
...
9
Well I think most of my school friendships were based on sex, I'm afraid. Sex was something which began to interest most of us towards the end of the first year at Haberdashers'. And there was one boy who was… oh, you know how things are done by years and ages, and where the thing had cut for him was that he was… he could either have been a class above or stay with us, or whatever, but anyway… he was Jewish, and he was very good looking. And he was 13 when most of us were 12. And Irenie Johnson, who was, actually, very important in… throughout my life in the lower school, because she encouraged an interest in music and so on, in which I was already interested, but her encouragement was a great relief. But she seemed… and we knew it, that's the funny thing. She seemed always to manage to come through the changing rooms at the point when Harry Claugh [?] had no clothes on. Harry Claugh was the only one of us who had any pubic hair. And he was the very first to ejaculate. So that Harry ejaculating was something which we all wanted to see from time to time, indeed quite frequently, and he would demonstrate. So we all knew… actually it was frightfully useful, because we all knew, when it eventually happened, that we were catching up with Harry.
Harry was the first person to bring a dirty book to school. And he'd read odd bits of it to us, and… be completely befuddled. And that's the thing I have never forgotten, because it… I knew this was something I couldn't ask my parents or anybody. I had no one I could ask, but there was a story about a woman who'd gone to bed with two men, and it had this extraordinary phrase in it, the love juices were streaming down her thighs. And I loved the language of it, the love juices were streaming down her thighs, but I had no idea what it was. What can this mean? You know, this wonderful adult life one was eventually going to grow up into when love juices would stream… so, you know, quite dotty.
And then, of course, we all discovered masturbation at roughly the same time, and it ran rife through our lives ever after. It was during the War, 1943, we had a great deal more in the way of daylight raids from the Germans. And we had to go into the air raid shelters. And the brave ones amongst us would go into the air raid shelters and remove the electric light bulbs so that they were all in pitch darkness, and you could have as much sex as you wanted with as many boys as you could get, really. And there were all sorts of rumours about how many times in a lifetime would you be able to masturbate? You know, is it 20,000 times or 30,000 times? How many times? How many times have you done it in the past year? And you'd say, well, I've done it seven times a day for seven days a week. And you had enough grasp of Arithmetic to work out that, if you were in fact limited to 20,000 orgasms, you were getting pretty near it. And so on.
And then there was the feeling that, as occasionally we had to bow our heads in morning assembly because somebody had been killed in an air raid or one of the senior boys had gone off to the army and been killed, and we'd all think immediately of sex. And, you know, I bet he regrets that he didn't wank seven times a day, seven days a week. So it just encouraged us to get on with it and let the future look after itself. Then, of course, one began to have really affectionate relationships with other boys.
Born in England, Brian Sewell (1931-2015) was considered to be one of Britain's most prominent and outspoken art critics. He was educated at the Courtauld Institute of Art and subsequently became an art critic for the London Evening Standard; he received numerous awards for his work in journalism. Sewell also presented several television documentaries, including an arts travelogue called The Naked Pilgrim in 2003. He talked candidly about the prejudice he endured because of his sexuality.
Title: 'Most of my school friendships were based on sex'
Listeners: Christopher Sykes
Christopher Sykes is an independent documentary producer who has made a number of films about science and scientists for BBC TV, Channel Four, and PBS.
Tags: Haberdashers' Aske's Boys' School, World War II, Irene Johnstone
Duration: 5 minutes, 8 seconds
Date story recorded: 2008
Date story went live: 28 June 2012