NEXT STORY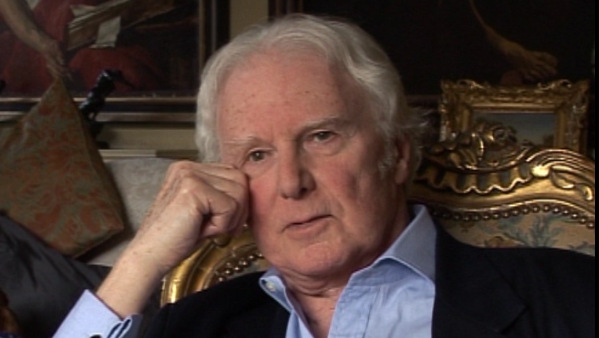 Punished by the Establishment for supporting Anthony Blunt
The real achievements of Anthony Blunt
1
...
5
6
7
8
9
I had a close friend called Joe McCrindle... an American and a very considerable collector of drawings, a man to whom I owe a great deal, and Joe had also known Anthony, and one day we decided that we would, come what may, take him to the Italian restaurant a hundred yards away from where he lived, where he very often had just sort of slipped… Anthony was a lousy cook, and so it was easier to go into an Italian restaurant and have some spaghetti.
And I went to the restaurant first, and said, we propose to do this. 'If it's going to upset you, we won't, because we… we don't want to spoil things for you'. And they said, 'Oh, oh, oh', you know, 'wonderful, bring him back', and so on. And so when the door opened and the three of us came in, they welcomed him as though he was a long-lost brother. And that was the beginning of getting Anthony back into normal life, the feeling that he could actually go out on the street himself, he could be brave and get on a plane and go to Rome to look at Roman baroque architecture.
And so… and I think the whole espionage thing has never been satisfactorily and in any way detailed... proved. It's all assertion. And it may be that there are proofs, and they haven't come out because, you know, things are held back for 50 years or whatever, and so not even in my lifetime will this come out. But nobody who has written about it, nobody who was researching, nobody who was writing those awful articles in the Daily Mail and other papers, The Daily Telegraph was the worst of the lot. None of them really knew anything, because there was nothing to know. There was nothing to prove. There were indications here and there, but there was no proof. And I'm very surprised that now, more than 30 years after the event, people are still capable of whipping themselves up into a froth about it.
For me, the fundamental thing is not what Anthony may or may not have done during the war, but what Anthony did, as I said earlier, talking about The Courtauld when I was there, is how he had managed to make, miraculously, without the expenditure of huge amounts of money or anything, he'd managed to turn No 20 Portman Square, an 18th century house, into a real olive grove of academe. Nothing in ancient Greece can have been as intensely philosophical and argumentative and enquiring and speculative as The Courtauld Institute was within five years of Anthony's taking over as its director.
That is where his fame lies. His secondary level of fame lies in his treatment of the Royal Collection, because it was Anthony who brought it out into the open. Anthony set up, as it were, a pantheon of scholars who were the greatest of their kind to write about various aspects of Old Master drawings and paintings and so on. Everything eventually was catalogued. It was Anthony who persuaded King George to lend the Academy 700 paintings for an exhibition, the King's Pictures, immediately after the war, in 1946. It was Anthony who persuaded them to adapt some rooms at the end of the palace into an exhibition space, and constantly show their pictures. And that, of course, has developed into the gallery we now know as the Queen's Gallery, where some of the best exhibitions in London occur, usually twice a year. That was Anthony's real achievement, not what some, sort of, people intent on vilifying him for espionage have constantly said and still maintain.
Born in England, Brian Sewell (1931-2015) was considered to be one of Britain's most prominent and outspoken art critics. He was educated at the Courtauld Institute of Art and subsequently became an art critic for the London Evening Standard; he received numerous awards for his work in journalism. Sewell also presented several television documentaries, including an arts travelogue called The Naked Pilgrim in 2003. He talked candidly about the prejudice he endured because of his sexuality.
Title: The real achievements of Anthony Blunt
Listeners: Christopher Sykes
Christopher Sykes is an independent documentary producer who has made a number of films about science and scientists for BBC TV, Channel Four, and PBS.
Tags: The Courtauld Institute of Art, The Royal Collection, The Queen's Gallery, Royal Academy of Arts, Royal Collection, Buckingham Palace, The King's Pictures, Daily Mail, The Daily Telegraph, Anthony Frederick Blunt, Joseph F McCrindle, George VI
Duration: 5 minutes, 15 seconds
Date story recorded: April 2013
Date story went live: 04 July 2013