NEXT STORY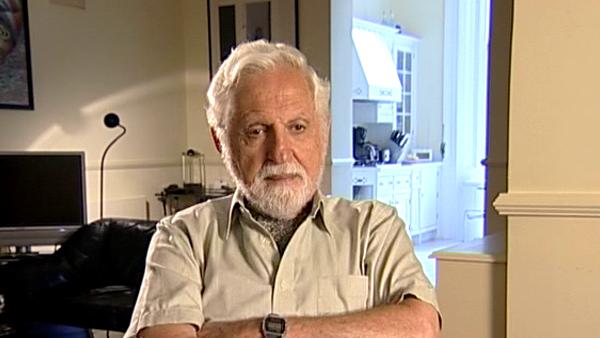 A present from my first wife
Meeting my first wife after 25 years
1
2
3
4
5
...
12
Three years after we were divorced... that's only three years, so I can't ascribe any Alzheimer's symptoms to this, I was just in my very early thirties. I was back in Michigan, my first academic job at Wayne State University. I'd retained an intimate consulting relationship with Syntex and I travelled back and forth between Mexico City and Detroit half a dozen times or more a year, which at that time was a fairly long voyage. There were no non-stop flights. You changed planes in Texas. And as I was on the plane... maybe a DC4, I mean, planes that are minute by present comparisons, and I remember sitting in there reading and at that point the lounges were in the back in the plane. There was no such thing as first class or second class then I think, and I sort of looked up as a shadow passed, and it was a woman passing and so I said,'My God, it's my wife...' my first wife who I hadn't seen for three years. And I thought it was not implausible because of course I knew she had married someone in Mexico and for all I knew, she may be living in Mexico and therefore could have been travelling there. And, of course, I was about to jump up and talk to her. She didn't see me, but she walked to the end and then started talking with a Mexican man. I thought, well, maybe it's her husband, God knows how he feels about this first husband, so maybe I will wait until we get to land in Mexico City. And then I can do this. It was only within an hour of arrival.
So I went back to my book and sometime during that time she must have come back to her seat and then we landed, and then I stood up and didn't leave the plane. I was waiting for her... she was sat in front of me, to pass by me so I would then catch her eye. And there she was, going very slowly as people emptied the plane, passed by me and she was within a couple of metres of me, and as she sort of looks around, her eyes suddenly rested on me, and I of course was staring at her and I wanted to sort of capture her like a magnet. And she, sort of, looked puzzled because, you know, one doesn't normally stare. And I said... 'Virginia,' and she just said, 'I beg your pardon?' And suddenly I realised it was not my wife, and to think that I had confused my wife of just three years ago with another one, really tells you something, both about preoccupation, estrangement, focus... you name it, maybe even memory.
So, therefore, that was only the second time... the second time I met her and told her that story in fact. Of course, it was only the first time since our divorce that I had met her, but in my mind, a second time. But then what do you do? How do you recapitulate 25 years? It either takes you 25 years to talk about this, or if you're just talking a couple of hours, you're finished. You talk about the facts of your life, sort of in a way that I do it now, although I'll probably do it now more insightfully than I did with her, certainly because I think I understand much more about myself now, the last 10 or 15 years, than I did at that time. And, secondly, you know there are obviously some things you're not prepared to tell to the first wife that you would tell perfectly well to a perfect stranger, so that was a fundamental difference. So then we were finished basically and then it sort of became a little bit awkward. What else do you talk about? And we had tea or something, and she left.
Austrian-American Carl Djerassi (1923-2015) was best known for his work on the synthesis of the steroid cortisone and then of a progesterone derivative that was the basis of the first contraceptive pill. He wrote a number of books, plays and poems, in the process inventing a new genre, 'science-in-fiction', illustrated by the novel 'Cantor's Dilemma' which explores ethics in science.
Title: Meeting my first wife after 25 years
Listeners: Tamara Tracz
Tamara Tracz is a writer and filmmaker based in London.
Tags: Wayne State University, Michigan, Mexico City, Syntex, Detroit, Virginia Jeremiah
Duration: 3 minutes, 51 seconds
Date story recorded: September 2005
Date story went live: 24 January 2008