NEXT STORY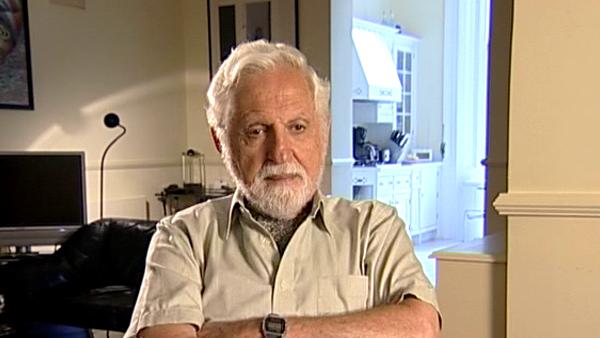 Robert Maxwell and Cyrus S Eaton changed their Who's Who entries
A present from my first wife
1
2
3
4
5
...
12
She sent me a gift and that was really quite moving. Why would she send me a gift? Appreciation of... visit the ranch and so on. And it was a box that came through, at that time, the railway express, rather than Fedex. And the box when I opened it, said, yogurt maker. Now even that I could sort of understand because at that time I was making my own yogurt and I probably served her that, fruit salad with yogurt and nuts and honey, which I like to eat very much there, and a lot of fruit and so on. And I'm not a cook, but I can feed myself well, and that's the sort of way I fed myself. And maybe that was it. But the last thing I needed was a yogurt maker, because I am... you know, yogurt is the Bulgarian national dish. That's why Bulgarian peasants supposedly have more centenarians than anyone else because it's Lactobacillus bulgaricus that is supposed to be the real... yogurt aficionados use that and not some crappy pasteurised stuff from Denmark or England or Wisconsin. And I used that and I did it the standard way, the way you did it in Bulgaria you heat milk to boiling. You let it cool until you just can stick your finger into it, and then you put a couple of tablespoonsful of the preceding yogurt in there, put it in a wide mouthed Thermos, close it overnight, and the following day you can hardly pour it out. It's set and it's wonderful tough, Bulgarian yogurt. That's how I made it and I was not going to use some electric crap, even though that's exactly what I would be using as a chemist in the lab. But there was this mixture of being a primitive Bulgarian on the one side, and a sophisticated American scientist on the other side. And so I said, that's not what I need, and I put it away.
And then a few months later my stepmother, my father's second wife, who was also Bulgarian whom he married in the States... and I'll perhaps get to my father later, why he was then in the States... had a birthday and I really didn't know what to give her. You know, she already had everything. What can you still give her, probably the same sort of things. But I said, ah Bulgarian, I'll give her a yogurt maker. She doesn't know really that this is... that someone else gave it to me. So I thought I'd better unpack it first and as I lifted it off, it was rattling and I thought, oh my God, maybe it even broke. And I opened it and it turned out not to be at all a yogurt maker. It was just the box. And there were daffodil bulbs in there which she had sent to me to plant in my... on my ranch, which was really a very nice gesture, a much more appropriate one, which is, of course, what I did. Thank God I had thanked her before and I thanked her in general without saying, thanks for the yogurt maker, which would have been just terrible. So I planted them, and they flowered the following year, and they're still in front of my house. I mean, there are lots of them now, because they kind of multiply.
Now, I described that in the autobiography, and I lied in the way I described it in the autobiography, but I think it's a charming lie, and it is the sort of lie that one should indulge in. Lies are here not to be committed, but some lies should in fact be told if you can really justify them appropriately, and I can justify this one. Because in this autobiography, I described the scene and I said I saw her for the first time after 30 years of marriage and what she had sent to me was 30 daffodil bulbs and I planted them and all 30 bloomed the following year. Now, that's a lie because I don't know how many she sent to me and I don't think that all of them would have bloomed, but the fact that I lied and said it was one for each year, so that she'd remembered and I'd remembered how many years we'd not seen each other, and that they all bloomed, does tell something about how I really felt and about her, and that was a discreet tribute I was paying to her in the novel. It was the first correction I made, and that was a lie. But the second correction was not a lie and if you now look at Who's Who, it says, married first Virginia Jeremiah, then divorced, and so I've corrected that record.
Austrian-American Carl Djerassi (1923-2015) was best known for his work on the synthesis of the steroid cortisone and then of a progesterone derivative that was the basis of the first contraceptive pill. He wrote a number of books, plays and poems, in the process inventing a new genre, 'science-in-fiction', illustrated by the novel 'Cantor's Dilemma' which explores ethics in science.
Title: A present from my first wife
Listeners: Tamara Tracz
Tamara Tracz is a writer and filmmaker based in London.
Tags: Who's Who, Virginia Jeremiah
Duration: 4 minutes, 55 seconds
Date story recorded: September 2005
Date story went live: 24 January 2008