NEXT STORY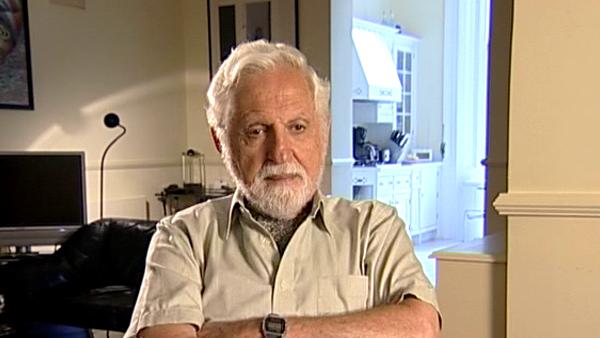 Vocalissima
Another revenge poem and the story of my wife's nickname
1
2
3
4
5
...
12
Since I had started at some stage with poetry, there are two things that are still relevant to it and then I'll put it away. And I promise not to return to poetry or short stories, although I'm not promising not to return some other writing. I said my wife always calls me 'Chemist'. The question is, what do I call her? And I call her a name that I'm sure no other woman has ever been called, which is a pretty rash statement to make because you think almost anything in love or affection... it must have happened anywhere between a billion times, at least a few thousand times, and yet I don't think so. And it's based on a poem... and it's based on a poem by Wallace Stevens. One of the, you know, many people will think one of perhaps the three greatest 20th century poets of America. And strangely enough in two days we're going to a Wallace Stevens conference at Oxford, which is about something like 50 years of Wallace Stevens, the anniversary of 50 years of his arrival. I don't mean physical arrival, but sort of real arrival in... over in Europe because a complicated poet in terms of being translated, and so on, here... And I am undoubtedly the only organic chemist in the world... you see I make all these promotional automythological statements that have really no statistical basis, but probably the only organic chemist who has published not once but five times in The Wallace Stevens Journal. And now why did I do that? Because Diane Middlebrook, my wife, that was her first book... was on Wallace Stevens. Her PhD thesis at Yale was on Stevens and... and Whitman. So, I started reading. I audited courses of hers during our sort of pre-marriage relationship, which my father a Balkanese... intelligent man but Balkanese always referred to as concubinage. That's what he thought our relationship was before we got married before his death.
And he had two poems, Wallace Stevens poems, that I wrote during this emotional catharsis when my now wife had left me before we were wife. And there are four poems here. I've written more of these about Wallace Stevens, which are always based on a Wallace Stevens epigraph. Now, here is... this is a poem... it was probably the first revenge poem I wrote based on Wallace Stevens. I wrote others earlier. Revenge against my wife's abandonment of me, but this was from a poem called Good Man, Bad Woman. That's what the title... no wonder I picked that. And the line of Wallace Stevens that I then selected, which was both a quote and the title of my poem, is Pure scientist. You look with nice aplomb. A-P-L-O-M-B. So Pure scientist. You look with nice aplomb and it's typical Stevensian title where his titles seemingly have very little to do with the subject matter. The Emperor of Ice-Cream or Peter Quince at the Clavier deals with Susanna and the elders, and you think what has Peter Quince playing the clavier have to do with Susanna and the elders... a biblical story. So, things like that. So, that's related to this. So, what I wrote is just a short four stanza poem.
Austrian-American Carl Djerassi (1923-2015) was best known for his work on the synthesis of the steroid cortisone and then of a progesterone derivative that was the basis of the first contraceptive pill. He wrote a number of books, plays and poems, in the process inventing a new genre, 'science-in-fiction', illustrated by the novel 'Cantor's Dilemma' which explores ethics in science.
Title: Another revenge poem and the story of my wife's nickname
Listeners: Tamara Tracz
Tamara Tracz is a writer and filmmaker based in London.
Tags: Yale University, Good Man, Bad Woman, The Wallace Stevens Journal, Pure scientist. You look with nice aplomb, The Emperor of Ice-Cream, Peter Quince at the Clavier, Wallace Stevens, Diane Helen Wood Middlebrook, Walter Whitman
Duration: 4 minutes, 17 seconds
Date story recorded: September 2005
Date story went live: 24 January 2008