NEXT STORY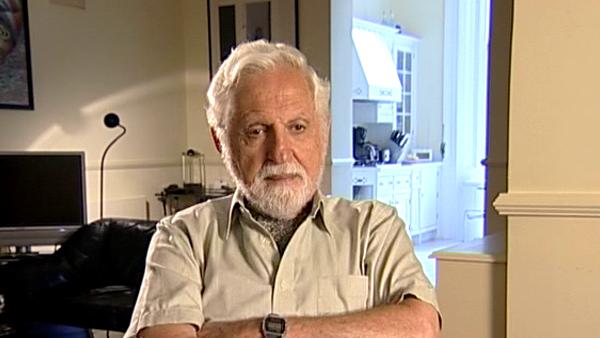 My parents and my early childhood
Vocalissima
1
2
3
4
5
...
12
I, the scientist,
Who read these words
And snort
Without aplomb.

Today
Is any scientist
Pure?
Especially to poets?

Is aplomb
Ever nice
To the spectator
Hiding envy?

Poet – don't you know
There's as few scientists
With aplomb
As there are poets?
So that was the first one. But here comes to what I now call my wife... I've called my wife since that time, and that's the only... I use it the same way as when she calls me 'Chemist'. If she... if I call her Diane then she would be startled and think I have some mean agenda on the mind. And that is from the shortest poem that Wallace Stevens has ever written. It's called To the Roaring Wind and the entire poem Wallace Stevens says:
What syllable are you seeking,
Vocalissimus,
In the distances of sleep?
Speak it.
That's it. So my poem is called Vocalissima instead of Vocalissimus:
Vocalissimus Stevens!
Or is it Wallace Vocalissimus?
What familiarity do you permit?

You wrote about women:
Sweet smelling virgins; trembling ladies;
Peached and ivory wenches;
beautiful bareness in sinewy nakedness;

You called them:
Liebchen, mon bijou, mon extase;
Even a pearly poetess.

You named them:
Carlotta, Eulalia and Flora;
Mariana, Bawda and Susanna;
Bonnie and Vincentine (lean, heavenly Vincentine).

More formally:
Mrs Anderson, Mrs Dooley, Mrs Papadopoulos.

Was there a Vocalissima?

I knew one:
After your death, she lived with you
Three long years. In 1095 days
She learned by heart each word you wrote.
She knew your rose rabbi,
Your dark rabbi,
Your doctor of Geneva,
Even your uncle with a monocle.
... these are all titles of Wallace Stevens poems, and then I wrote in French...
(Monsieur excusez la traduction anglaise,
Mais elle ne parle pas comme une Française.)
In time she collected some men,
Then many,
Then one: a modern alchemist.

But he,
Master of chemical mutations;
Whose alchemy touched millions,
Could not transform her,
Nor transform himself.

Vocalissima! Speak it!
How does a modern alchemist
Transmute himself
into a Vocalissimus?
Well, that was during the revenge phase but ever since then I call her 'Vocalissima'. And that is... so that's certainly how I got my... my wounds and emotional hurt, particularly revenge out of my mind. And the interesting part is revenge is a motive that occurs in many of my plays and novels as an example, because I use it again autobiographically, as an example of... It's probably the most powerful motive we have, and also a very bad one. And, again, that juxtaposition of poison and nourishment, or poison and stimulus. It stimulates to do things which you might not either want or even be able to do under ordinary circumstances. At the same time, it's bad and it... it affects you negatively in many, many different ways. So that was just another example of it.
Austrian-American Carl Djerassi (1923-2015) was best known for his work on the synthesis of the steroid cortisone and then of a progesterone derivative that was the basis of the first contraceptive pill. He wrote a number of books, plays and poems, in the process inventing a new genre, 'science-in-fiction', illustrated by the novel 'Cantor's Dilemma' which explores ethics in science.
Title: "Vocalissima"
Listeners: Tamara Tracz
Tamara Tracz is a writer and filmmaker based in London.
Tags: To the Roaring Wind, Vocalissima, Vocalissimus, Wallace Stevens, Diane Helen Wood Middlebrook
Duration: 3 minutes, 54 seconds
Date story recorded: September 2005
Date story went live: 24 January 2008