NEXT STORY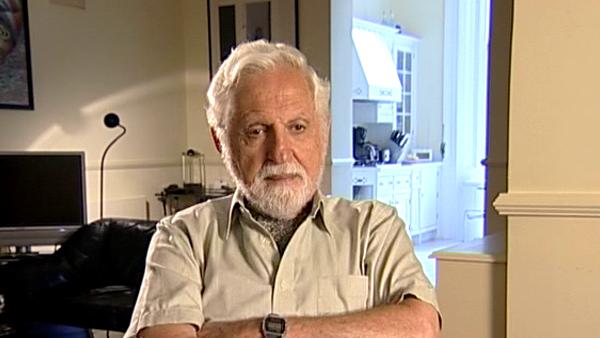 School in Vienna and its renowned alumni
My family and my childhood in Vienna
1
2
3
4
5
6
...
12
In any event when... by the time I was four or five it was clear that this marriage wouldn't last, and they got divorced. They didn't tell this to me or perhaps anyone else. That was really a very taboo subject, particularly in the sort of families in which we lived and particularly the Balkans where it was... I mean, that traditional Bulgarian extended family. My father had four brothers and a sister and they had children, and my grandmother and all the people were still alive. It would have been very shameful thing.
Anyway the official story was, of course, the child would have to be educated in Vienna. So we go back to Vienna and also my mother's practice was much more feasible in Vienna. And we moved back into my grandmother's home, which I'm going to illustrate in perhaps two ways for you. One is a rather nice picture here which shows... well, here is actually a glorious picture of my mother, which I found when I wrote the autobiography which really is a very elegant picture. Yet I've never found a single picture of her where she smiled, and that is perhaps also interesting. But this is a very good expression that the person caught here when she was a medical student. But here is where I lived. Now, you see again, Vienna is a beautiful city and my house where I was born exactly it's here, right on the water. This is a branch of the Danube and here is the famous first district of Vienna, Ringstrasse and all the famous things here. So we moved into that house where my grandmother lived and I think I even in a German translation... Yeah. Which is different pictures they used. They took a picture actually of my grandmother, me as a small child in Vienna, and then below you see my father in medical school in Vienna in the anatomy dissection classes. You see how he formally dressed that way, and he was a good-looking man. Very good-looking. And then I have... well I thought I had a picture. It depends on which biography the... ah here. This is with me, and my father is the one with the bow tie and we're in Sofia. So when... I must have been maybe three years old or something like that. So you still see what I... what he looked like, and here I was even in a Bulgarian national costume as a... as a kid of maybe... what was I? A year? 18 months old. But... is there another picture of him? I don't think so.
They never told me that... that they had got divorced and of course a four or five, or five or six year old child wouldn't necessarily pay attention whether people sleep in the same bed or not. Maybe not even now, but certainly not at that time. And I saw him often enough because I spent my vacations always in Bulgaria with this very extended family of cousins, uncles, aunts, and he came to Vienna fairly frequently to visit although this was not a simple thing. It was a... travel the Orient Express, which at that time was a very glamorous train, from Sofia through Belgrade and Budapest to Vienna, or vice versa. And it was a... about a 20-hour trip or 15-hour trip. A long trip because you had very long border crossings where the train stopped for quite a while.
Anyway, I led a very happy childhood. As far as I remember I had a lot of friends. It's a typical urban childhood, which is much better than a rural one because then you sometimes have very few friends. Whereas you go to a city school, grammar school, high school, and you have lots of friends and I was very much interested in sports and... it was... I seemed to have no problems and I certainly... I was an only child and had all the benefits of an only child with the full concentration of all your parents, your grandmother, and, etc.
Austrian-American Carl Djerassi (1923-2015) was best known for his work on the synthesis of the steroid cortisone and then of a progesterone derivative that was the basis of the first contraceptive pill. He wrote a number of books, plays and poems, in the process inventing a new genre, 'science-in-fiction', illustrated by the novel 'Cantor's Dilemma' which explores ethics in science.
Title: My family and my childhood in Vienna
Listeners: Tamara Tracz
Tamara Tracz is a writer and filmmaker based in London.
Tags: Vienna, Bulgaria, Orient Express, Sofia, Samuel Djerassi, Alice Friedman
Duration: 4 minutes, 35 seconds
Date story recorded: September 2005
Date story went live: 24 January 2008