NEXT STORY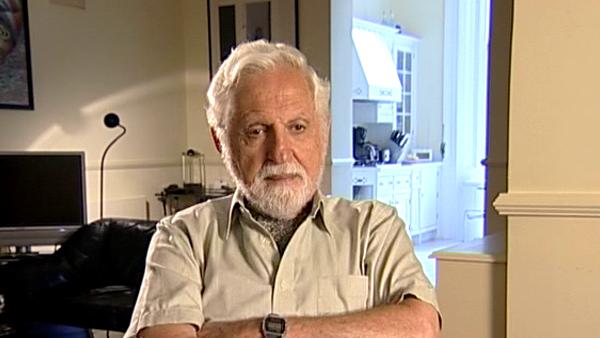 The area where I was born in Vienna
School in Vienna and its renowned alumni
1
2
3
4
5
6
...
12
There was one interesting thing, which was called to my attention again this year. And that is that I went to a grammar school, which was within five minutes' walk of where we lived there, called Czerningasse Volksschule. And as all the schools at that time, they were all totally segregated. The girls went to one. Boys in the other, but they were next to each other. Two adjacent buildings. I arrived from Sofia for the school year in my first grade something like two or three days after the school year had started, and the boys' school was full. And so I was put into the girls school where there were, I think, three or four boys and whatever... I don't know... a couple of hundred or how many girls. And I ended up in this girls school for four years. So, I was imprinted with women, I'm quite convinced, at that early stage. Namely not only were my classmates girls, but of course the teachers were women whereas in the other one they were men. And that school celebrated it's... I don't know... 150th anniversary or something just now and they started looking for some of their well-known graduates, and had an exhibition on three of them. And they tracked me down as making me one of them and, unfortunately, I couldn't go to that event. But I'll go there on... in October when I'll be back there. But to my utter amazement and pleasure I discovered that the other woman, unfortunately she's not a contemporary of mine, was Lise Meitner. So the famous... that's one of the most famous women scientists and I would say really of the Marie Curie calibre although not, at that time, not quite recognised like Marie Curie... was in the same school, Lise Meitner.
I then went to the Realgymnasium... in the neighbourhood Sperlgasse. The Realgymnasium, the gymnasium high school, but in Vienna they were called Realschule, Realgymnasium or Gymnasium depending on which track you had. Gymnasium you had to take Latin and Greek. In the Realgymnasium you had to take only Latin and otherwise foreign languages, and in the Realschule you had to take neither Greek nor Latin. Otherwise they were very rigorous and they were all in preparation for university. But one would be more technical, one would be totally humanistic, and one in between. So, I went to a Realgymnasium and I had lots of Latin, but no Greek and, you know, which you don't have in American education. By the time I was 14 I already had had four years of a lot of Latin and, you know, pretty competent with Ovid and so on.
The other interesting story I learned only much later is Sigmund Freud went to the same school. So this is a good... this was, sort of, a good place.
Austrian-American Carl Djerassi (1923-2015) was best known for his work on the synthesis of the steroid cortisone and then of a progesterone derivative that was the basis of the first contraceptive pill. He wrote a number of books, plays and poems, in the process inventing a new genre, 'science-in-fiction', illustrated by the novel 'Cantor's Dilemma' which explores ethics in science.
Title: School in Vienna and its renowned alumni
Listeners: Tamara Tracz
Tamara Tracz is a writer and filmmaker based in London.
Tags: Czerningasse Volksschule, Realgymnasium, Sperlgasse, Lise Meitner, Sigmund Freud
Duration: 3 minutes, 9 seconds
Date story recorded: September 2005
Date story went live: 24 January 2008