NEXT STORY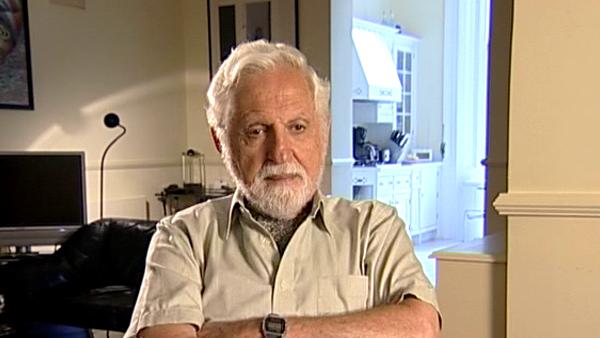 An Austrian stamp in my honour
The area where I was born in Vienna
1
2
3
4
5
6
...
12
That is, you know, a sort of spectacular architectural coffee book that you... and you can see right here called UNIQA Tower. UNIQA is a big... the biggest insurance company in Vienna and this is their new office building. And that was built exactly on the place of the house where I was born. So that house was only destroyed two years ago, or three years ago and this went up. But they did a lot of research on who lived there in this area, and actually produced something that's quite interesting because they showed here the historical part of that section and there are some quite striking things there, which I'd really like to show you. They show, first of all, a very old-fashioned map of Vienna of 19th century, and it shows that area around here where there is that branch of the Danube that I showed you and the house would be right here. And then they showed some pictures... historical pictures, that they found and there of course I see... this, in fact, is a picture that looked exactly like the place where I lived because this was only four years before the Nazis came there... or three years. So, I lived right there. So here is the house in which I lived, which is this corner house here, and here is where the... you'll remember where the Nazi SA troops went across the bridge because this was the more Jewish quarter. Not in a ghetto context, but... and this was let's say the non-Jewish quarter. And the picture is very striking because it looks so very threatening. You know, you see the famous Riesenrad, which is the equivalent of Vienna's Eiffel Tower and now really the... the Millennium wheel let's say here in London... this Millennial wheel. But you can see it. It really looks very, very threatening and then you see that same scene... same house of mine. Actually, it was interesting. This was a synagogue where I got my Bar Mitzvah. The only Sephardic synagogue in Vienna, which was called the Turkish synagogue and got burned down during the Nazi days. But then they show again my house. I mean our house. So, this is this house here, sort of, another 50 or 60 years earlier in the 19th century and this is still a bridge, which still exists there, the Aspenbrucke. You'll see in a moment why I show you these historical pictures, and then they show here who are some of the people who lived in that area in the very... and some of them are very... extremely famous people. I want to show you only three because they are really interesting. Alfred Adler, one of the great figures in... psychoanalysis. But here Elias Canetti and I'll have to return to Canetti in just a moment because it was a very important similarity to me. And then Arthur Schnitzler. So now he's a playwright and there was Hans Moser... Arthur Schnitzler, you know, one of the greatest playwrights and again you see a physician playwright. So, it's really a scientist, quasi scientist playwright. Lived all in that area, and then they have me there. They have... the only reason I think they have a bigger picture is for two reasons. One, that I'm the only person that is alive in this... in this whole group of historical relics. But more important and this is why I want to show it to you... So, the preceding year, this was 2004 when this came out, the Austrian government that finally sort of remembered that I was born in Vienna and so on and offered me citizenship, which I then accepted. That itself is an amusing story. Maybe I'll remember that too.
Austrian-American Carl Djerassi (1923-2015) was best known for his work on the synthesis of the steroid cortisone and then of a progesterone derivative that was the basis of the first contraceptive pill. He wrote a number of books, plays and poems, in the process inventing a new genre, 'science-in-fiction', illustrated by the novel 'Cantor's Dilemma' which explores ethics in science.
Title: The area where I was born in Vienna
Listeners: Tamara Tracz
Tamara Tracz is a writer and filmmaker based in London.
Tags: Vienna, Aspenbrucke, UNIQA Tower, Riesenrad, Arthur Schnitzler, Elias Canetti, Alfred Adler, Hans Moser
Duration: 4 minutes
Date story recorded: September 2005
Date story went live: 24 January 2008