NEXT STORY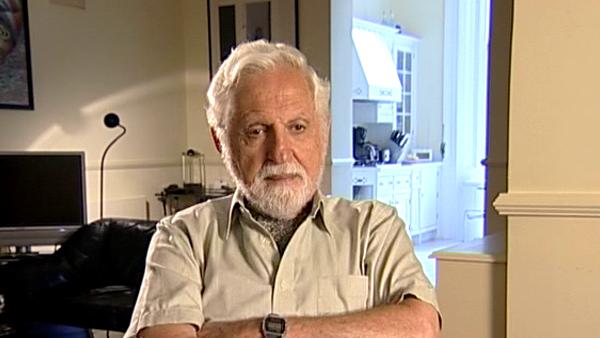 A literary exhibition on Elias Canetti
1
2
3
4
5
6
...
12
There you have a famous literary figure... a European literary figure of the last century and there are some very interesting similarities. I don't mean in a context of quality of writing. That would be illusion but otherwise. He was born in Bulgaria and went,,, ended up in Vienna. So exactly the reverse of... of me. He was born... he also spoke Ladino first, and what is much more amazing he went with his mother first to England, but then to Switzerland and Austria and then Vienna when his father died early. And she left him in a school for two years in Switzerland while she went to Vienna, in a girls' school. So he spent two years as the only boy in a girls' school at roughly the age, maybe a little bit older, that I spent in a girls' school in Vienna. He then decided to get a PhD in chemistry and actually got a PhD in chemistry at the University of Vienna. Only became a writer afterwards, but he really was in a way a born writer, or a pissed off chemist, or a turned off chemist because he dropped chemistry properly when... by the time he was 30 or maybe even late 20s, which was certainly not the case with me. But we can go further than that, as I discovered. He lives... he lived probably 150 metres away from where I lived, and that during the time when I went to this girls' school I must have passed his place every day as I went to school. Twice as I went to school, walked to school and walked back. That is a very... very, very striking thing and I liked Canetti's writings long before I knew this. And I had read most of his things, particularly his... certainly Auto da Fé and his... his three autobiographies.
I was in Zurich this year and while this seems to be a seeming non sequitur and I have all kinds of non sequiturs in this table of mine... it's not really as non sequitor as it would appear. It was for a very special event up in Switzerland many, many times, but this was for the premiere of a play of mine, Calculus, which is my third play which had been converted by a Viennese composer last year into a chamber opera. And, lo and behold, the Zurich opera had its premiere and it was four performances on four successive days, which, of course, was spectacular for me, an opera go-er. And the programme at the Zurich opera... Now, the reason why they were able to do it at the Zurich opera is that they have two stages. They have the huge one and they have a smaller one. This was in the smaller one and, therefore, ran at the same time as standard opera did on the same evening. And the Zurich opera programme, which is posted all over the city everywhere for the month has, of course, a performance for each month... each day. May 1, 2, 3, 4, 5... mine was May... I forgot... 5, 6, 7, 8. And they always do it in the same shape and form. Namely it just gives the title of the opera in big letters and below in smaller letters the composer, then the director and then the names of the stars. So, this could be things like... what shall I say? Zauberflöte, Mozart, Ozawa, Pavarotti. I mean that would be, sort of, the... the order they do this here. So, there it was. Literally played Zauberflöte on that day. It said Zauberflöte, Mozart. Below that Kalkül, Djerassi. Next one Puccini, Tosca, Kalkül, Djerassi. The next one Donizetti, L'elisir d'amore, Kalkül, Djerassi, and finally Alban Berg, Djerassi because they, of course, did a different opera each day on the main stage. They had the same one on the smaller one, but because you couldn't see the identification of smaller or bigger it literally looked that there I was just overpowering my heroes, Mozart and Donizetti and Puccini and so on. It was quite fantastic.
So I had this marvellous few days in Zurich and I met a friend and we started talking old chemistry. And we started talking about James Joyce in Zurich, and of course I knew all, perfectly well. But, in fact, it came up because I was talking about playwriting and one of my favourite plays is Tom Stoppard's Travesties, which deals with James Joyce in Zurich, and Tristan Tzara, and Lenin and so on. And he said, 'Do you know that Joyce is buried in... in Zurich and it's a very beautiful grave?' Well, I'm at an age where I like to look at graves so I said, 'Let's go to the cemetery'. It was a day like today. It was grey and drizzly and wet, but not cold. And we went to the cemetery, which was up on a hill just above Zurich. It was a private cemetery. No people there at all. Very well-kept. Relatively small and it was not difficult to find Joyce's tomb, which was very nice. And it had a superb sculpture that had been done subsequently of him, sort of, sitting and writing. So, I... since I like Joyce and I was interested... and then I happened to look at the grave next to it and what did I find there? It was the grave of Canetti who had also died in Zurich.
Austrian-American Carl Djerassi (1923-2015) was best known for his work on the synthesis of the steroid cortisone and then of a progesterone derivative that was the basis of the first contraceptive pill. He wrote a number of books, plays and poems, in the process inventing a new genre, 'science-in-fiction', illustrated by the novel 'Cantor's Dilemma' which explores ethics in science.
Title: Elias Canetti
Listeners: Tamara Tracz
Tamara Tracz is a writer and filmmaker based in London.
Tags: Bulgaria, Vienna, Zurich, Die Zauberflöte, Kalkül, Ladino, Auto da Fé, Tosca, L'elisir d'amore, Travesties, James Joyce, Elias Canetti, Wolfgang Amadeus Mozart, Luciano Pavarotti, Giacomo Puccini, Gaetano Donizetti, Alban Maria Johannes Berg, James Augustine Aloysius Joyce, Tom Stoppard, Tomáš Straussler, Tristan Tzara, Lenin, Vladimir Ilyich Ulyanov
Duration: 6 minutes, 2 seconds
Date story recorded: September 2005
Date story went live: 24 January 2008