NEXT STORY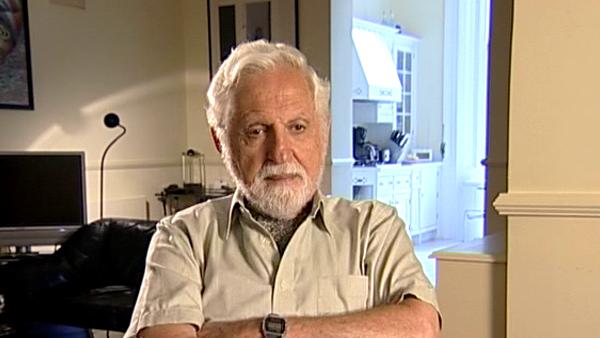 Reading from a coda inspired by my daughter's death
Writing inspired by my daughter's death
1
...
3
4
5
6
7
...
12
Her house initially became... my... my former son in law then moved away to... he couldn't live there. I could understand that completely... and moved to New Mexico and he eventually got married, and I've lost touch with him. Her house became first a residence for visiting artists... for women artists. One at a time would come for a year. Later then, after four years, they established an entire colony. And the first was an Israeli artist. Actually Tamara Rickman, a well-known graphic artist and sculptor whose husband Carmi, who's now dead, was one of the really important Israeli poets. And they spent a year there and then there were a couple of other women poets... women painters. And one of them, Sue Gussow who got to know me very well and, of course, they all knew about the background of this programme and the story of Pamela, once called me since I was living up there said, 'Carl I've found something that you have to see'. She was very shaken, and I wrote a poem about this. She opened a drawer and found a note there, and I... that poem I wrote in that year of separation of my wife. I've Nothing Left To Say is the title of the poem.
Five years after your death,
My only daughter,
I find this note:

'I have nothing left to say,
So I don't talk.
I've nothing left to do,
So I close up shop.'

No date
No address
No signature
Your handwriting.

Written for whom?
Yourself?
To whom it may concern?

Written when?
Days,
Weeks,
Perhaps months
Before you walked into the woods?

If only you'd said these words to me.
And then I wrote in my autobiography an entire chapter on this, which is called Scattering of Ashes. Which I felt I could write no autobiography that didn't write about her suicide, and I would say that suicide has become a complete preoccupation in everything I've ever written. My second novel starts with... the first... the first two sentences: What would you use to commit suicide? In Ego, in the play, this one here... then the play ends with again a threatened suicide.
Austrian-American Carl Djerassi (1923-2015) was best known for his work on the synthesis of the steroid cortisone and then of a progesterone derivative that was the basis of the first contraceptive pill. He wrote a number of books, plays and poems, in the process inventing a new genre, 'science-in-fiction', illustrated by the novel 'Cantor's Dilemma' which explores ethics in science.
Title: Writing inspired by my daughter's death
Listeners: Tamara Tracz
Tamara Tracz is a writer and filmmaker based in London.
Tags: Scattering of Ashes, Ego, I've Nothing Left To Say, Tamara Rickman, Sue Ferguson Gussow, T Carmi, Carmi Charny, Pamela Djerassi
Duration: 3 minutes, 1 second
Date story recorded: September 2005
Date story went live: 24 January 2008