NEXT STORY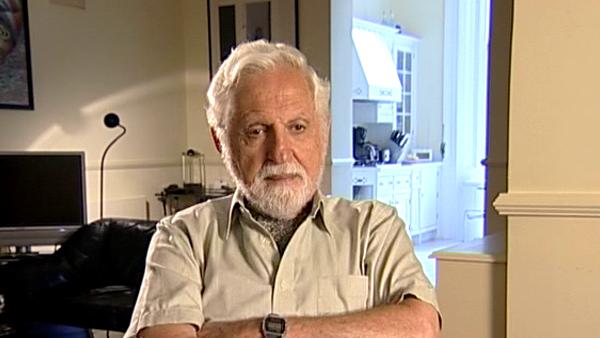 Attending Newark Junior College without finishing high school
1
...
4
5
6
7
8
...
12
There was a very effective Jewish refugee organisation, HIAS... I think it's called the Hebrew Immigrant Aid Society. And they funded, so to speak, for a family, which strangely enough was also called the Roths, to take me into their home for the first semester... first period. So I stayed at... at their home. They had a son who was about my age and went also to Newark Junior College. It was a very good adjustment and then a few months later I was taken to the home of a family called Meier and that was a... a real blessing. A wonderful family. A mixed family in terms of the father was a chemist... industrial chemist... was not Jewish and the mother was. Their two children, August and Paul, who... one was one year older than I and one was one year younger than I. So this worked really quite well and I think I have actually a rather nice photograph here. Yes. This was taken in their... in the home of the Meiers. So I was there 17... 17½... at Newark Junior College. We did learn how to type, which was an extremely important thing because at that time my handwriting was reasonable. Now it's atrocious. But it was a typical German one, which was not very legible. Obviously legible but not very legible in an American context. So, it was much better to actually learn how to type, and that was great. I think there was still an Olivetti which I may still have.
They took me into their home. It's an interesting family. The oldest son August died recently, but he became a professor of Afro-American history, a very distinguished one in Ohio. And the younger one, Paul, became the... the professor... he still is... he may be Emeritus... of statistics at the University of Chicago. A very distinguished statistician. So, it was a very nice academic family and the mother was a high school teacher, a very sophisticated one. So, I was taken into it as a third son and that was really quite wonderful.
Austrian-American Carl Djerassi (1923-2015) was best known for his work on the synthesis of the steroid cortisone and then of a progesterone derivative that was the basis of the first contraceptive pill. He wrote a number of books, plays and poems, in the process inventing a new genre, 'science-in-fiction', illustrated by the novel 'Cantor's Dilemma' which explores ethics in science.
Title: Living with the Meiers
Listeners: Tamara Tracz
Tamara Tracz is a writer and filmmaker based in London.
Tags: Hebrew Immigrant Aid Society, Newark Junior College, August Meier, Paul Meier
Duration: 2 minutes, 22 seconds
Date story recorded: September 2005
Date story went live: 24 January 2008