NEXT STORY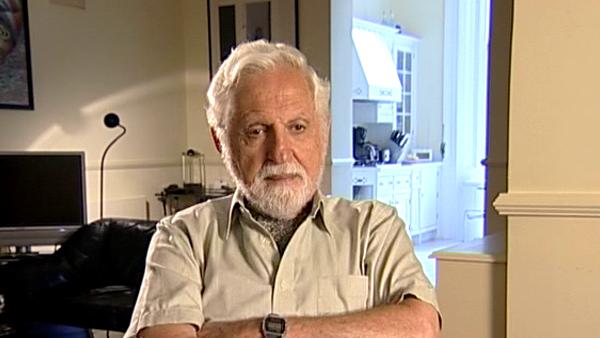 Paying to hear myself speak
Being asked to give lectures while at college
1
...
4
5
6
7
8
...
12
Well, I would say on the... practically first or second day people were very polite and nice to me. Of course, never seen a European and I probably was the only Jew there that had ever passed through this little town. They were very curious about me. They, of course, the people at the college, presumably knew how I got the scholarship, but no one else did. Not the students, not other people. They said, 'Why did you come here?' Well, of course, to them the idea that someone was fleeing from Hitler... Europe was, it's basically, you know, an unknown concept and I didn't volunteer anything. I just said, 'Well my parents wanted me to go to school and sent me to the United States'. Well, you know, in some respects it was true but in other respects it was totally untrue. But in any event... And the very first week they said, 'Would you give a talk to the rotary club?' Well, you know, I'd never given a speech before, but I said, 'Sure', you know. The idea was sort of as... as a thank you because apparently the money was raised really through the rotary club or something. So there... and they said, speak about the European situation. Well, you know, I realised I could pontificate easily to... to people who had never been to Europe and to whom places like Bulgaria were so totally unknown they couldn't even tell you the countries which bordered on Bulgaria. You know, geography has never been a forte of American education and it isn't to this day. So, among other things even Austria was often confused with Australia. So, they went in the wrong direction, to the left rather than to the right if you're standing in Missouri. And I realised that belabouring the Bulgarian origin, particularly the last couple of years, would make me much more exotic than even Austrian, and then I... at that time John Gunther... this is not a word... name that probably means anything to people now, but at that time he was one of the leading American journalists who had written some superb books. The first one was called Inside Europe and that was so successful he wrote one I think Inside Asia or Inside Africa, and it was a popular but rather sophisticated way of describing the political situation in these various countries. And I was an avid reader at that time and I was reading that, and for me of course this was not totally new stuff but it amplified or intensified my knowledge of certain things. So, I ruthlessly plagiarised John Gunther in my talk.
Well, you'd think there the... not quite 17-year-old kid talking to middle aged people who mostly were small town businessmen and farmers and perhaps a few professionals, and they lapped it up. So much so that in that audience there was... there was obviously there a sprinkling of ministers because you couldn't be in any gathering in Tarkio without bumping into some ministers. And this was again... I remember it was a Presbyterian one who said, 'Would you speak next Sunday at my church?' Not preach but give a sort of a talk to the... afterwards to the ladies auxilliary or whoever it was. And I said, 'Sure'. About the... they'd found it so interesting. Well, I went back to John Gunther because I realised that that was already then and I've... I'd never want to repeat myself. I always want to be sort of a little bit newer. I figured I shouldn't say the same thing that he had already heard. So I plagiarised some more of Gunther and this was so successful that at the end of it he called me into his office and somewhat embarrassingly said, 'Well, you know, that's all we can pay you', and gave me the collection. Now, at that time you want to remember as, you know, people went after the service to collect money. People were dropping in dimes and... and nickels, five cent and 10 cent pieces. Twenty-five cents was very substantial, even finding the dollar bills there. So, he gave me this small change.
Well that was my first lecture honorarium. I don't know. Maybe it was $1.50 or $2, but I felt very good about this and that launched me in a way on a lecturing career which hasn't finished yet after, you know, another 60 or so... 67 years. Namely the word spread very quickly in this north-western corner of Missouri, which was just a few miles from the Iowa/Nebraska border to different churches, and every Sunday from then on, I was on this church circuit. Once I was a commencement speaker, which was hilarious, but at a grammar school. And I always got paid that way so that was my pocket money. And, actually, it was very good because I very quickly lost any embarrassment about public speaking. It was a very good exposure and I think probably because I realised, even though I was so much younger than the others, I was speaking from a position of authority which changed the power relationship. When you speak to an audience very quickly, even though the audience was very adult, I presumably know a hell of a lot more than they did about this, the minutia of... of European politics and history, which they of course did not share.
Austrian-American Carl Djerassi (1923-2015) was best known for his work on the synthesis of the steroid cortisone and then of a progesterone derivative that was the basis of the first contraceptive pill. He wrote a number of books, plays and poems, in the process inventing a new genre, 'science-in-fiction', illustrated by the novel 'Cantor's Dilemma' which explores ethics in science.
Title: Being asked to give lectures while at college
Listeners: Tamara Tracz
Tamara Tracz is a writer and filmmaker based in London.
Tags: Bulgaria, Tarkio College, Rotary Club, Ladies Auxiliary, John Gunther
Duration: 5 minutes, 58 seconds
Date story recorded: September 2005
Date story went live: 24 January 2008