NEXT STORY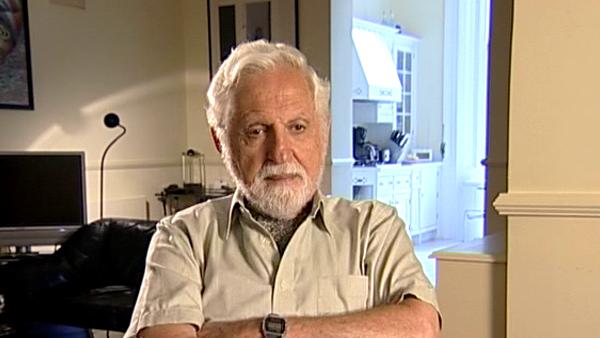 Studying at graduate school at night
Getting a job at Ciba working on antihistamines
1
...
4
5
6
7
8
...
12
But I had still no money and it was not a question of then going to graduate school. I needed to make some money. But that's when I wrote to all the pharmaceutical companies that... in the United States... most of them were all in New Jersey or New York. And I wrote to all the ones in that area because my mother was working in upstate New York as a doctor's assistant. She couldn't practice at that time. And Ciba, the big Swiss company... C-I-B-A. It doesn't exist anymore because Ciba then eventually merged with Geigy and became Ciba-Geigy, one of the Swiss giants, and then a few years ago it merged with Sandoz and became Novartis, which is one of the largest pharmaceutical companies in the world. But even then, Ciba was a powerhouse. It had an excellent research department in... in Summit, New Jersey just outside of New York. Of course, the headquarters were Basel, Switzerland and it was a company that did some of the most important steroid research at that time, and was a Swiss company. A powerhouse in steroid medicine. Were the first ones to sell male sex hormones like testosterone and female sex hormones and adrenal hormones, etc.
So I was hired as a junior chemist, as an assistant to a senior chemist named Charles Huttrer, who turned out to be another refugee from Vienna who of course was older than I... had gotten already his PhD in Vienna before he moved to the United States. But he accepted me as a complete equal, which was really most generous and wonderful, as a complete collaborator and we worked... so I was a little bit over 18... on antihistamines, which at that time were really unknown. And there was the instigation of another refugee. This really shows the enormous impact that the European refugees had on the entire scientific scene in America. Perhaps the reason why, I don't know, a third or more members of the National Academy of Sciences are foreign born and mostly European. And that man was a pharmacologist from... from I think Alsace-Lorraine. Rudy Mayer, who had known about the early work on histamine and antihistamines, which was all European. People like Bovet, the Italian who actually won the Nobel prize for medicine for that and Fourneau, another man from France were the first ones to really think about the idea of developing antihistamines... agent that inhibit the action of histamine and that would be effective in allergies and the like because in a very simplified way thought the allergic phenomena were caused by histamine secretion and if you could inhibit that... Anyway, that was the idea and we worked on that. And it shows also how fast not just research, but introduction to practical medicine could go at that time. We synthesised... worked on such compounds and synthesised ones called Pyribenzamine. That was one of the two first antihistamines that were introduced in the United States. Pyribenzamine... at the same time as Parke-Davis, the competitor, brought in Benadryl. So, these were the first two compounds, Benadryl and... And I was one of the inventors on the patent and on the publication. That was pretty heady stuff and two years later, two... two and a half years later, hundreds of thousands of people were taking my drug, my, quotation mark. And that made me really an inveterate optimist and I thought everything was possible. That, of course, now would be inconceivable to work at that speed because the toxicological and regulatory requirements would be very different.
So that year was a very important year, which absolutely convinced me that I would be a chemist and not a medical person. First of all because a medical education was still quite prohibitive and secondly it was very clear to me that going into medicine, which I probably would have, I would not have minded to have gone to medical school if I'd had a scholarship or something, but I probably would have become a researcher rather than a practising physician. But in any event I... there was no way of getting into medical school. Financially I was then, of course, self-supporting. I lived in a boarding house in Summit, New Jersey and immediately decided that I'd go to graduate school at night.
Austrian-American Carl Djerassi (1923-2015) was best known for his work on the synthesis of the steroid cortisone and then of a progesterone derivative that was the basis of the first contraceptive pill. He wrote a number of books, plays and poems, in the process inventing a new genre, 'science-in-fiction', illustrated by the novel 'Cantor's Dilemma' which explores ethics in science.
Title: Getting a job at Ciba working on antihistamines
Listeners: Tamara Tracz
Tamara Tracz is a writer and filmmaker based in London.
Tags: Ciba, Ciba-Geigy, Sandoz, Novartis, Summit, NJ, antihistamine, Pyribenzamine, Parke-Davis, Benadryl, Charles P Huttrer, Rudolph Mayer, Daniel Bovet, Ernest Fourneau
Duration: 5 minutes, 11 seconds
Date story recorded: September 2005
Date story went live: 24 January 2008