NEXT STORY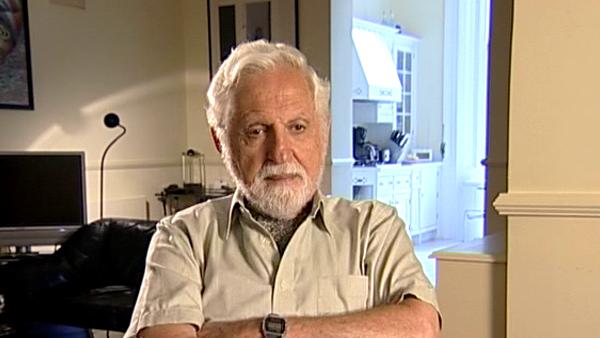 Working on steroids at Ciba
A tough problem in steroid chemistry
1
...
5
6
7
8
9
...
12
I worked on steroid chemistry on a tough problem. It was a tough problem then and perhaps even to a certain extent it is not even easy now, but of course we solved it at that time. That is the conversion of the male sex hormones into the female sex hormones. So, better said the transfer of an androgen testosterone into the oestrogen oestrone. You'd have to be steroid chemist to understand why this is so complicated, but the fact of the matter is that when I started my graduate work all the important... the structures of all the important steroid hormones were already known. This was the... perhaps most significant work in organic chemistry of the 1930s when all the sex hormones were isolated... sex hormones and steroid hormones were isolated, their structure established. So that meant things like testosterone, oestrone, the oxycorticosterone, progesterone, the bile acids, vitamin D, the cardiac glycosides like strophanthidin. I mean you're talking about the chemistry of life you could say was really steroid chemistry. It was tough chemistry. The structures were established mostly European work, either in Germany... particularly Germany, Switzerland, and the UK were the three really powerhouses at that time. There was a lot of X ray crytallography done right here in London. Birkbeck, for instance, by Bernal. But it were... the Nobel prizes were won at that time, quite a number of them. Wieland, Windaus, Butenandt, just to use some examples. Some of the Germans, Ružička, Reichstein. A bit later the Swiss and... so it was a hot topic and it was a difficult topic, and they had solved it. And I think I solved it in part because of real experience I had got a year before at Ciba in experimental technique. I think experimentally I really didn't just have to start out from the beginning. I was really running, and I was ambitious and damn impatient.
Yet at the same time my knee degenerated more and more and became so painful that I finally had to go to the hospital and had a biopsy. And they thought that what I had was tuberculosis of the knee joint because as a child, rather typical of many Viennese children, I had tuberculosis. Not a very serious case but I had tuberculosis, which always comes to the usual business, resting during the summer in the sun and in the mountains and so on. But then I had that skiing accident and it is likely that a residual tubercle infection ended up in my knee joint. That was never totally diagnosed because it's very difficult to diagnose, but the fact that my other inflamed knee that was getting worse and worse... And I had the first biopsy there, operation, and it wasn't clear what it was, but that was really the beginning of about ten fairly tough years orthopedically speaking. But that occurred at that time and I got my PhD at the end of the summer. So, I really did finish in two calendar years although it was certainly three semesters just as I expected.
Austrian-American Carl Djerassi (1923-2015) was best known for his work on the synthesis of the steroid cortisone and then of a progesterone derivative that was the basis of the first contraceptive pill. He wrote a number of books, plays and poems, in the process inventing a new genre, 'science-in-fiction', illustrated by the novel 'Cantor's Dilemma' which explores ethics in science.
Title: A tough problem in steroid chemistry
Listeners: Tamara Tracz
Tamara Tracz is a writer and filmmaker based in London.
Tags: Strophanthidin, Tubercle Infection, oestrone, testosterone, progesterone, John Desmond Bernal, Adolf Otto Reinhold Windaus, Adolf Friedrich Johann Butenandt, Heinrich Otto Wieland, Tadeus Reichstein, Leopold Ružička
Duration: 3 minutes, 55 seconds
Date story recorded: September 2005
Date story went live: 24 January 2008