NEXT STORY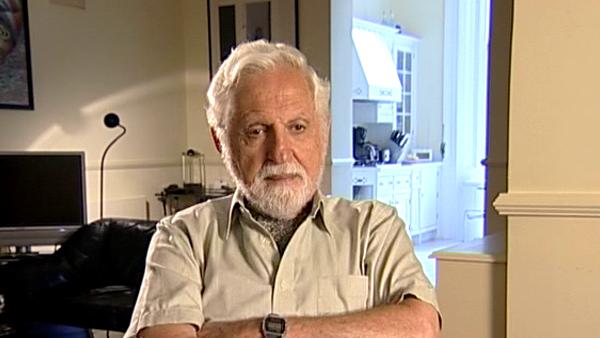 Deciding to move to Syntex in Mexico
Syntex formed to manufacture progesterone
1
...
5
6
7
8
9
...
12
So these were steroids and he... he was the first one to demonstrate the chemical structure of these. That they really have these ring systems, which on the one hand look like even more complex. But then through really very brilliant, perhaps accidental, discovery, but a brilliant one, he discovered in essentially two extremely simple steps you can convert all this molecular garbage into this side chain, which meant that this became suddenly... and at very high yield... became a fantastic raw material for the synthesis of progesterone. And he quit Penn State and went to Mexico and collected some and made a couple of kilos of progesterone. Now, that was probably the world supply, which he just made in a relatively short while and then convinced a couple of, again, European refugees... one from Germany, one from... from Hungary... who had a small Mexican pharmaceutical lab to form Syntex. A small company, to manufacture progesterone from diosgenin. And they did this and again in his usual story, as I told you he broke it off everywhere, he broke off relation within a year and walked away with, you might say, the know-how. So there these people had a little company that was manufacturing progesterone. To give you an idea this cost at that time around $80 a gram, and $80 in... in the early 1940s was an awful lot of money. I mean that would be probably several thousand dollars in today's money per gram. So that was a lot of money.
And they identified George Rosenkranz in Havana as a steroid chemist and persuaded him to come to Mexico. Of course, he already was in Latin America, already spoke Spanish and so on, and he basically redeveloped that process. I mean it was not a secret process because Marker had published it in the scientific literature, but it is one thing to publish something on a gram scale and something else to do it industrially. And they had no idea of doing it and you might say George Rosenkranz had to rediscover it. Not in a fundamental way, but in a practical way. And he did it very quickly and then... so they resumed the manufacture of progesterone and then he worked out a way of also making testosterone from it. So Syntex at that time, within... that was formed in '44, '45. By 1948, '49 was already manufacturer of progesterone and testosterone.
No one had ever heard of Syntex because, of course, they were not a pharmaceutical company. They formed it and sold it to other pharmaceutical companies. But that was already very unusual because you had here a company in an absolute third world country, because scientifically Mexico you could say didn't exist on the scientific ground. There was not a single Mexican PhD in chemistry yet, who had got his PhD there. There were a few who had gotten it abroad. And, so that was a very small company. Annual sales of maybe $2 or $3 million, but... and then cortisone, of course, hit the news and they decided to see whether they could make cortisone from diosgenin, their raw material.
So you realise what it involved was to try and work out a way. This degradation of a side chain to this side chain one already knew from Marker's days. The transformation to... then one had to learn how to transform this into this after going from here to here. But most importantly still, what do you do about this oxygen? How do you get that in there? And that was a fascinating chemical problem. Fascinating because you just couldn't do it just at that time de novo and what really worked out is a way of gradually moving it... moving around the periphery until finally you labilized this position and add oxygen. Many different chemical steps. So, everyone and his grandmother was working on this. As I said I'm using this, belabouring that point, everyone's grandmother. There were no grandmothers in this. They actually were mostly young testosterone driven chemists. Most of them below the age of 40, and that was an international race.
Austrian-American Carl Djerassi (1923-2015) was best known for his work on the synthesis of the steroid cortisone and then of a progesterone derivative that was the basis of the first contraceptive pill. He wrote a number of books, plays and poems, in the process inventing a new genre, 'science-in-fiction', illustrated by the novel 'Cantor's Dilemma' which explores ethics in science.
Title: Syntex formed to manufacture progesterone
Listeners: Tamara Tracz
Tamara Tracz is a writer and filmmaker based in London.
Tags: Diosgenin, progesterone, testosterone, George Rosenkranz, Russell Earl Marker
Duration: 4 minutes, 24 seconds
Date story recorded: September 2005
Date story went live: 24 January 2008