NEXT STORY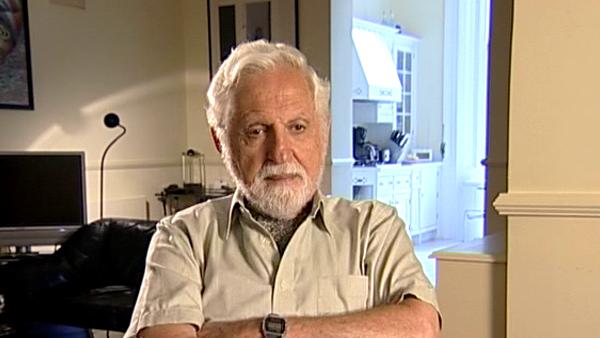 Building a house in California
Getting a job at Stanford University
1
...
6
7
8
9
10
...
12
I'm returning now to Wisconsin and a man whose name I mentioned before, namely William Johnson. Johnson by that time had become one of the best known synthetic organic chemists in the United States at Wisconsin. He was probably in his low... late 40s or something like that. Something like that because he probably was 15 years... 18 years older than I. And Stanford, which was a major university, had superb physics and biology departments. There were a slew of Nobel prizes that were won at that time by biologists Joshua Lederberg, Arthur Kornberg. There was the first physicist, Felix Bloch. Chemistry was so-so. They had a really good chemistry department but not at all at the level of biology and medicine and physics and so on. And they had a spectacular provost at that time, Fred Terman, who in a way was also the founder of Silicon Valley. He was an engineer and he established the Stanford Industrial Park. And some of the really top industrial companies, all in engineering, Hewlett-Packard, Varian, they were all established on the Stanford Industrial Park. Xerox then established its research lab. There was nothing in chemistry or medicine, and...
So, he first of all wanted to buy himself a new chemistry department and did it by hiring Bill Johnson away from... trying to hire him away from Wisconsin as chairman of the department. Johnson wanted to get me to Wisconsin from Mexico, because by that time I really had a very major reputation already. I haven't talked yet about the work that I did in Wayne State University, which I'll mention in a moment. But I... so he said, look I'll do the following thing if you're willing to do it. I'll tell him it's a package. Either they take... bring me, Johnson and you as full professors to Stanford or else you come to Wisconsin.
Well, moving to Wisconsin was certainly a much more attractive thing than moving back to Wayne even though I was very fond of Wayne. But in terms of reputation they were just very different institutions as such and by that time I figured I might as well see what it's like to do work in a first-class institution. I've shown that I can do it in a... in a lesser one. And so I flew from Mexico City to Stanford to meet Terman who immediately accepted because he realised by getting me there he would actually perhaps even accomplish this... because he was very taken on by the fact that I was a bigamist, a professional bigamist in industry and academia having done this at Wayne and so on, which other universities either would not tolerate or wouldn't even think of. To him this was a plus and a private university could do it. A state university probably could not. So, he immediately went for that. And Johnson and I were very tough to negotiate because we said okay but he had to negotiate with each of us separately. Even though we were a package we each had our own conditions and we had to really agree on this... and that was that they had to build us a new building. And we wouldn't go there until that new building is finished. So, in the end we accepted the job but would only move there when the building is up.
So, I then stayed for another year in Mexico, but by that time on leave of absence from Stanford rather than from Wayne. So, I'd actually been away for three years doing an awful lot of research at Syntex with a large research group by then as well as maintaining my research group at Wayne State University, which then moved into temporary quarters in... at Stanford. But I was not moving there until we had the actual building. And the same thing was true of Bill Johnson who kept his students at Wisconsin until the building would be ready. And so, in 1960 we then moved there, and it actually was personally and otherwise a very important move. I then spent the rest of my life there. Well, the rest of my academic life for 40 years at Stanford.
Austrian-American Carl Djerassi (1923-2015) was best known for his work on the synthesis of the steroid cortisone and then of a progesterone derivative that was the basis of the first contraceptive pill. He wrote a number of books, plays and poems, in the process inventing a new genre, 'science-in-fiction', illustrated by the novel 'Cantor's Dilemma' which explores ethics in science.
Title: Getting a job at Stanford University
Listeners: Tamara Tracz
Tamara Tracz is a writer and filmmaker based in London.
Tags: Silicon Valley, Varian Associates, Hewlett-Packard Company, Xerox Corporation, Stanford Research Park, William Summer Johnson, Arthur Kornberg, Frederick Emmons Terman, Joshua Lederberg, Felix Bloch
Duration: 4 minutes, 49 seconds
Date story recorded: September 2005
Date story went live: 24 January 2008