NEXT STORY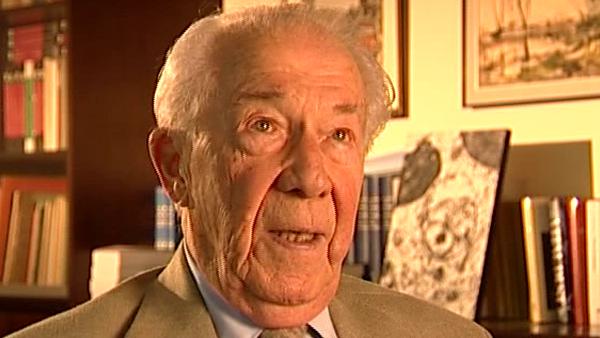 Glucose 1-phosphate and glucose 6-phosphate
Setting up a lab: Difficulties getting equipment
Christian de Duve
Scientist
1
2
3
4
5
...
11
And with that amount of money I was able to start my lab. But I had no equipment... I had no equipment, and when I went to see the rector of the university who was a bishop, I said I needed so much money for equipment: 'I need a cold room; I need a spectrophotometer; I need a few balances; I need a good centrifuge; glass wear...' It was nothing. So he said, 'But where do you think I am going to find the money?' All right, well, I had to go back to my trip in the United States again. When I applied for the job to go to Coris' lab, I had applied for a fellowship, and this was a Belgian fellowship from some organisation called the Belgian American Educational Foundation, and they refused to give me the fellowship so, again, I was devastated. And Theorell said, 'Never mind; there's a man called Gerry Pomerat who's coming to visit me next week. He's from the Rockefeller Foundation and he supports my lab.' And so I met Gerry Pomerat, and the outcome was that I got a fellowship from the Rockefeller Foundation. And so, before leaving the United States, I went to see this man in Europe, Pomerat, and I said, 'I need money for my lab, to equip it.' And he said, 'No way, we don't equip labs; we support research – it's up to the institution to provide the support.' I said, 'Would you put that in writing?' And so, when I had my discussion with the rector of the university, I took out this letter; I said, 'Listen, I can get all that money if you give me what I want.' Result of this blackmail was I got the basic equipment I needed – the cold room, the spectrophotometer, the centrifuge, etc. And so I was able to start a small lab, and with four young people – the young man Hers, Gerry Hers, who... with whom I had done this work on the glucagon, just after the war, and had come back to work with me, and two medical students – one called Jacques Berthet, and his future wife, Lucie Dupret – and together we started on our first piece of research.
Belgian biochemist Christian de Duve (1917-2013) was best known for his work on understanding and categorising subcellular organelles. He won the Nobel Prize in Physiology or Medicine in 1974 for his joint discovery of lysosomes, the subcellular organelles that digest macromolecules and deal with ingested bacteria.
Title: Setting up a lab: Difficulties getting equipment
Listeners: Peter Newmark
Peter Newmark has recently retired as Editorial Director of BioMed Central Ltd, the Open Access journal publisher. He obtained a D. Phil. from Oxford University and was originally a research biochemist at St Bartholomew's Hospital Medical School in London, but left research to become Biology Editor and then Deputy Editor of the journal Nature. He then became Managing Director of Current Biology Ltd, where he started a series of Current Opinion journals, and was founding Editor of the journal Current Biology. Subsequently he was Editorial Director for Elsevier Science London, before joining BioMed Central Ltd.
Tags: Belgian American Educational Foundation, Rockefeller Foundation, Hugo Theorell, Gerald Pomerat, Jacques Berthet, Lucie Dupret
Duration: 2 minutes, 51 seconds
Date story recorded: September 2005
Date story went live: 24 January 2008