NEXT STORY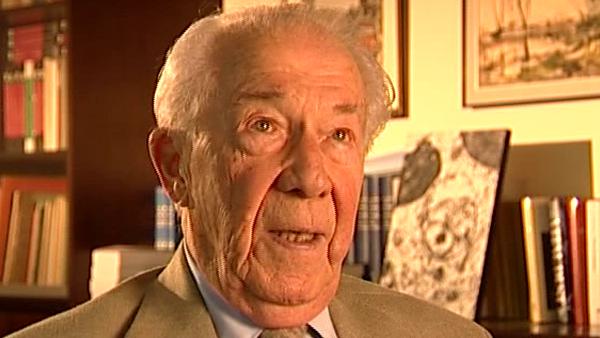 The first fractionation experiment
Using centrifugal fractionation to locate enzymes
Christian de Duve
Scientist
1
2
3
4
5
6
...
11
He had done also something else; he'd tried to develop techniques so that he could look at cells with the electron microscope. So in addition to the centrifugation techniques, he developed techniques for thin slicing... for embedding thin slicing of material to look at with an electron microscope which, at that time of course, was already in use – not at the institute but by some company in New York, not at all for biological purposes but for looking at metals. And in this work Claude had become helped by a man called Keith Porter who has become... who became one of the most famous electron microscopists in the United States, and also by a young... young Romanian... man from Romania called George Palade. And so I went to visit Claude – he was another one of my heroes, of course, at that time – and he was very kind, told me about his work and showed me, and at some moment he said, 'There's a young man here that I would like you to meet', and this young man was George Palade, and later in the story, of course, I will mention how Claude, Palade and I ended up sharing the 1974 Nobel Prize in medicine. But, of course, at that time I didn't know that this was going to happen. Anyway, I knew about Claude's technique and so, coming back to my experience with glucose 6-phosphatase, I decided, from the work of Albert Claude, that this agglutination of the particles containing the enzyme meant, of course, that it... it was bound for some kind of particle, and so I decided, well, would it be worth our while to apply the Claude technique to find out where this enzyme is situated? And it was touch and go, because this was quite an investment of time and effort to develop the technique in the lab, and was it worth the investment, just to know something about where this enzyme is? And so I decided, well, if this enzyme interferes with the action of insulin maybe... maybe it would be important to know where, actually, it is in the cell, so let's do it. And fortunately I had an extremely able co-worker, Jacques Berthet, who has helped me in much of the work, and he was largely involved in reading the literature on this topic and developing the techniques in the lab so that eventually we could use them. And also Claude had returned to Belgium by that time so that I could ask him for advice. I was never a student or a pupil of Claude, but we did get advice from him.
Belgian biochemist Christian de Duve (1917-2013) was best known for his work on understanding and categorising subcellular organelles. He won the Nobel Prize in Physiology or Medicine in 1974 for his joint discovery of lysosomes, the subcellular organelles that digest macromolecules and deal with ingested bacteria.
Title: Using centrifugal fractionation to locate enzymes
Listeners: Peter Newmark
Peter Newmark has recently retired as Editorial Director of BioMed Central Ltd, the Open Access journal publisher. He obtained a D. Phil. from Oxford University and was originally a research biochemist at St Bartholomew's Hospital Medical School in London, but left research to become Biology Editor and then Deputy Editor of the journal Nature. He then became Managing Director of Current Biology Ltd, where he started a series of Current Opinion journals, and was founding Editor of the journal Current Biology. Subsequently he was Editorial Director for Elsevier Science London, before joining BioMed Central Ltd.
Tags: Albert Claude, Keith Porter, George Palade, Jacques Berthet
Duration: 3 minutes, 29 seconds
Date story recorded: September 2005
Date story went live: 24 January 2008