NEXT STORY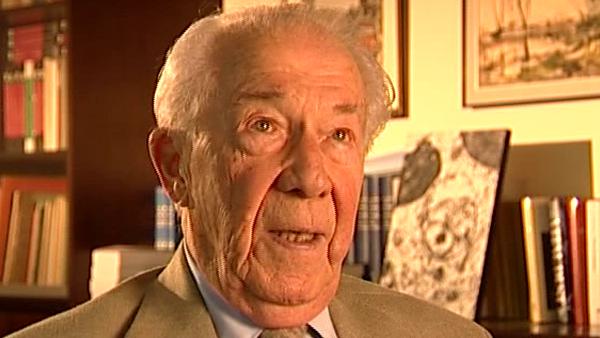 'Suicide bags': Lysosomes in pathology
Autophagy: Self-eating by cells
Christian de Duve
Scientist
1
...
3
4
5
6
7
...
11
And I think the main new thing that came out of our work was that these digestive systems do not exist – only in eating cells, in cells that are professionally involved, like macrophages or white blood cells – in the uptake and destruction of foreign bacteria... foreign materials in general. But that every cell type, even nerve cells and muscle cells, have a digestive system, have lysosomes. And so this really led to the discovery that what in the original protozoa was essentially a function connected with feeding, and digesting of food had been converted into higher organisms into all kinds of different functions. This basic digestive function, the function of taking up, really had specialised functions in different cell types. In the kidney they would be involved in the uptake and digestion of proteins that have passed through the filter in the tubules of the kidney. And so on – in the liver it would be different, in the... in the thyroid lysosomes would be involved in the digestion of thyroxine, the thyroid hormone from the thyroid globulin, and so on and so on. And then the more general function was also discovered, which was important even for cells like muscle cells or nerve cells that hardly are involved in taking up foreign materials and this is a function which I didn't discover but I called it autophagy. I invented a few words in my life; that's probably, again, my classical education. And autophagy is a self-eating by cells – it's a mechanism whereby small bits of the cell are segregated... it's a complex mechanism... are segregated within a membrane and then conveyed to lysosomes for breakdown. So this is autophagy; self-eating is one of the mechanisms whereby cells degrade their own substance and replace it, so it's part of turnover. So autophagy is involved even in cells that do not... do not carry out any sort of endocytosis.
Belgian biochemist Christian de Duve (1917-2013) was best known for his work on understanding and categorising subcellular organelles. He won the Nobel Prize in Physiology or Medicine in 1974 for his joint discovery of lysosomes, the subcellular organelles that digest macromolecules and deal with ingested bacteria.
Title: Autophagy: Self-eating by cells
Listeners: Peter Newmark
Peter Newmark has recently retired as Editorial Director of BioMed Central Ltd, the Open Access journal publisher. He obtained a D. Phil. from Oxford University and was originally a research biochemist at St Bartholomew's Hospital Medical School in London, but left research to become Biology Editor and then Deputy Editor of the journal Nature. He then became Managing Director of Current Biology Ltd, where he started a series of Current Opinion journals, and was founding Editor of the journal Current Biology. Subsequently he was Editorial Director for Elsevier Science London, before joining BioMed Central Ltd.
Tags: digestive system, lysosomes, enzymes, protozoa, autophagy, cells, self-eating
Duration: 3 minutes, 4 seconds
Date story recorded: September 2005
Date story went live: 24 January 2008