NEXT STORY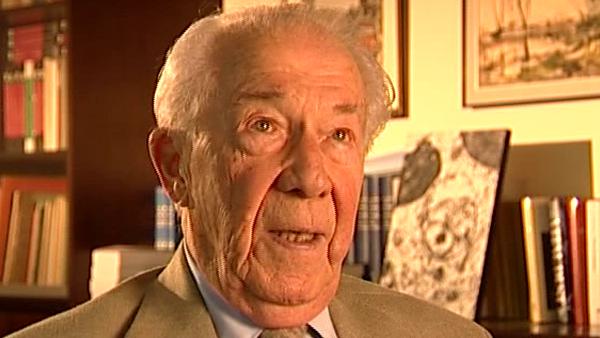 Glycogen storage diseases: Géry Hers and Gerty Cori
Pathological implications: The work of Géry Hers
Christian de Duve
Scientist
1
...
3
4
5
6
7
...
11
That kind of cellular discharge of lysosome contents could also be involved in pathological situations. And... now, there is another kind of pathology that is dependent on... due to lysosomes and in particular dependent on this state of chronic constipation that I mentioned. And now we come back to the early days of our lab – the time when I was interested in insulin and worked on glucose 6-phosphatase. One of my co-workers in that work and even in the early work on glucagon, I mentioned before, was Géry Hers – h-e-r-s. And when I started... when I left insulin, what I thought was the back burner but it's still there, as far as I'm concerned, he, Hers, was the only one of my co-workers at that time who didn't follow me in my adventure that led to the lysosomes. He remained faithful, if I may say so, to carbohydrate metabolism and made major contributions to carbohydrate metabolism – the first one being elucidating the metabolism of fructose, which he showed to be due, as the Coris found, formation of fructose 1-phosphate, but then contrary, again, to what the Coris believed, no conversion of fructose 1 to fructose 6-phosphate, but the splitting of fructose 1-phosphate by an aldolase type of enzyme type of enzyme which would give glyceraldehydes and phosphoglyceraldehyde. And so he went onto study glycogen metabolism and made major contributions to our understanding of the regulation of glycogen synthase, of phosphorylase. It's a very complex mechanism where you have phosphorylations and dephosphorylations of various enzymes involved. Cascades... I mean, a field in which he became an expert and a pioneer.
Belgian biochemist Christian de Duve (1917-2013) was best known for his work on understanding and categorising subcellular organelles. He won the Nobel Prize in Physiology or Medicine in 1974 for his joint discovery of lysosomes, the subcellular organelles that digest macromolecules and deal with ingested bacteria.
Title: Pathological implications: The work of Géry Hers
Listeners: Peter Newmark
Peter Newmark has recently retired as Editorial Director of BioMed Central Ltd, the Open Access journal publisher. He obtained a D. Phil. from Oxford University and was originally a research biochemist at St Bartholomew's Hospital Medical School in London, but left research to become Biology Editor and then Deputy Editor of the journal Nature. He then became Managing Director of Current Biology Ltd, where he started a series of Current Opinion journals, and was founding Editor of the journal Current Biology. Subsequently he was Editorial Director for Elsevier Science London, before joining BioMed Central Ltd.
Tags: Carl Cori, Gerty Cori, Géry Hers
Duration: 2 minutes, 32 seconds
Date story recorded: September 2005
Date story went live: 24 January 2008